From Montreal to Quebec City along the King's Road
Most travelers take the highway to get there as quickly as possible Montreal to get to Quebec City. They don't know what they're missing. There is an alternative to monotonous highway driving, for which at least a full day should be planned. Two days are better if you want to see all the attractions along the route in peace. The King's Road, which leads directly along the north bank of the St. Lorenz through numerous idyllic villages and always offers beautiful views of the river.
This highway is the oldest road connection from Montreal to Quebec City. Even when the French were the colonial masters here, they used this road, which connected the three most important cities in New France: Quebec City, Trois Rivieres and Montreal. Not only that you have on this road a varied route in front of you, here you follow historical trails.
Trois-Rivières is recommended as an overnight stop on the route. There are other sights that are worth visiting.
It is best to leave Montreal on Rue Sherbrooke and follow it towards Repentigny.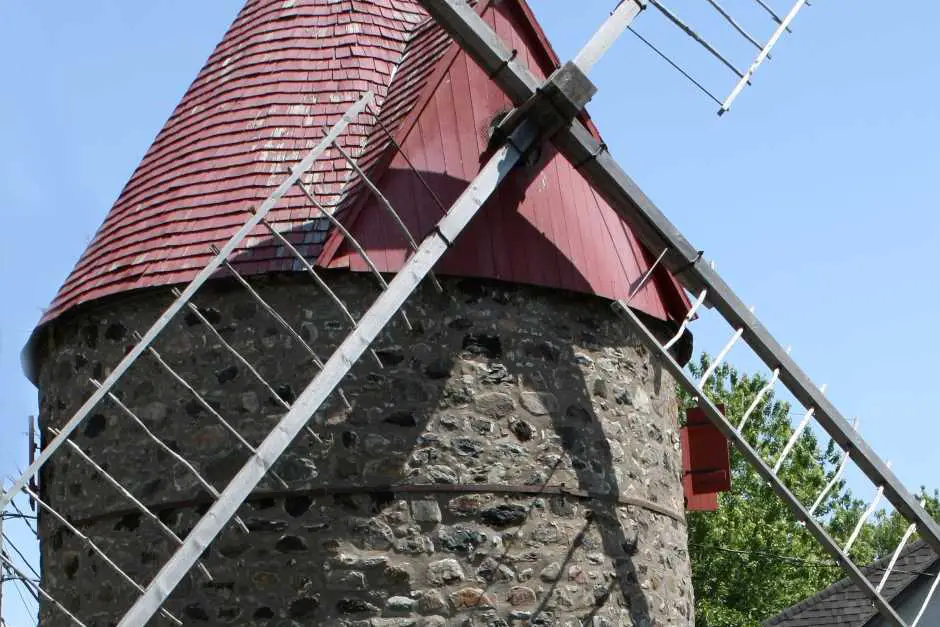 The Moulin Grenier in Repentigny
One of the first sights is the Moulin Grenier in Repentigny. This is an old mill from 1820, which can also be visited during the summer months. The old grinder works to this day.
Moulin Grenier
912 Notre-Dame Street
Repentigny, Quebec J5Y 1C8
Canada
Opening times: The mill is open on weekends in summer. Exact dates can be found here (under Schedule).
Churches along the route from Montreal to Quebec City
Again and again the road leads through small villages with churches like this one, whose facades overlook the St. Lawrence River. Unlike in the English-dominated parts of Canada, the churches stand out here. Their pointed church towers dominate the villagescape of many of the towns we meet on the way.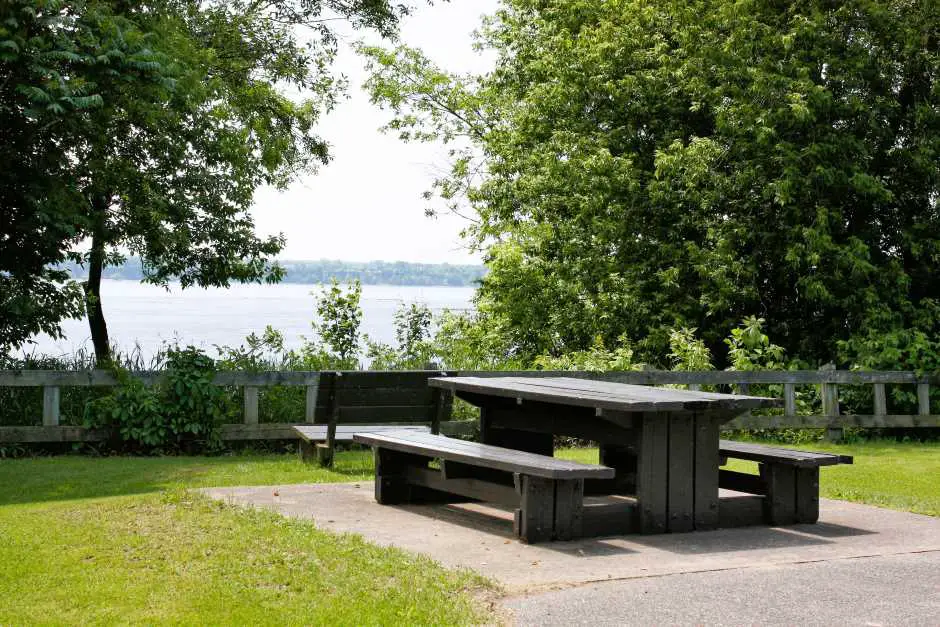 Along the St. Lawrence River from Montreal to Quebec City
On the way, views of the St. Lawrence open up again and again, as the King's Road follows in large part directly on the north bank of the river. Most of the south shore is as close as in this photo, but at Lac Saint Pierre, the stream widens to a lake.
Mansions on the St. Lawrence River from Montreal to Quebec City
The region is popular with Quebecers. On our journey from Montreal to Quebec City, we repeatedly drive past elegant residential buildings with large, almost park-like gardens and see the river behind them.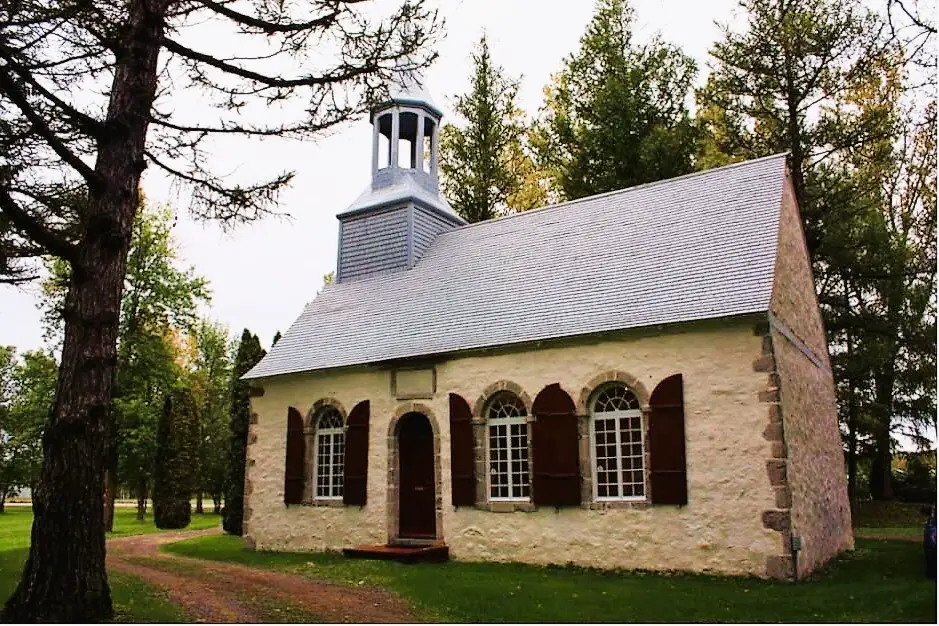 The Chapelle of Cuthbert in Berthierville
The route from Montreal to Quebec City is not all about churches. The Chapelle des Cuthbert in Berthierville is the oldest Protestant chapel in Quebec and was built on this site in 1762. At that time it was still called Chapelle St. Andre after the patron saint of Scotland. It is now owned by the Quebec government and is a listed building.
Cuthbert's Chapel
461 rue de Bienville
Berthierville, QC J0K 1A0
Canada
The Chapelle des Cuthert is open for events.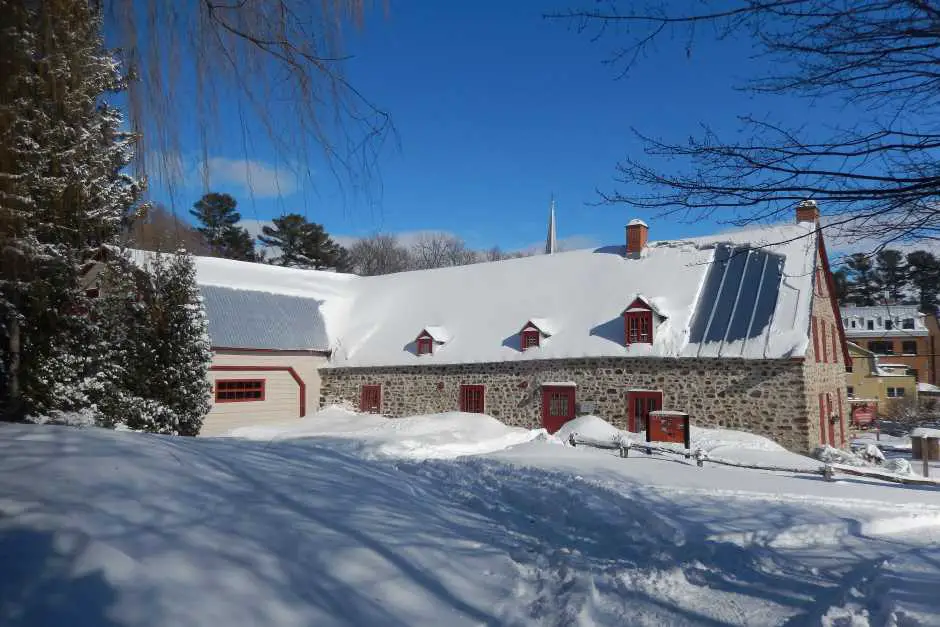 The moulin seigneurial de Pointe-du-Lac
The Pointe-du-Lac mill dates back to 1765. Your grinder works to this day. In summer you can watch the miller grinding flour. If you have the time and inclination, you can even learn how to bake bread. Then you can take your home-baked bread with you for a picnic on the banks of the Sankt Lorenz or at the rest area in front of the mill. There are also hiking trails in the area that invite you to take a walk.
Stately mill of Pointe-du-Lac
11930, rue Notre-Dame Ouest
Trois-Rivières (Qc) G9B 6X1
Canada
Opening times: every day from 10am to 17pm, from the last Sunday in May to the last Sunday in October.
The butcher's house of Niverville
In Trois-Rivières stands the butcher's mansion of Niverville. It is the oldest building in the city and dates back to when this region was still under French rule. Today it houses a museum where you can see how the bourgeoisie lived at that time. If you want, you can view the exhibition with an audio guide that you can download to your cell phone on site. The tour lasts about an hour.
Manor Boucher de Niverville
168, rue Bonaventure
Trois-Rivières
(Quebec), G9A 2B1
Canada
Opening hours:
From the beginning of June to the beginning of September daily from 10 a.m. to 17 p.m
on Saturdays and Sundays in September from 10 a.m. to 17 p.m.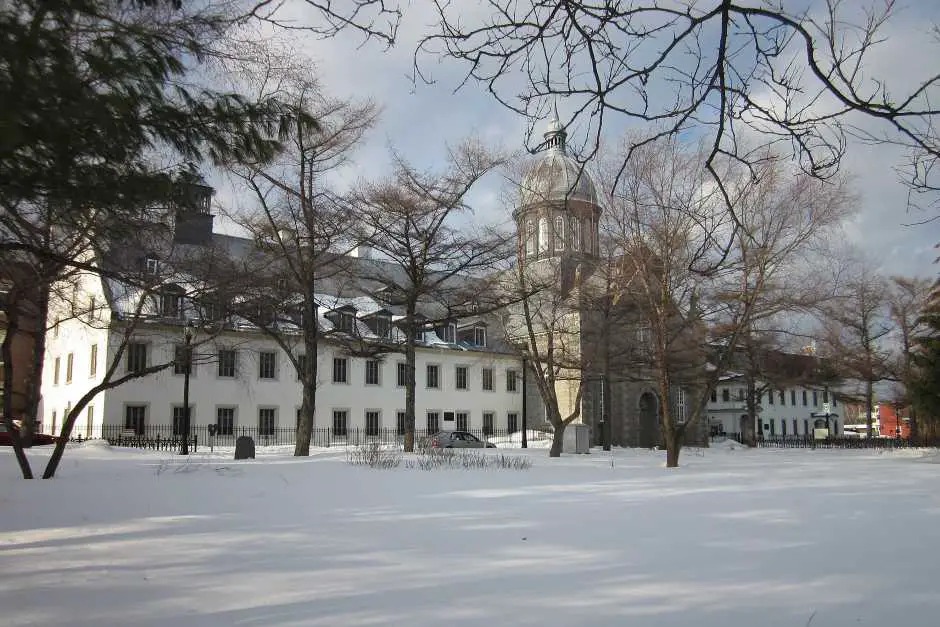 The Ursulines Museum
If you take two days to drive from Montreal to Quebec City, you will have time to visit the Ursuline Museum. They were one of the religious orders dedicated to the education of early settlers and Native American Catholics in New France. They also supported motherland France to settle the colony in North America.
Musée des Ursulines
734 rue des Ursulines,
Trois-Rivieres, QC G9A 5B5,
Canada
Opening hours:
Labor Day (1st Monday in September) through June 23:
Wednesday to Sunday, 10 am to 17 pm | Closed from 12:00 p.m. to 13:00 p.m
June 24 to Labor Day (1st Monday of September):
daily 10 a.m. to 18 p.m
Want to see everything on the Montreal to Quebec City route?
Then you need an overnight stay. Trois-Riviéres is ideal for this. If you still have time, you will also find other sights in Trois-Rivières.
Hotels in the city center are: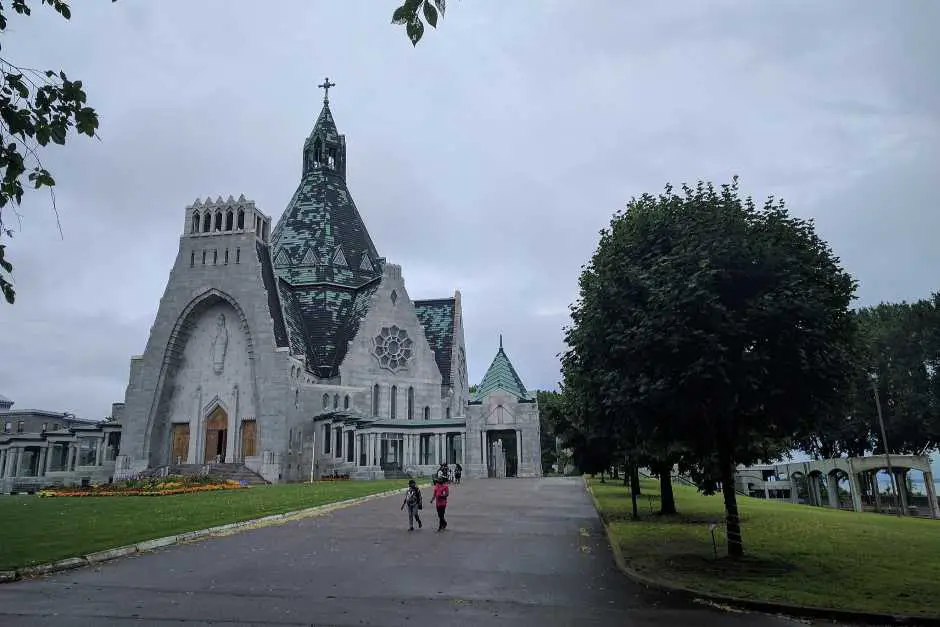 The Sanctuary of Notre-Dame du Cap in Trois-Rivières
In contrast, the pilgrimage church of Notre-Dame du Cap in Trois-Rivières, which is also on the King's Road between Montreal and Quebec City, is very modern. It was only built in 1964. However, the original church from 1720 still stands on this site. Notre-Dame du Cap is the third largest pilgrimage site in Quebec. Both churches are worth seeing. The new church, built by Pope Paul VI, is particularly impressive. received the rank of Basilica Minor. It has an exceptional floor plan and has beautiful stained glass windows. Its size is also enormous. It holds 1800 people.
Sanctuary of Notre-Dame du Cap
626 rue Notre Dame E,
Three Rivers, QC
G8T 4G9, Canada
Opening hours: 8am-18pm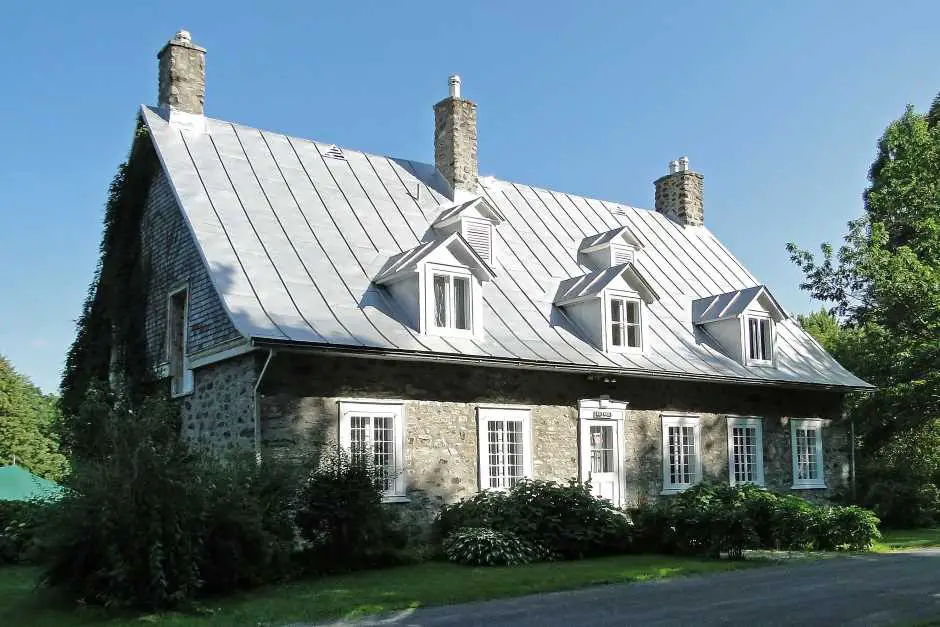 The old vicarage of Batiscan
This pretty presbytery was not only the home of the parish priest of Batiscan. This place was also significant in Quebec's history earlier. Here French fur traders met their Indian suppliers and traded furs for European goods. Glass beads and other goods were popular with Native American hunters. Even Samuel de Champlain, the founder of Quebec City, is said to have traded here. In the area there is also a nature trail leading to the river and a shop selling local handicrafts.
Presbytery of Batiscan
340 rue Principale,
Batiscan, QC G0X 1A0,
Canada
Opening times: every day from 10am to 17pm, from the last Sunday in May to the last Sunday in October.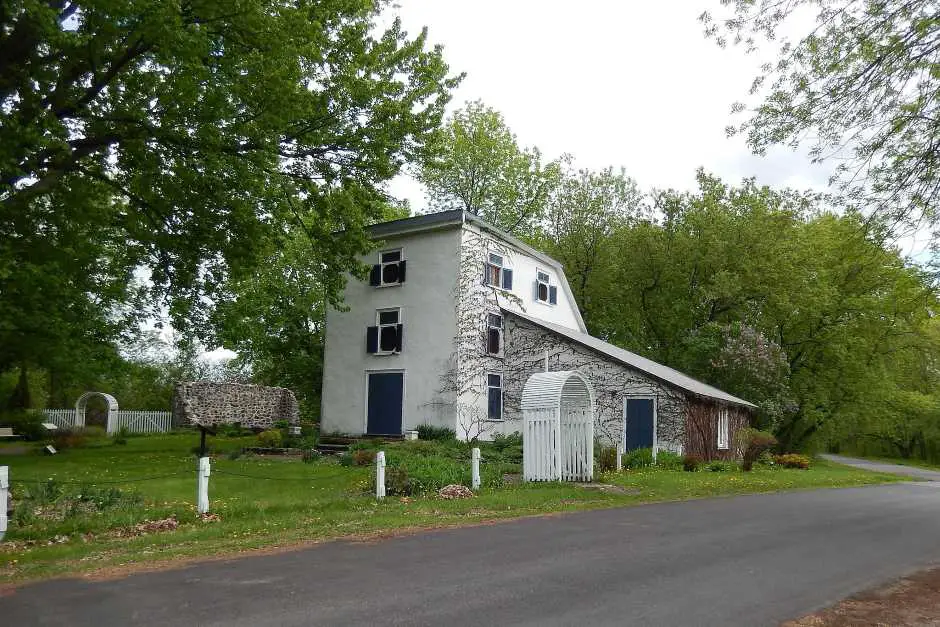 The seigneurial domain of Sainte Anne
Madeleine de Verchères, the seigneur of Sainte-Anne-de-la-Perade, once lived in this house. She was something like the mistress of the seigneury and determined the fortunes of the people there. But there are other people who made this house remarkable. Elizabeth Hale, a 19th-century painter, and Honoré Mercier, who had his second home here. Also worth seeing is the church of Sainte-Anne with its crypt. It is especially beautiful here in summer when the garden is in full bloom.
Domaine seigneurial de Sainte-Anne
910 rue Sainte Anne,
Sainte-Anne-de-la-Perade,
QC G0X 2J0,
Canada
Opening times: 2nd Sunday in June to 1st Monday in September: Tuesday to Sunday from 10 a.m. to 17 p.m.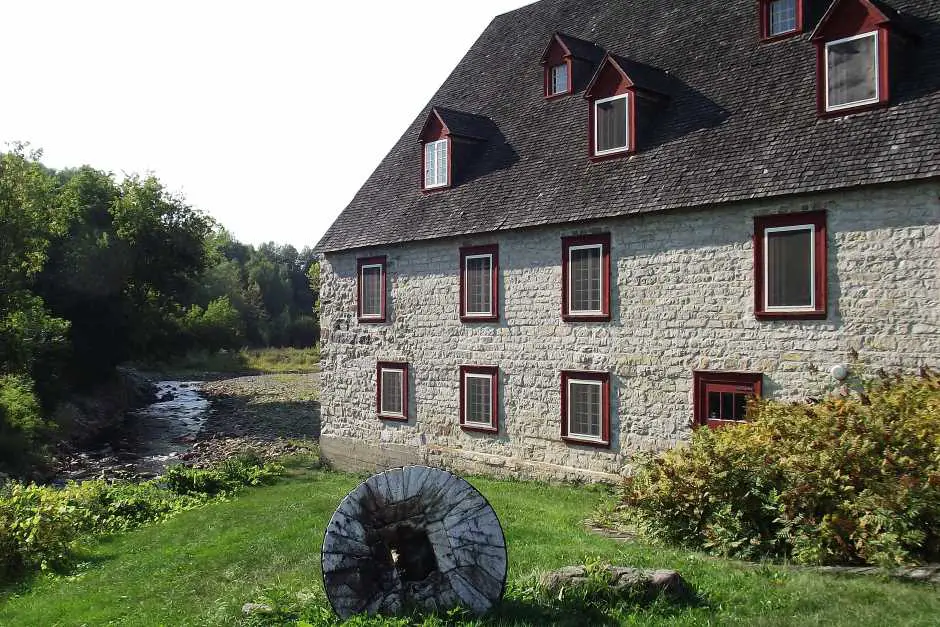 The Deschambault-Grondines watermill
We come across a watermill in Deschambault-Grondines. It dates back to 1802 and today houses a small museum that deals with the history of the mill and regularly presents handicraft exhibitions.
Moulin de la Chevrotiere
109 rue de Chavigny
Deschambault, QC G0A 1S0
Canada
Opening times: The Moulin de la Chevrotiere is open during events.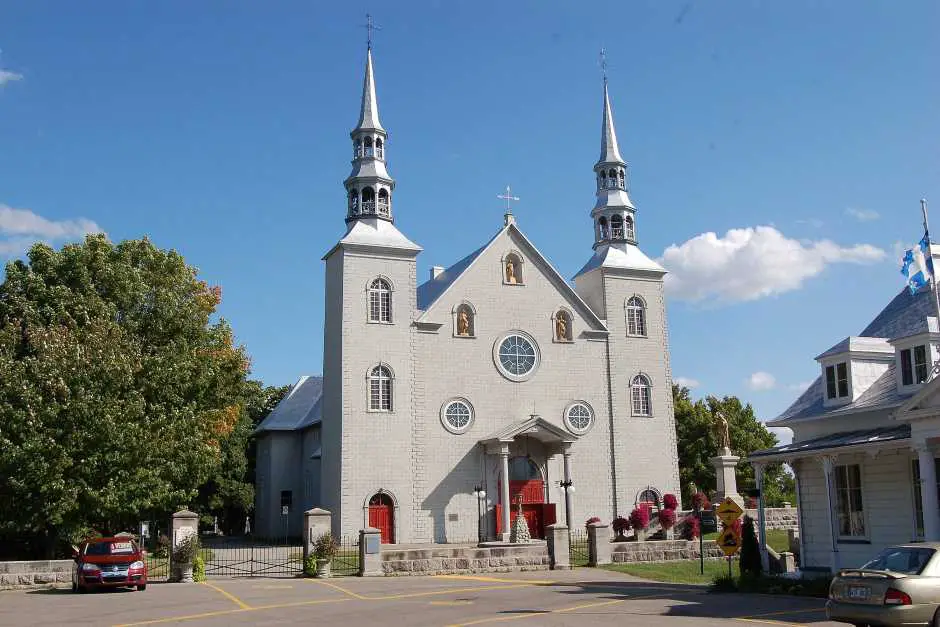 The Church of Cap Sante
This church is only representative of the numerous churches along this route. All of them are striking. They are large and tower over the villages in which they stand. Churches like this are typical of the places along the King's Route. It is worth seeing such a church from the inside.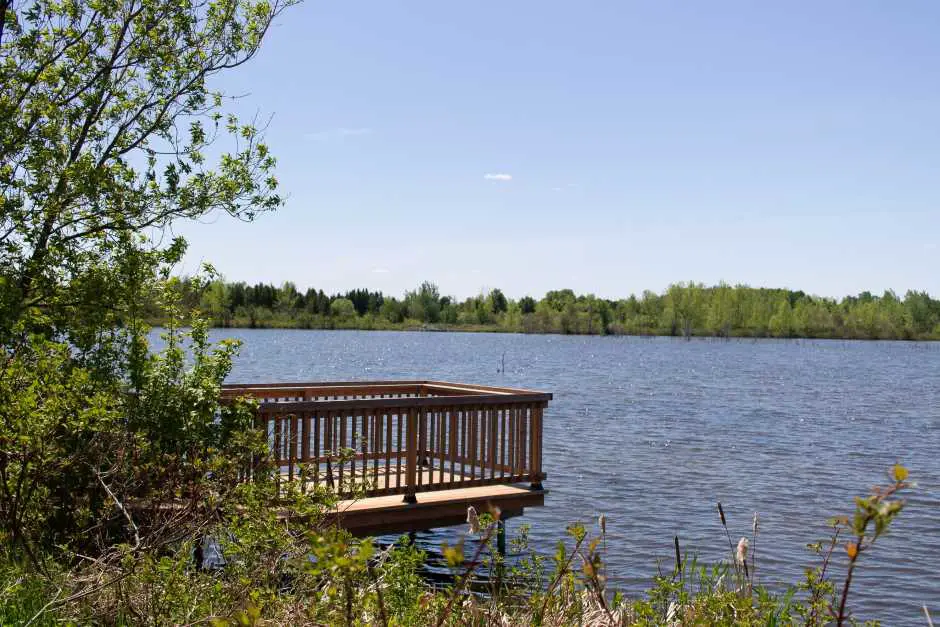 The Marais-Léon-Provancher Nature Reserve
Want to get a picture of the Saint Lawrence River before it reaches Quebec City? Then you can take a walk on the banks of the river at the Marais-Léon-Provancher Marshes Nature Reserve. Take your time and don't forget your camera and binoculars, because you can also watch birds here.
Are you traveling with a motorhome?
A nicely located campsite halfway between Montreal and Quebec City is Park de Motorisés, 185 Av. Godefroy, Bécancour, QC G9H 1S1, Canada, Tel.

819-606-0200

. There are other campsites in the area.
Do you want to rent a motorhome? Then you will find information here as well as  booking options.
Check our packing list for campers to see whether you have packed everything for your motorhome tour.
Don't forget your  backpack . There are beautiful hiking opportunities in the area.
Canada East
Want to learn more about Ontario and the Montreal to Quebec City region? Explore the cities, each of which is different. The metropolitan city of Toronto is the largest city in the country. Montreal awaits you with a mix of French flair and British lifestyle. The capital Ottawa lures with world-class museums and the centers of power in Canada. Feel transported to 17th-century France in Quebec City.
Nature in eastern Canada is also impressive. Follow the banks of the St. Lawrence River and discover a world that is more reminiscent of the sea and extends far into the continent. Experience the coastal landscapes, the river valleys that criss-cross the interior and the rolling hills of the Appalachian Mountains. Let yourself be impressed by the difference in tides in the Bay of Fundy. Enjoy the landscapes of Prince Edward Island. Explore the coastal and archipelago region in Nova Scotia. Explore one of the most beautiful coastal roads in Eastern Canada on Cape Breton Island: the Cabot Trail. Or look forward to the residents in the fishing villages of Newfoundland and Labrador. Their hospitality is what makes this region so welcoming.
Order the Travel Guide Canada - East Here *, which Monika publishes as a co-author.
---
Travel Arrangements:
Parking at the airport
Here you can reserve your parking space at the airport.
Getting to King's Road from Montreal to Quebec City:
Arrival by plane, bus or train*. Montreal has an international airport where direct flights from Germany and Europe land.
Rental car:
Cheap Car Hire - Book Fast and Easy! *
From Montreal to Quebec City by RV:
Hotels from Montreal to Quebec City:
Accommodations in and around Quebec * You can book through our partner booking.com.
---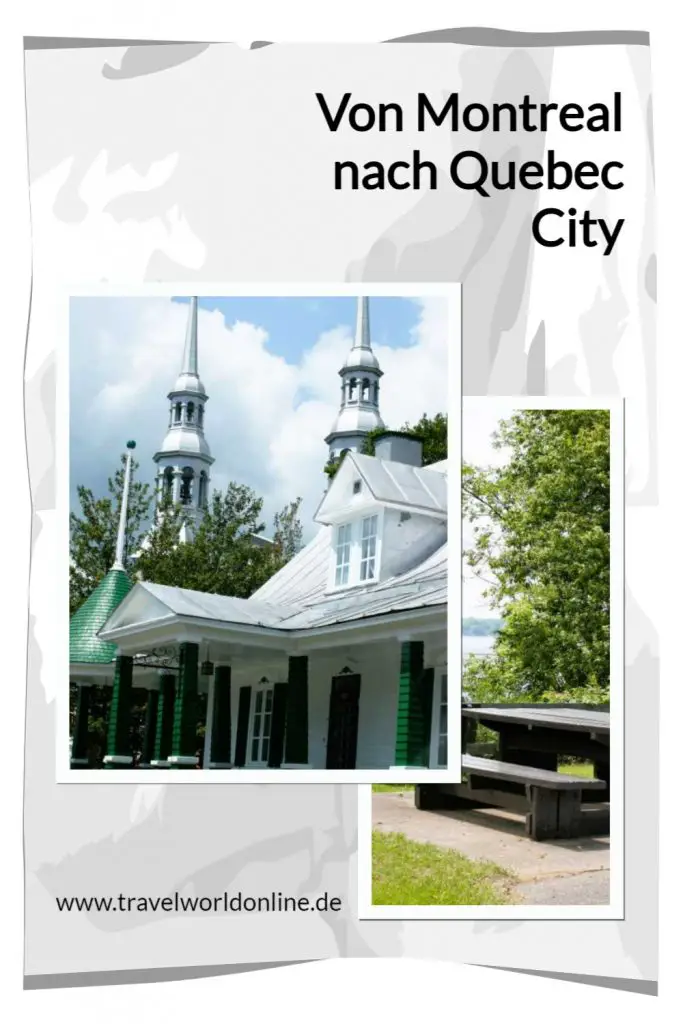 Do you already know:
Source from Montreal to Quebec City: On-site research assisted by Bonjour Quebec
Text from Montreal to Quebec City: © Monika Fuchs, TravelWorldOnline
Photos: Copyright Monika Fuchs, TravelWorldOnline
What do you prefer? A leisurely ride on a coastal road like this, or a quick ride on the highway?
From Montreal to Quebec City along the King's Road