African food
Our African stew from Nigeria shows how well you can eat African food. I got this for the first time in an African many years ago Cape Town restaurant in South Africa eaten. In Marco's African Place, Not far from the waterfront. The restaurant still exists today. Whether the African stew is still on the menu, I do not know. But you can still eat African food there. Not only South African cuisine comes to the table in this restaurant. If you are looking for food on a South African trip like in Africa, then you are in the right place. The food served at this restaurant comes from many African countries.
I can still remember very well how I was sitting on the gallery of the restaurant, listening to the lively singing of African singers and letting this African stew from Nigeria melt in my mouth. It was then that I learned to appreciate traditional African cuisine. Since then, African food, like in Africa, has been on our menu again and again.
Do you already know the #WorldFoodDay? The World Food Program of the UN equates food with the concepts of family, tradition, hope, adventure, culture and health. This interpretation perfectly expresses what food and enjoyment means to us. So what could be better than taking this as an opportunity to introduce you to the recipe for this Nigerian stew. By the way, this can be perfectly in one Dutch Oven über dem campfire prepare. You can also find Dutch oven accessories you can find here. A tip for them RV and camping fans between you.
African cooking with these cookbooks: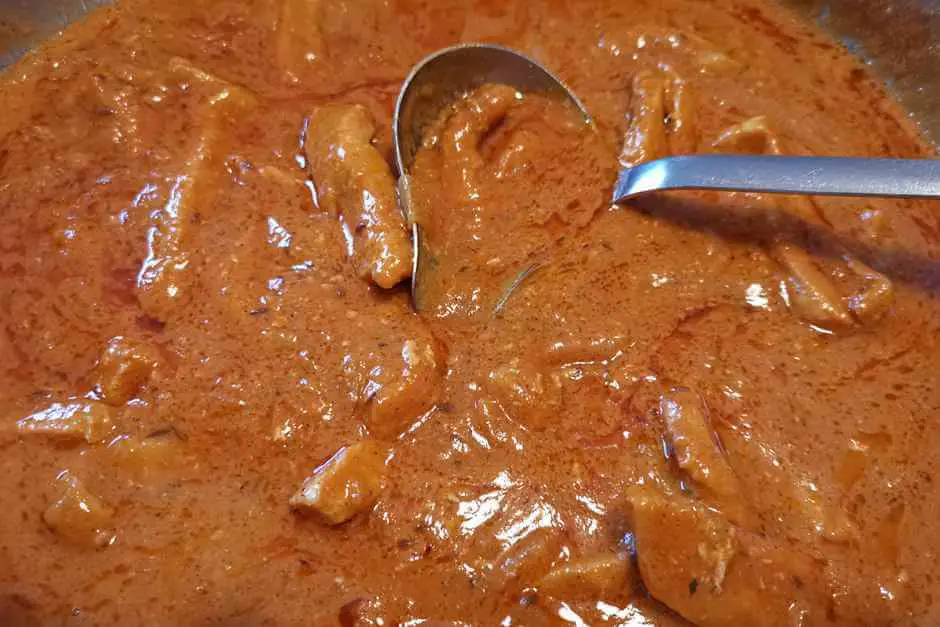 Ingredients - African stew
2 servings
500 g pork chops
2 onions
2 tablespoons of peanut or sesame oil
5 tablespoons of peanut butter
Paprika spice
Salt and pepper
2 tablespoons of tomato paste or a small can of diced tomatoes
400 ml vegetable broth
1 bunch of fresh parsley
1 tablespoon of cumin
African food - How to prepare the stew
Food like in Africa is easy to cook. You chop the onions fine.
Cut the pork into thin strips.
In the meantime, you heat the oil in a pan. You fry the meat in it and take it out of the pot. Then you put the onions into the pan and leave them till slightly brown. Stir the peanut butter in and season well with paprika powder. After that you pour in the vegetable broth and stir the tomato paste in. Add the meat again and let the stew simmer for about 45 minutes.
In the meantime, finely chop the parsley and leave some leaves to garnish.
Once the stew is cooked, you can season to taste again. Mix in the chopped parsley and decorate with the parsley leaves.
Serve with rice or mashed potatoes.
Let us know in the comments, if we could convince you of African food. And above all, let us know, how you liked our African stew.
African Restaurants - Here you can eat African
You don't like to cook yourself, but prefer to go out for African food? Then we have some restaurant recommendations for you here, where you can eat well in Africa.
More recipes from Africa for African food: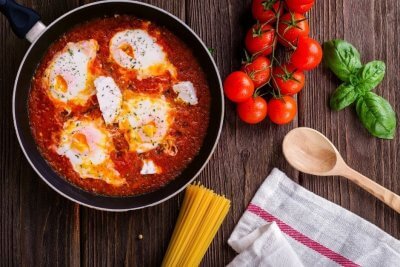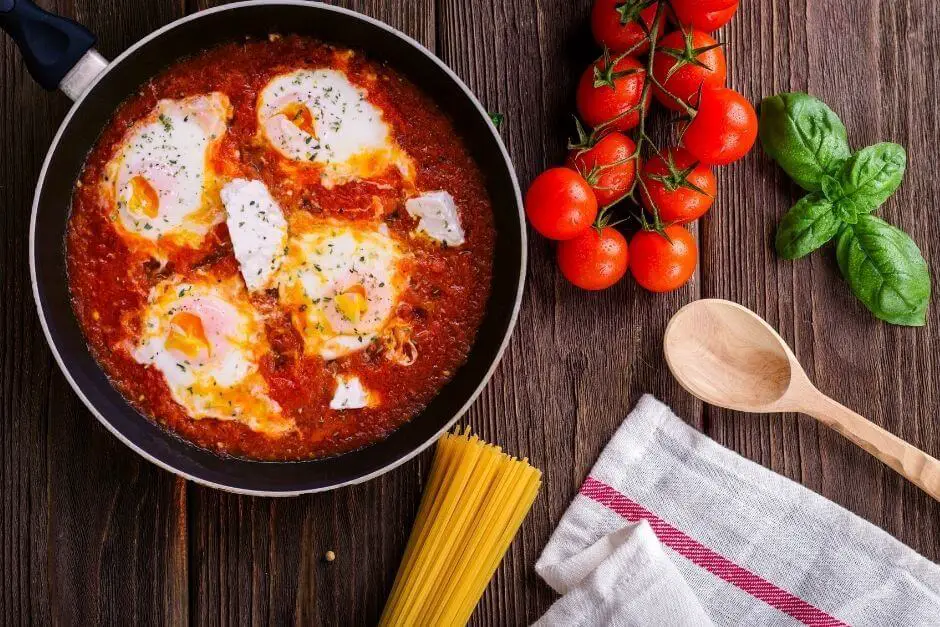 Shakshuka Recipe Prepare a delicious breakfast with this Shakshuka recipe. This dish has been on our list of tomato recipes for a long time. However, we cooked it ourselves for the first time this week. Our tomato plants in the garden are still bearing fruit. The fresher we eat them, the better they are. The dish is light and tastes delicious. Plus, it's quick to prepare. Just right for us. Because our photo on Instagram is so popular with you, we are now introducing you to the recipe. Shakshuka comes from North African cuisine. It is not known exactly where it was first prepared. Tomatoes are not native to Africa or Europe, but only came across the Atlantic from South America during the voyages of discovery. The explorers always had plants and spices from the unknown regions of the world on board on their ships. So it makes sense to assume that the dish was first cooked in the Maghreb countries. According to Wikipedia, it probably originated in Tunisia and Algeria and eventually migrated via Egypt to Israel. Tunisian and Maghreb Jews introduced it to Israel. There it is now considered the Israeli national dish. The tomato and egg dish is popular for breakfast. We also think it's great for a light lunch or dinner. With this Shakshuka recipe it is very easy to prepare. How to prepare ingredients ...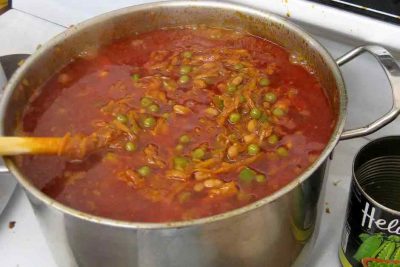 Chakalaka recipe from South Africa This Chakalaka recipe in its current form probably originated in the kitchens of the townships and mining settlements in and around Johannesburg in South Africa. The dish is still fairly new. It is said that it was created in the hostels where the men lived in the townships. The miners who worked in the gold mines around Johannesburg lived there. They are said to have diced their ingredients together to cook a vegetable stew. They also served corn "Pap", a porridge made from corn. This is also known as Mielie Pap. The workers in the hostels had little money at their disposal. Therefore, there were no fixed ingredients for the dish. You can therefore also use the recipe to use up leftovers. History of the Chakalaka recipe from South Africa? We don't know exactly where the name comes from. Some say it comes from the Bantu language Setswana. Others say it means "quick and tasteful." Others think it comes from the Zulu language and means something like "something that was chopped together". Still others claim it comes from Fanagalo, the language of the miners around Johannesburg. There are also versions that differ in the spelling. One reads Chakka Lakka as well as Shakalaka. However, the name Chakalaka has spread internationally. I have also read about a Tschakka Lakka recipe. The dish Chakalaka definitely comes from the kitchens of the workers in the...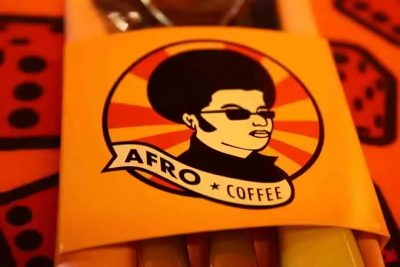 In the Afro Cafe in Salzburg you can eat like in South Africa, I've wanted that for a long time. Again and again I am gripped by the longing for the countries that I have traveled to in the course of my life. Habits are formed, friendships are made that last for years. You get to know restaurants and dishes that tempt you again and again. This is exactly what happened to me in the townships of South Africa. Actually, places that I initially entered with shyness. On the one hand, because I still remembered the reports from our media about the acts of violence from the apartheid era, and I didn't know what to expect. And on the other hand, because I don't like to just look into the cooking pots of strangers without an invitation. But that's exactly what you do when you visit a shebeen in South Africa. Enjoy Salzburg actively with workshops, cooking courses and gourmet experiences* Eat like in a shebeen A shebeen is a pub set up in a residential building in the townships. The landlady is often a mother who has to feed a number of children on her own. So she simply turns her living room and yard into a restaurant where she serves food to her neighbors every day. Cooked it myself, of course. There is usually a lot of love in the equipment. It may be simple, but with ingenuity and manual work it makes ...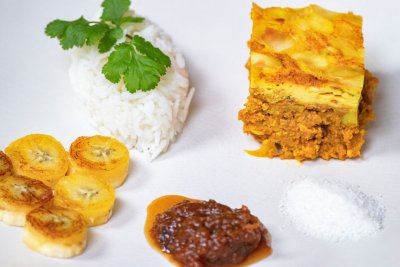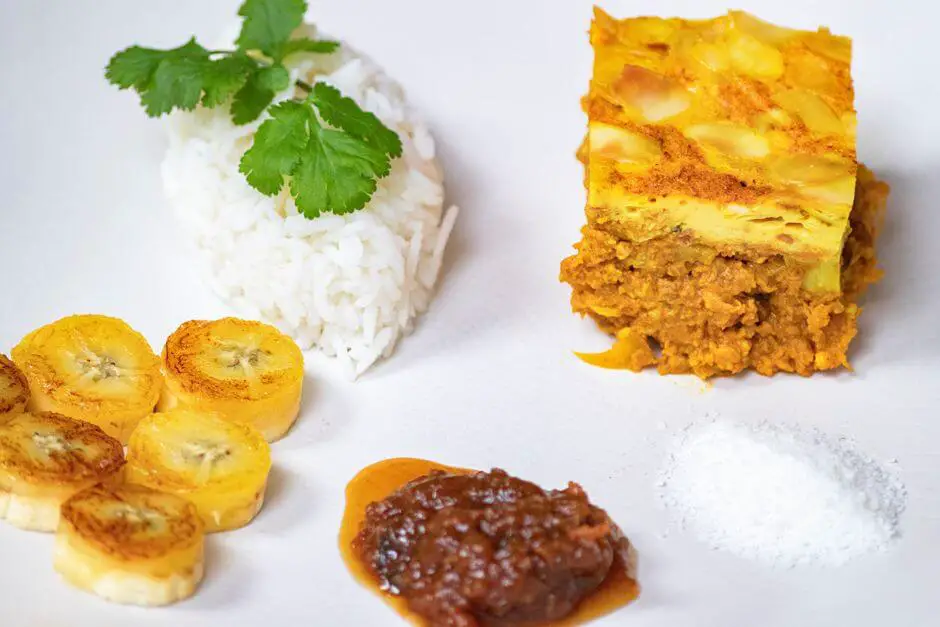 African Bobotie Recipe from South Africa Photo © Copyright Olivier Colas CC BY-SA 4.0 Bobotie Recipe from South Africa This bobotie recipe from South Africa is a dish that I will always associate with the Cape Town region. Over the years that I have traveled South Africa, bobotie has been one of the dishes I look forward to every time I come to the Cape region. It is very common in Cape Town and the surrounding area. It is on the menu in many restaurants. Therefore you can try it well on a trip to the region. Or you can prepare it yourself at home. We have the African recipe bobotie from time to time from our own kitchen. Here we present a bobotie recipe from South Africa from the Boschendal kitchen. There is arguably no South African dish that better represents Cape Malay cuisine in Cape Town. This recipe contains the history of the origin of this dish. It is not even certain that the dish actually has its origins in the island world of Indonesia, as many believe. Wikipedia claims it's a recipe that can be traced back to the Romans. The Roman Apicius describes a casserole whose ingredients and preparation are strongly reminiscent of South Africa's speciality. Roman precursor Patinam ex lacte consisted of a layer of meat and pine nuts. It has been seasoned with paprika, celery seeds and asafoetida, a type of resin that can ...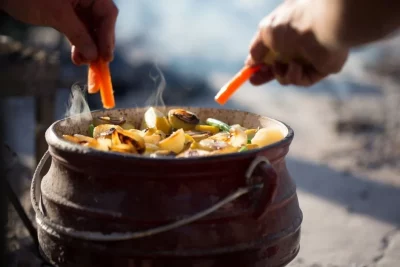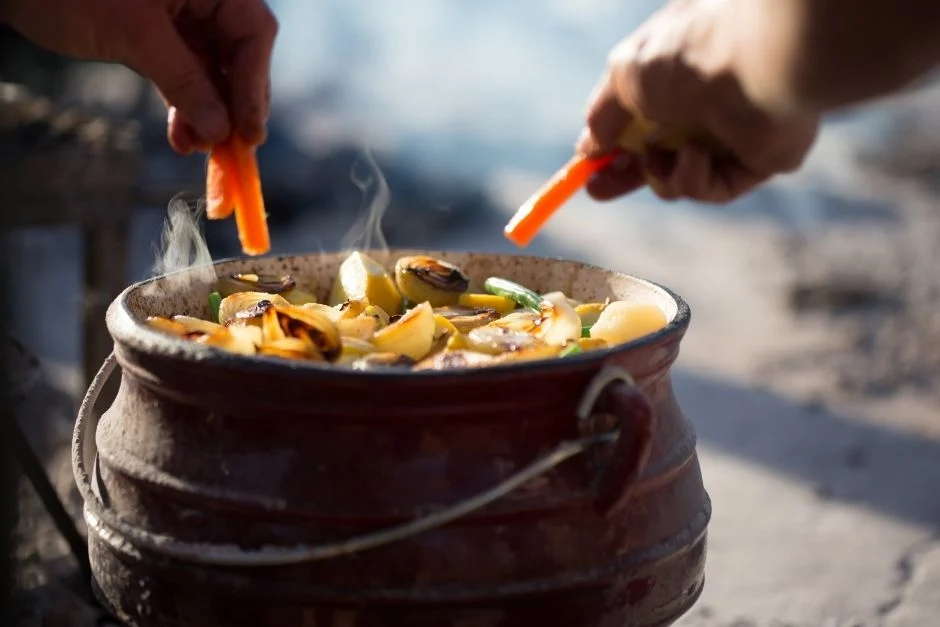 Our Favorite Potjiekos Recipe Potjiekos is a traditional South African dish that is often prepared in a cast-iron pot called a potjie. The potjie is cooked over an open flame and various ingredients slowly simmer. I first came across the recipe for potjiekos from South Africa on my travels through Africa. Potjiekos are simple stew dishes. This food goes back to the Voortrekkers, who traveled through the country with their heavy ox carts. In it they lived, slept and ate. They carried everything they needed for life. They didn't have much space for kitchen equipment in their covered wagons. Instead, they took with them a Dutch Oven, which made it easy for them to cook their recipes outdoors over a campfire. Recipes like this are still good for cooking in the camper today. Potjiekos recipes are variable There are many different recipes for Potjiekos, depending on the region and taste. However, a classic potjiekos usually consists of meat, vegetables and spices. Popular types of meat are beef, lamb or chicken, but game or sausage can also be used. The vegetables may vary depending on the season, but potatoes, carrots, onions and tomatoes are often used. Spices such as paprika, turmeric or cumin give the dish a special touch. A typical potjie recipe looks like this: First, the meat is fried in oil and then removed from the pot. Then onions and garlic are cooked in the same...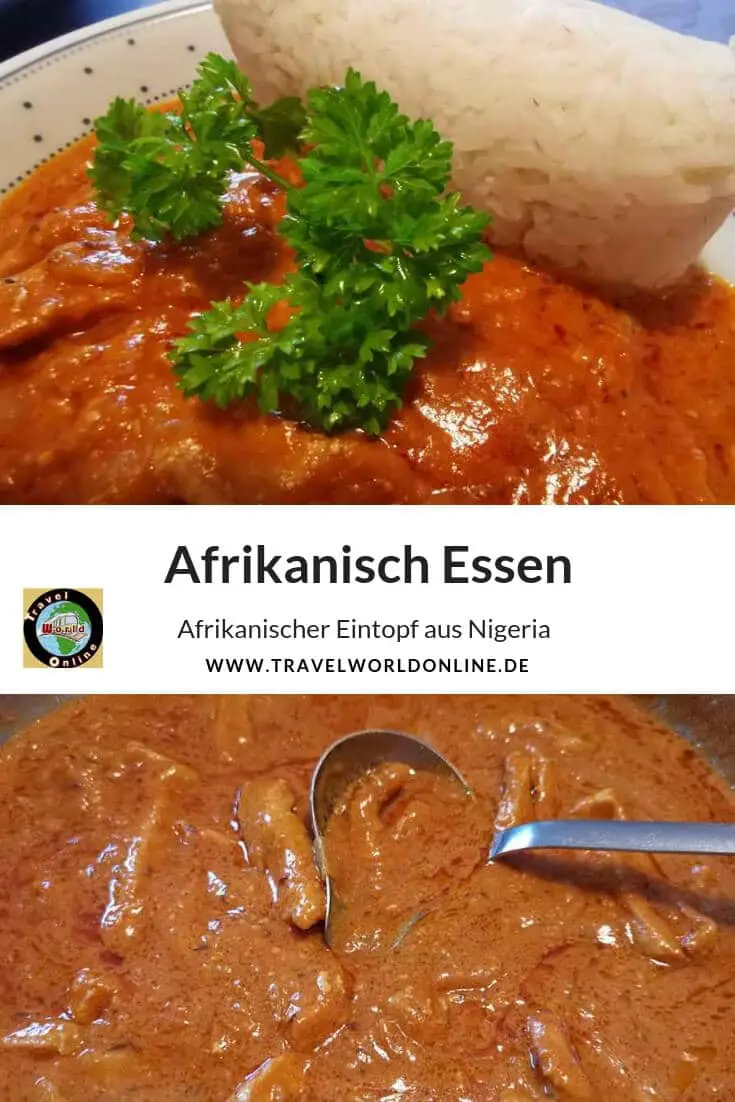 Do you already know:
Source African food: own research
Text African stew: © Copyright Monika Fuchs, TravelWorldOnline
Photo African Food: © Copyright by Monika Fuchs, TravelWorldOnline
African Food - African Stew from Nigeria
Last update on 29.11.2023/XNUMX/XNUMX / Affiliate links / Images from the Amazon Product Advertising API