Salzburg specialties
Salzburg is so well known that almost everyone knows some of Salzburg's specialties. If you Salzburg visit, you can hardly avoid some of them. Either the waiter in your restaurant praises them. Or you stumble across it in the town's souvenir shops. Nevertheless, there are some special features in the culinary arts of Salzburg that you have probably not heard of. Salzburg Essen is typical of the border area between Bavaria and Austria. Pastries and sweets are part of the city's food. Nevertheless, let yourself be surprised what else is being served in Salzburg and the surrounding area. But first I will introduce you to the typical Salzburg food. You have probably heard of them.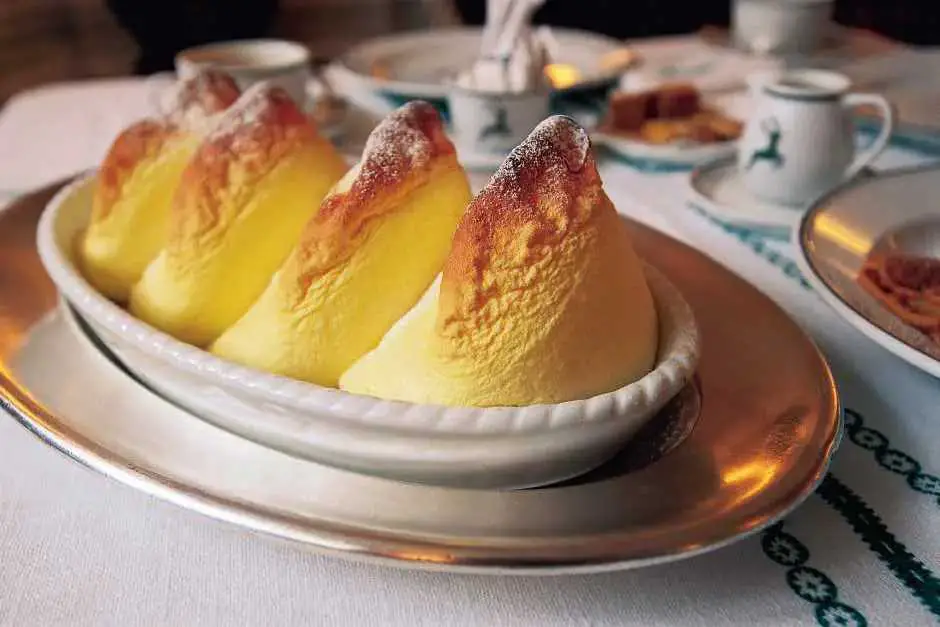 Salzburg specialties and typical Salzburg dishes
Salzburg has a rich culinary tradition with some delicious treats. An absolute classic is the Salzburger Nockerl. This fluffy dessert is made from a mixture of eggs, sugar and flour formed into large mounds and baked in the oven. Sprinkled with powdered sugar, they are a real treat!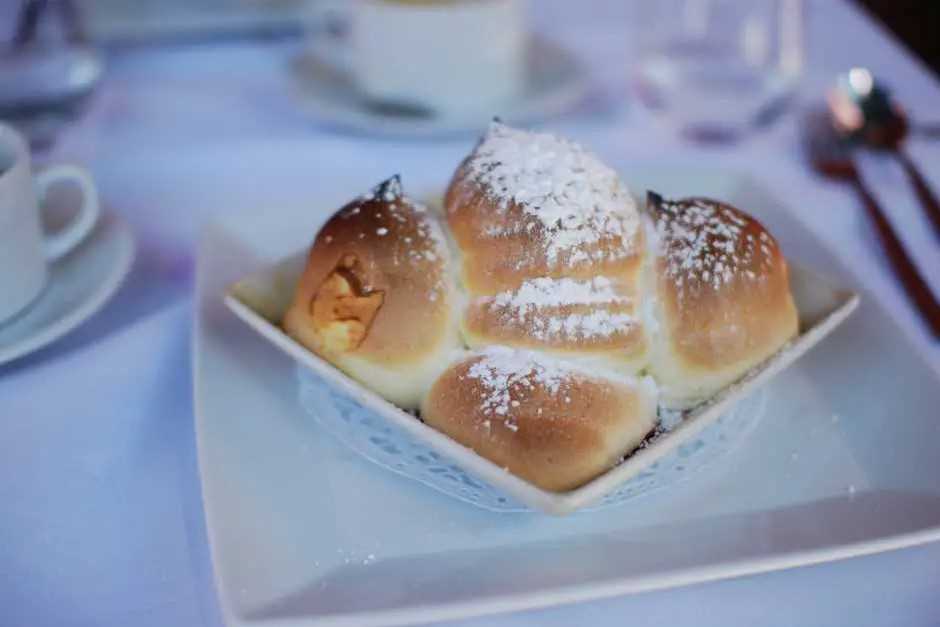 Salzburg specialty recipes
The recipes from this region are a feast for the senses and reflect the area's rich history and tradition. Whether sweet or savory, Salzburg cuisine has something to offer for every taste. The Salzburg specialty recipes rely on simple ingredients that create true taste experiences.
Salzburg specialties recipe for Salzburger Nockerl
Typical Salzburg food is, for example, the "Salzburger Nockerln". These are sweet, fluffy soufflés made from egg white, sugar and vanilla, often served with berries or sauce. They are arguably one of those dishes that every visitor to the city must try. I can hardly remember one of our visits to the city on the Salzach where we didn't come across them on the menu. However, you should have time if you want to try this soufflé. Because Salzburger Nockerl must always be freshly made. That takes time. Once they're out of the oven, it's time to eat. Because the fluffy pastry collapses just as quickly as it rises in the oven.
You can of course also make the Salzburger Nockerln at home with this one
Ingredients for Salzburger Nockerl
That's what you need for this Salzburg specialty
7 protein
100 grams of sugar very fine
2 beaten egg yolk
20 grams of flour (sifted)
a packet of vanilla sugar
butter for the form
Powdered sugar for sprinkling
How to prepare the Salzburg specialty:
Beat the egg whites and slowly add the sugar. Gently stir in the egg yolks and vanilla sugar. Raise the flour underneath. Then you fill the dough in three piles in a buttered tin. The heaps are important because they are supposed to symbolize the three local mountains of Salzburg: the Gaisberg, the Kapuzinerberg and the Mönchsberg.
Then you put the mold in the oven at 220 ″ Celsius for nine minutes.
Sprinkle the dumplings with powdered sugar. Then you have to be quick with serving. Because the dish quickly collapses.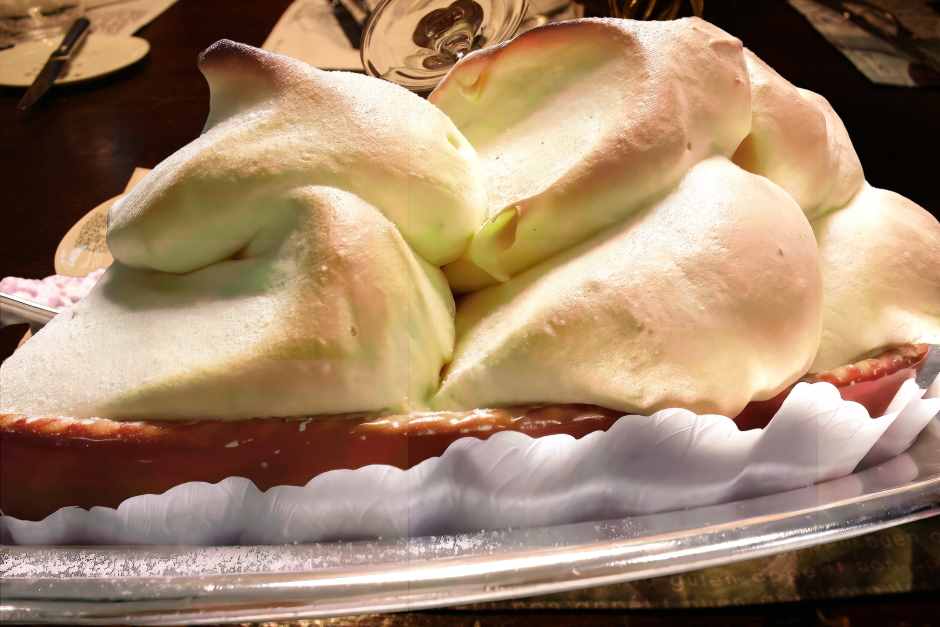 Salzburg specialties recipe for Kasnockn
Ingredients:
300g flour
2 eggs
100ml water
200g mountain cheese
1 onion
Salt
pepper
butter
Preparation:
First mix the flour, eggs and water in a bowl. Then knead the dough well.
Then grate the mountain cheese and set it aside.
Cut the onion into small cubes.
Now bring a pot of salted water to the boil.
Form small balls out of the dough and then add them to the boiling water.
Let the dumplings cook until they rise to the surface.
Now fry the onion cubes in butter until they are golden brown.
Lift the cooked dumplings out of the water and mix them with the cheese and onions.
Finally season with salt and pepper.
Salzburg specialties recipe for potato pancakes
Ingredients:
4 large potatoes
1 onion
1 clove of garlic
200g sour cream
Salt
pepper
chives
Preparation:
First, boil the potatoes until tender and peel them.
Then mash the potatoes in a bowl.
Now chop the onion and garlic finely.
Mix the onion, garlic and sour cream into the potatoes.
Then season with salt and pepper.
Garnish with chives.
Salzburg specialties recipe for plum roaster
Ingredients:
500g plums
100g sugar
1 cinnamon stick
1 star anise
200ml water
Preparation:
First wash the plums and remove the seeds.
Put the plums in a pot and add sugar, cinnamon and star anise.
Then add the water and bring everything to the boil.
Now let the mixture simmer over low heat until the plums are soft.
Finally, remove the cinnamon stick and star anise.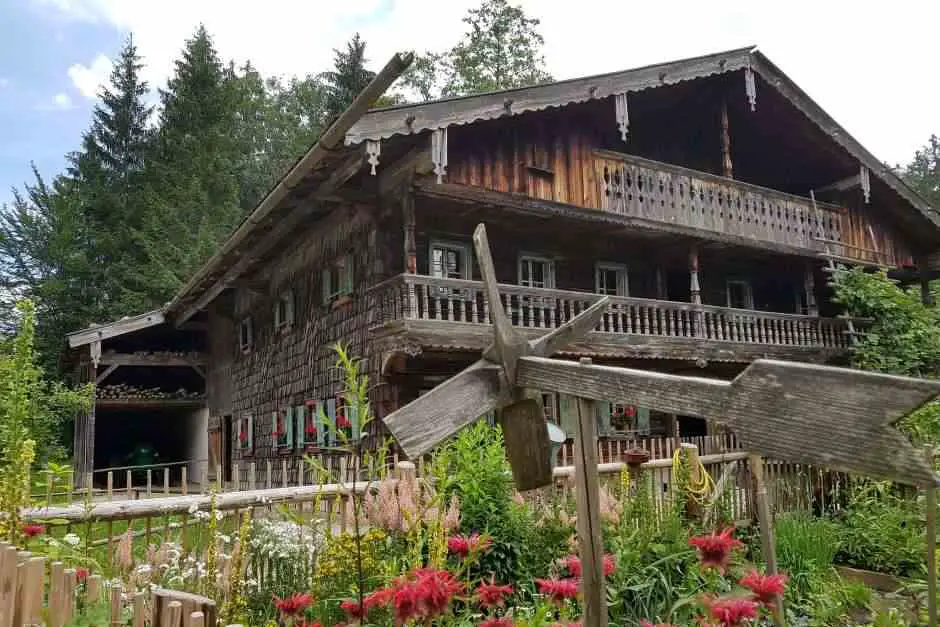 History and origin of Salzburg specialties
Salzburg's specialties have a long history, which is also closely linked to the culture and traditions of the region.
The origins of Salzburg cuisine are diverse and range from farming traditions to influences from the neighboring region Bavaria and Italy. For example, Kasnockn, a type of cheese spaetzle, has its roots in the Alpine region. The hearty cheese noodles come from the Alpine regions around Salzburg. They tell of the hard work of the mountain farmers, who needed nutritious and filling meals. Originally a simple farmer's meal, they are now a popular classic.
Erdäpfelkas, a potato spread, is another example of the simplicity and ingenuity of Salzburg cuisine. This dish was often prepared in the winter months when fresh vegetables were in short supply. The potatoes come from our own gardens and the sour cream gave the dish a special touch.
Sweet specialties like Salzburger Nockerl also have an interesting history. They symbolize the city's three hills - Kapuzinerberg, Mönchsberg and Rainberg. This dessert originated in the 17th century and reflects the baroque love of opulent, artistic dishes.
The Salzburg Mozartkugeln also have a special history. They were created in 1890 by confectioner Paul Fürst and named after the famous composer Wolfgang Amadeus Mozart. These pralines, a combination of marzipan, nougat and chocolate, are known worldwide and are a symbol of the cultural importance of Salzburg.
The Zwetschkenröster, a plum compote, also has a long tradition. It was often served as a side dish to meat dishes and was later discovered as a dessert. The plums for this mostly came from our own gardens and were harvested in autumn.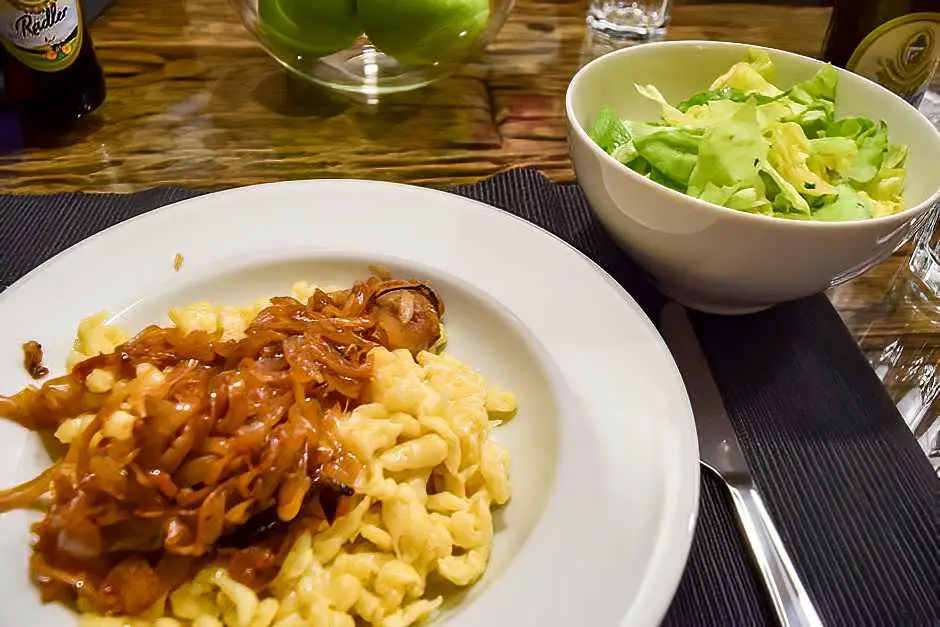 There are even more Salzburg specialties
If you prefer something hearty, you should definitely try the Salzburger Kasnocken. These delicious cheese spaetzle are prepared with spicy cheese, onions and butter and are a feast for the palate.
Another typical dish is the Salzburg beer meat. Tender beef is cooked in a strong beer sauce and served with bread dumplings. A hearty treat that will surely delight you!
Don't forget the Salzburg farmer's bread, a traditional bread with a thick crust and moist inside. Perfect for dipping in soups or just brushed with butter.
Pralines are one of Salzburg's sweet specialties
Sweets are also typical of Salzburg food. Who doesn't know him: Wolfgang Amadeus Mozart? No wonder one of the Salzburg specialties is named after him. In his honor, confectioner Paul Fürst invented the Salzburg Mozartkugeln. Using marzipan, pistachios, nougat and chocolate, he created the praline that Salzburg is famous for. However, his neighbor Josef Holzermayr, who also ran a confectionery shop, was there and also offered his Mozartkugel. This led to a dispute between the two candy shops that continues to this day. It's about who can claim the Mozartkugel. The whole thing was solved by the Fürsts offering them as "Original Salzburger Mozartkugel". Holzermayers, on the other hand, sell the "Real Salzburg Mozartkugel".
Salzburg specialties as a souvenir
Which one tastes better now is best for you to try out for yourself. If you are looking for a souvenir, you should definitely buy an "Original Salzburg Mozartkugel". These are available in many sizes and variants in the city's souvenir shops. Mozartkugeln are well suited as a souvenir of Salzburg specialties.
Experience Salzburg's cuisine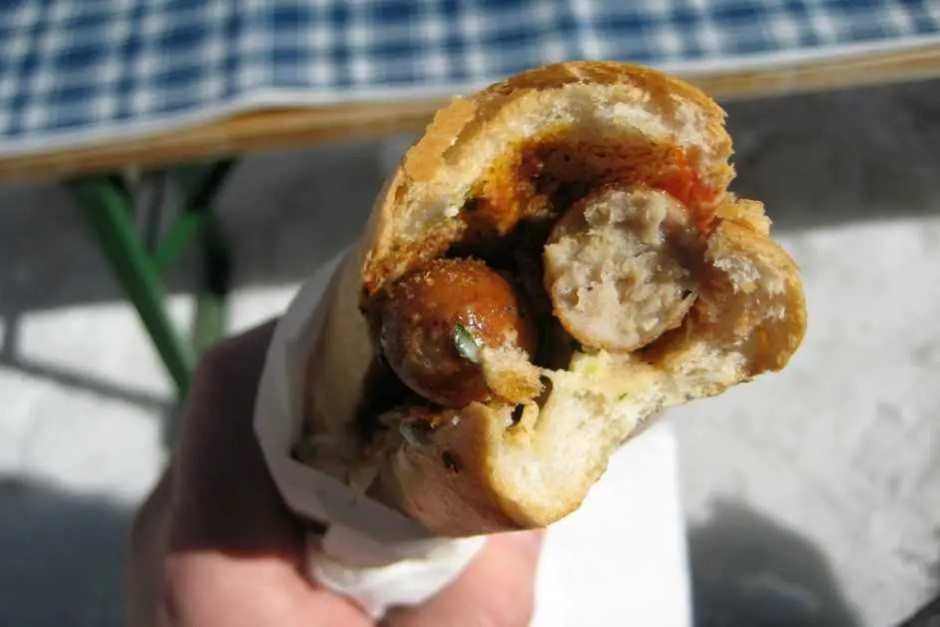 The Salzburg specialties are not all sweet
There is also spicy Salzburg food, which is typical of the city on the Salzach. The Bosna proves that the specialties from Salzburg are not all sweet. This is a bratwurst that is sold in a snack bar in one of the passageways through the old town of Salzburg. I am sure that its inventor, the butcher Zanko Todoroff, could not have imagined the success of his sausage roll. Word quickly got around from his snack bar how good his sausage rolls taste. He found the perfect clientele for them near the University of Salzburg. In the meantime, Salzburgers and visitors to the city are lining up at lunchtime to try his Bratwurst To Go.
Salzburg specialties Restaurants that serve culinary highlights in Salzburg
Here are some restaurants where you can enjoy authentic Salzburg specialties.
St. Peter Abbey Culinarium: This is the oldest restaurant in Central Europe and a must for every foodie. Here you can try traditional dishes such as Salzburger Nockerl and Kasnockn.
Zwettler's tavern: This cozy restaurant is known for its hearty dishes. The Erdäpfelkas and the trout "Müllerin Art" are particularly recommended.
To the circle host: If you are a fan of game dishes, this restaurant is the right choice. In addition to classics such as Wiener Schnitzel, it also offers deer ragout.
The White: For all beer lovers, this restaurant is a paradise. It not only offers a wide range of beers, but also local specialties such as Blunzengröstl.
Carpe Diem: This modern restaurant offers a creative interpretation of Salzburg cuisine. Here you can enjoy miniature versions of classics like Tafelspitz and Kaiserschmarrn.
Each of these restaurants has its own special features, but they all share a love of Salzburg cuisine. From sweet desserts to savory main courses, the selection is varied. Another Selection of Salzburg restaurants you can find here.
What else is typical for Salzburg?
Many other specialties are also typical of Salzburg, such as the "Salzburger Bier", which comes from the surrounding breweries, or the "Salzburger Brot", which is often baked from rye flour and sourdough. Almost everyone has heard of at least one of these Salzburg specialties. But I bet that is no longer the case with the next products from the city on the Salzach.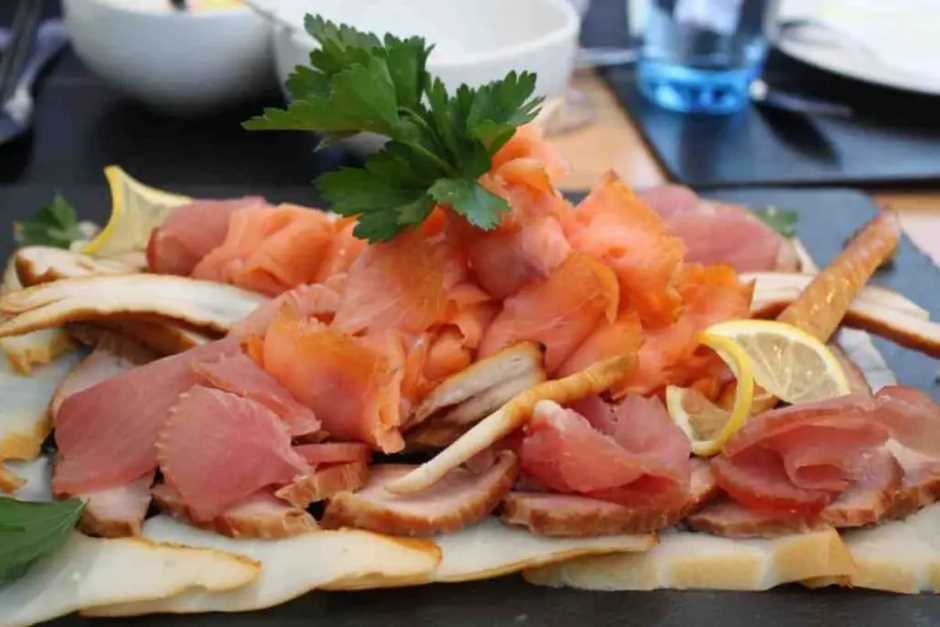 Even fish and the most expensive caviar in the world are Salzburg specialties
Not everyone who travels to Salzburg thinks of fish. We neither. It was only when we visited the eat and meet festival in Salzburg a few years ago that we were taught better. Among other things, we visited the Fishmonger Walter Grüll in Groedig. The place is not far from Hellbrunn Palace south of Salzburg. From the outside, his fish shop looks like any other fish shop. However, if you agree to a tasting, it quickly becomes clear that Walter Grüll's products are something special.
Not only does he breed many of the types of fish he sells in his shop himself. He is also one of only 30 breeders worldwide breeding albino white sturgeon. Because of its rarity, their caviar is one of the most valuable foods in the world. And one of the most expensive. A gram of white caviar costs up to 35 cents. Therefore, sales already start with cans from ten grams. Not much. You definitely can't get enough of it. But the jars always offer an opportunity to try this delicacy.
Moor bread - an extraordinary Salzburg specialty
I'm pretty sure that you don't know the next Salzburg specialty from a suburb of Salzburg either. Or have you tried moor bread before? Before our visit to the SonnenMoor company in Anthering, we had no idea that such bread even existed. It is baked with drinking moor, which is made from the peat that is found in the region north of Salzburg. You can find out more about the SonnenMoor company and its history in this article. If you want to try the moor bread yourself, a visit to SonnenMoor is worthwhile. In the moor and herb adventure world (Landstraße 14, 5102 Anthering) you can find out more about the processing of the moor and the history of the company. Anthering is about 15 minutes from Salzburg.
From Monday to Friday there are guided tours for 10 or more people.
09.30 clock and 14.00 clock
Duration: approx. 2 hours
Costs: € 6 pp including refreshments and gift
These specialties from Salzburg are also traditional Salzburg dishes
It's worth looking out for on restaurant menus.
Kasnocken - These are savory dumplings made of dough with cheese gratin, which are usually garnished with roasted onions and chives. They are special because they are a typical Austrian specialty and in Salzburg they are often prepared with homemade cheese.
Tafelspitz – This is a boiled beef that is often served with vegetables and potatoes in Salzburg. It is special because it is a traditional Austrian dish and in Salzburg it is often served with a hearty beef soup as a starter.
Salzburg beer – Salzburg has a long brewing tradition and many different breweries that produce their own beer. The Stiegl beer, which has been brewed since 1492, is particularly well known. It is special because it has a long history and is often served as an accompaniment to hearty dishes in Salzburg.
This is what you need for a city trip to Salzburg
Enjoy Salzburg specialties
We hope you enjoy trying out the specialties from Salzburg. With these tips you can expand your tasting of Salzburg to the surrounding area and learn more about the city and the region. Let us know how you liked the Salzburg specialties.
Frequently Asked Questions
Frequently asked questions about Salzburg specialties
What are typical Salzburg specialties?
Typical Salzburg specialties include the "Salzburger Nockerl", a sweet dessert made from egg whites, sugar and vanilla, and the "Salzburger Mozartkugeln", a famous praline made from marzipan, nougat and chocolate. The "Brettljause" is also a popular specialty in Salzburg, consisting of a platter with various types of sausage and cheese.
Are there special dishes that one should eat in Salzburg?
Yes absolutely! Classic dishes include "Salzburger Nockerl" (a sweet dessert), "Salzburger Kasnocken" (cheese spaetzle), "Salzburger Bierfleisch" (beef in beer sauce) and "Schnitzel" (breaded veal escalope). These dishes are an absolute must for every visitor who wants to get to know the Salzburg cuisine.
What are the most famous Salzburg specialties?
One of the most famous Salzburg specialties is definitely the "Salzburger Mozartkugeln". These round pralines are a sweet delicacy and very popular as a souvenir. The "Salzburger Nockerl" is also very popular. The airy, golden-brown baked desserts are a real classic of Salzburg cuisine.
Are there other regional specialties in Salzburg?
Yes, in addition to the specialties already mentioned, there are other regional delicacies. These include, for example, the "Salzburger Bier" from the numerous breweries in the region and the "Salzburger Bierfleisch" (beef in beer sauce).
Where can you try typical specialties in Salzburg?
In Salzburg you will find many restaurants, inns and cafés that offer typical Salzburg specialties. Especially in the historic center of Salzburg there are numerous restaurants where you can enjoy the regional cuisine. The traditional Salzburg markets such as the "Green Market" also offer a variety of regional products to try. It is worth discovering the variety of Salzburg specialties in different places.
Popular excursions and activities in Salzburg
---
Travel Arrangements:
Parking at the airport
Here you can reserve your parking space at the airport.
Arrival by plane, train and bus
Arrival by plane, bus or train*. Lufthansa, Austrian Airlines and other airlines fly to Salzburg. It is also possible to travel to Salzburg by train. Also drive Long-distance buses * to Salzburg.
Rental car:
Cheap rental cars and e-cars - book here! *
Camper Rentals:
Book yours Caravan here. Or do you prefer to travel with him roof tent on the car? Also the overnight stay in camping tents is possible.
Accommodation in Salzburg
Hotels in Salzburg * Book online via booking.com.
Book your hotel in Salzburg here
In these hotels you can not only stay well, but also eat well:
Camping sites in and around Salzburg:
Camping sites in and around Salzburg* can be found and reserved here. An example of a campsite is Salzburg Panorama Camping, Rauchenbichlerstraße 21, 5020 Salzburg, Austria. A Rent a motorhome you can also here. With our Motorhome packing list You'll never forget anything again.
Our travel tips for Salzburg
These travel tips we tested ourselves. Maybe there is something for you?
---
Do you also know:
Find more Food Travel There's also here.
Source for the article Salzburg specialties: research on site at the invitation of Salzburg Tourism. However, our opinion remains our own.
Text: © Copyright Monika Fuchs and TravelWorldOnline
Photos: © Copyright Monika Fuchs as well as TravelWorldOnline, Pixabay and see captions
Salzburg specialties that (not) everyone knows