Avoid rookie mistakes on your motorhome vacation
As newcomers to motorhomes, we were on our first motorhome holiday in Franconia. This did not lead us to camper countries like the USA or Canada with their wide and dead straight roads and their infrastructure for camping travelers. On this trip through Germany we have collected our motorhome holiday tips for beginners. In Traveling in Germany with its country roads, medieval villages and hectic big cities poses certain challenges for motorhome beginners. We collected these tips for motorhome holidays on the trip.
Camping trips - vacation with the camper is different
Have you been traveling by car before, or were you a tent camper? Then you have to be aware that your trip is different from your previous travel experiences. There are a few things to consider. We have therefore written down our experiences and hope that they will help you on your first trip with a camper or motorhome.
Tips for motorhome vacations and camper vacations
Our motorhome tour took us through the Franconian wine country between Schweinfurt, Würzburg and Karlstadt always along the Main. You can do well there too hiking and wine connect with each other. Since we were traveling in a mobile home for the first time, many things were new and strange to us.
What you should consider for caravan tours as a beginner
We first had to learn how to use the equipment in our mobile home on the way. A mistake we made. It would have been better if we had familiarized ourselves with the vehicle before leaving.
Our entry into the motorhome vacation
When the temperature is only a few degrees above zero, it is not fun if you do not get the heating going because the control via the displays does not correspond to the description in the operating instructions. Our first night we went to bed with the chickens and got up at sunrise. In general, we spent the beginning of our trip more thinking about being a camper than dealing with the travel destinations. It really shouldn't be like that. Therefore, we are presenting our tips for motorhome holidays here.
We had planned the trip as we were used to as car travelers who usually stay in hotels. A mistake! We had planned far too little time to deal with our vehicle and to provide it with everything that is necessary for a motorhome holiday. So that this doesn't happen to you in the same way, we have put together an introduction for motorhome newbies to help you plan such a trip.
Our motorhome tips for beginners
Familiarize yourself with the vehicle before your motorhome vacation
Before you set off, you should familiarize yourself with your motorhome. Study the manual carefully and take a test drive to get used to driving the motorhome. As a mobile home newcomer you should definitely familiarize with the control of electricity, gas, heating and water before departureOtherwise you'll be like us on our first day. The description in the operating instructions did not match the control displays in the vehicle and it took a day or two to figure out all the intricacies of the control displays. Only then could we make ourselves comfortable in our mobile home in the evening. One of our tips for a motorhome holiday when you go on a trip in spring.
Pack wisely for your motorhome vacation
One of the most important things to consider on your first RV trip is proper preparation and planning. This also includes packing the mobile home. The weight of your RV is important to drive safely. Make sure that you do not exceed the permitted weight and that you distribute the weight evenly. You should only take what you need and leave the rest at home. Because the lighter the motorhome, the easier it is to drive and manoeuvre.
What is essential for a motorhome holiday?
But what is actually necessary? This of course depends on your individual needs and preferences. However, there are a few things that first-time motorhome users often forget or overlook:
Camping Chairs and Table: These come in handy for sitting and eating outside. There are also models that can be folded to save space.
Camping toilet: If you don't always want to go to a campsite or if you plan to camp in the wilderness, a camping toilet is a must.
Tools and spare parts: Something can always break or become loose. Therefore, you should always have a few tools and spare parts with you so that you can carry out small repairs yourself.
First-aid kit: A well-stocked first-aid kit can save lives in an emergency. Don't forget to pack medicine for motion sickness, pain and diarrhea.
Emergency Kit: If you go camping in the wilderness, you should also have an emergency kit with you. This includes a flashlight, a lighter, a whistle and a first aid kit.
Grill: If you like to grill, you should have one too Grill wrap up. There are models that can be folded up and stowed away to save space.
Camping crockery and cutlery: Don't forget to pack plates, cups, glasses, cutlery and cooking utensils.
GPS: Even if you have a map, a GPS can be very useful for getting to your destination quickly and easily.
Sun protection: In the summer it can get very hot in the mobile home. Therefore, you should always have a sunscreen with you to protect yourself from the sun.
Bicycles: If you like going on bicycle tours, you should also take your bicycles with you. There are special bike racks that can be attached to the motorhome.
Before you set off, you should check the weather. This way you can better prepare for unforeseen events and ensure that you can continue driving even in bad weather.
It is important that you plan your route well. Think about parking options and check if there is enough space to park your RV. Also, plan your overnight stays in advance.
Find out before you go on a mobile home holiday where there is a mobile home campsite or parking space
Before you travel, you should find out how the Availability of campsites is. We spent our motorhome holiday in the Franconian wine country and always have one during the Whitsun holidays Pitch for a night found. Only rarely can you reserve a camper place for one night. If you stay longer, you can pre-order. Here you will find campsites that you can reserve:
Campsite Guide Northern Europe
ADAC Camping Guide Germany/Northern Europe 2023: With ADAC Campcard and planning maps
ADAC Camping Guide Germany/Northern Europe 2021: With ADAC Campcard and planning maps
Bruckmann Caravan Guide: Norway with a motorhome. The most beautiful routes between South Cape and North Cape. Including tips on parking spaces, GPS data, ... the most beautiful routes between the South Cape and North Cape
ACSI Camping Guide Germany 2023: + Benelux-Denmark-Austria-Switzerland. Incl. ACSI CampingCard discount card (Hallwag ACSI guide)
MARCO POLO Camper Guide Southern Norway: insider tips for your motorhome tours
ADAC Camping Guide Germany/Northern Europe 2023: With ADAC Campcard and planning maps
ADAC Camping Guide Germany/Northern Europe 2021: With ADAC Campcard and planning maps
Bruckmann Caravan Guide: Norway with a motorhome. The most beautiful routes between South Cape and North Cape. Including tips on parking spaces, GPS data, ... the most beautiful routes between the South Cape and North Cape
ACSI Camping Guide Germany 2023: + Benelux-Denmark-Austria-Switzerland. Incl. ACSI CampingCard discount card (Hallwag ACSI guide)
MARCO POLO Camper Guide Southern Norway: insider tips for your motorhome tours
Campsite guide Southern Europe
ADAC Camping Guide Southern Europe 2021: With ADAC Campcard and planning maps
ADAC Camping Guide Southern Europe 2022: With ADAC Campcard and planning maps
ADAC Camping Guide 2019 Part I Southern Europe
ADAC Camping Guide Southern Europe 2021: With ADAC Campcard and planning maps
ADAC Camping Guide Southern Europe 2022: With ADAC Campcard and planning maps
ADAC Camping Guide 2019 Part I Southern Europe
Cheapest campsites in Germany

Landvergnügen Germany had a brilliant idea. This is a pitch guide that lists the cheapest campsites in Germany. However, these are not regular campsites. Instead, farms, wineries and breweries welcome mobile homes, caravans and campers on their premises.
Plan short routes on your Womo trip
Drive short distances until you are familiar with the vehicle. Switching from a car to a mobile home means getting used to the dimensions of the vehicle. To be on the safe side, always ask someone to guide you when reversing. We had a reversing camera in the Knaus SUN TI 650 MEG. But the distances looked very different from what they really were. When turning at sharp junctions, the driver often does not see whether a vehicle is coming from behind. This requires caution and the assistance of the passenger. Next time we'll order them Knaus Van TI 650 MEG Owner's Manual before the trip and familiarize ourselves with it.
Not every pitch has electricity
As a travel blogger we need Electricity to charge our devices. The camera, cell phone and laptop only work for a while without power. Not every motorhome parking space offers the possibility of charging. Therefore, after a night without electricity on the pitch in Veitshöchheim, we were happy for the ADAC camping and parking space guidewith which we changed our overnight plans for the next day and found a campsite with all facilities nearby. The same applies to the possibilities of supplying fresh water, the possibilities of getting rid of its wastewater, emptying its toilet tank or the supply of toilets and showers.
Are there sanitary facilities at your campsite / pitch?
As practical as showers and toilets are in the mobile home, you don't have as much space there as in conventional sanitary facilities. On our trip, we used both the bathroom in our motorhome and the facilities at the campsites - depending on how clean and inviting they were. The cleanliness of the equipment and the presence of all facilities ranged from excellent in the city campsite in Schweinfurt (Gretel-Baumbach-Straße, 97424 Schweinfurt Tel. 09721 499 80 60 Email: info@stadtcamping-sw.de  www.stadtcamping-sw.de) up to not present on the RV park on the Main bank in Veitshöchheim (Am Güßgraben). The same applies to the availability of electricity, fresh water, waste water tanks, gullies and toilets or showers
Where can you park your motorhome in towns?
It's not always easy for campers Parking in the villages to find space for larger vehicles. Most parking spaces are built for cars, and when there are RV parking spaces, it is not uncommon for cars to use them. In cities like Würzburg we parked our vehicle in bus parking lots, where we arrived early in the morning before the onslaught of weekenders. So we could park our mobile home without any problems in an almost empty parking lot. When parking, we always made sure to park the motorhome in such a way that we did not have to maneuver when leaving and that no other cars could park us.
I also tried to find out where parking spaces were available in the towns before I started my trip. In some places this worked out well and we were able to park exactly where we intended. In other places it worked less or differently than planned: in Marktbreit there were parking spaces, but on Friday they were jam-packed with cars whose owners stocked up on groceries for the weekend. After several attempts to find a parking space, we gave up and drove on to the next town. In Würzburg we could not park our motorhome in the place that I had located - here too all spaces were occupied. Instead we came across - by chance - a bus parking lot, where we found space and were even a comfortable distance from the city center.
Take an e-scooter with you for trips to the city center
It was often the case, however, that the Parking for campers outside the village centers and we had to walk a long way before we reached the points we wanted to see. For more frequent motorhome holidays, we therefore urgently recommend that you bring bicycles or e-scooters with you, which can be stored in the storage room or at the rear of the vehicle and provide helpful services on site. Parking at shopping centers are mostly tailored to cars, especially in the smaller towns. Because of the narrowness, it is difficult for mobile homes to park there. The same goes for gas stations. Some of the roofs are so low that we weren't sure if our motorhome would fit under them. That's why we always filled up early and whenever it was possible. Petrol stations are not found on every street corner, especially in rural areas. It is the same with shopping centers with ample parking spaces. Also E-Bikes are well suited for shopping trips or excursions.
Climate-friendly e-scooters for motorhome vacations
Alternatively: climate-friendly e-bikes
Make use of all the facilities that a campsite has to offer
There are not always fully equipped campsites on the tourthat offer all the facilities one could need. Therefore, it was important for us to always fill up fresh water at all campsites, empty the waste water and clean the toilet tank, where the opportunity arose. We couldn't spend more than a night on a pitch without facilities without missing something. A purchase that is worthwhile, for example, is also one portable grill. There are campsites and pitches that do not offer barbecue facilities. One is also practical Dutch Oven. In this you can on the grill or over the campfire cook your food You can also find Dutch oven accessories can be found here.
As a beginner motorhome, you should make sure that you keep your motorhome clean and tidy at all times. While it's tempting to pack everything in your home on wheels, remember that space is limited. The more stuff you take with you, the messier it gets inside.
It is also important that you clean regularly. You spend a lot of time in the RV, so dust and dirt quickly accumulates. Keeping the RV clean makes it feel a lot cozier and you can relax more.
Equipment for a clean mobile home
To keep the motorhome clean, you should also have some utensils with you. A hand brush and a dustpan are part of the basic equipment. A small dustpan can also be very helpful for quickly picking up crumbs. You should also have a few utility cloths, a vacuum cleaner and a floor mop with you. This is a quick and easy way to keep everything clean. We recommend using a dishwashing bowl to wash the dishes in the kitchen. So no dirt gets into the waste water system of the mobile home. These are available in a foldable version so that you can also use them as a cutting board.
A good way to keep things tidy in the motorhome is to buy a few baskets or boxes. This allows you to better organize your things and quickly find what you are looking for. It is best to label the baskets or boxes so that you know immediately what is inside.
Overall, keeping your RV clean and tidy will make you feel more comfortable and allow you to enjoy the trip a lot more. So it's worth investing some time and effort in cleaning and tidiness.
Plan time for the supply of the vehicle in your route
One of our most important tips for motorhome holidays: The Plan the route so that there is time to supply the vehicle. As newcomers to motorhomes, we planned the route for our motorhome holiday in Franconia as we are used to from our car trips with hotel stays: with travel destinations, sights and - as we thought - a cozy daytime program. However, it turned out to be not as "comfortable" as expected.
With the motorhome you need more time: the vehicle has to be supplied every day. We catered for ourselves and only went to restaurants for a few days to eat. That costs time for cooking and shopping. And - even if the SUN TI 650 MEG is big enough for two people - they cannot both do certain jobs at the same time. Therefore, the time required is even longer. We recommend allowing one to two hours more time for yourself and the vehicle per day and instead shortening the route or extending the schedule for the route. Then you have more time and can enjoy the motorhome holiday.
Check your motorhome regularly during your motorhome holiday
As a motorhome beginner, you should know that regular inspections of your motorhome are necessary to be safe and trouble-free on the road. Before you go on a trip, you should definitely check your motorhome thoroughly.
First of all, you should check the oil in your RV. The oil ensures that your engine runs properly and should therefore be replaced at regular intervals. Also check the tire pressure to make sure the tires are not damaged and to reduce the risk of punctures.
In addition to these basic things, there are many other aspects to consider when inspecting your RV. These include the braking, cooling and exhaust systems, lighting and electronics. If something doesn't work or is damaged, you should definitely have it repaired before you go on a trip.
Also pay attention to the interior of your motorhome. Check that everything is working properly and that there are no damages or defects. Also check the water and sewage systems to make sure everything is working properly.
A regular inspection of your motorhome is not only important for your safety, but also for your well-being on your trip. The better your motorhome is maintained, the better you can enjoy your trip.
Does the campsite / pitch offer WiFi?
If you want to stay in touch with your loved ones at home by email or over the Internet, you should take care that at the places of accommodation WiFi is available. Some campsites offer this for free, others charge extra. There are also parking spaces that are so remote that Wi-Fi is not available. We stood in places where not even our USB stick worked. One should inform oneself about this before the overnight stay on the spot.
Secure the equipment for the trip on a motorhome holiday
As car travelers we are used to just packing our bags in the morning and off we go to the next destination. The motorhome vacation is not. There must first Everything is stowed so that nothing is loose around the vehicle. A sharp turn is enough and everything is on the ground. The bottles that we carried in the refrigerator and in the cupboards above the stove turned out to be particularly annoying. These rattled at every pothole we drove and in every curve we passed. Only when we wrapped them with tea towels did the rattle no longer bother us.
The space in the motorhome is limited
Do not take too much luggage! With the exception of the dishes and bedding, we didn't have more on our motorhome holiday Luggage there than on our road trips. Even that was too much. You can always wash at the campsites. Washing machines and dryers are often available, so that you always have fresh laundry. Especially if you allow time for it, you can set up your cabinets on board clearly and find everything you have taken with you on the way. We also had plastic plates and cups with us, which did not damage even the worst potholes.
The kitchen in the mobile home is small
Traveling in an RV is more comfortable if you don't cook complicated meals along the way. The kitchen of a mobile home consists of just two hotplates. There are no baking facilities in rented mobile homes. Therefore, it helps if you think about how and what you cook best on the go. One Pot Recipes are excellent for this. All you usually have to do is chop up the ingredients and cook them all in one pot.
Be prepared for changes in plans for your motorhome vacation
Stay flexible! One of our most important tips for motorhome vacations: Since you can't plan everything on a motorhome vacation because things keep proving to be unfeasible on site - be it because there are no parking spaces, be it because the motorhome requires time that you can didn't plan or for other reasons - you should take a relaxed approach to a road trip with the motorhome. Fixed plans don't always stick. Therefore, it helps if you react flexibly to such a trip and do not insist on your travel plan. Then a mobile home holiday becomes an experience.
Respect other campers and follow campsite rules. So you can be sure that you will always be welcome in the future.
One of our motorhome vacation tips, which is also important for the environment: motorhome trips are a great way to experience freedom and independence. Use this freedom and enjoy nature! Stick to designated places where you can park your motorhome and be considerate of the local people.
Be open to new experiences during your motorhome vacation
RV trips are also a great opportunity to discover new places and have new experiences. Be open to new experiences and enjoy every minute of your trip!
We collected these tips for motorhome vacations on our first trip as motorhome newcomers through experience. Do you have any other motorhome vacation tips that can help beginners on their first trip with such a vehicle. We – and other motorhome newcomers – welcome advice and tips.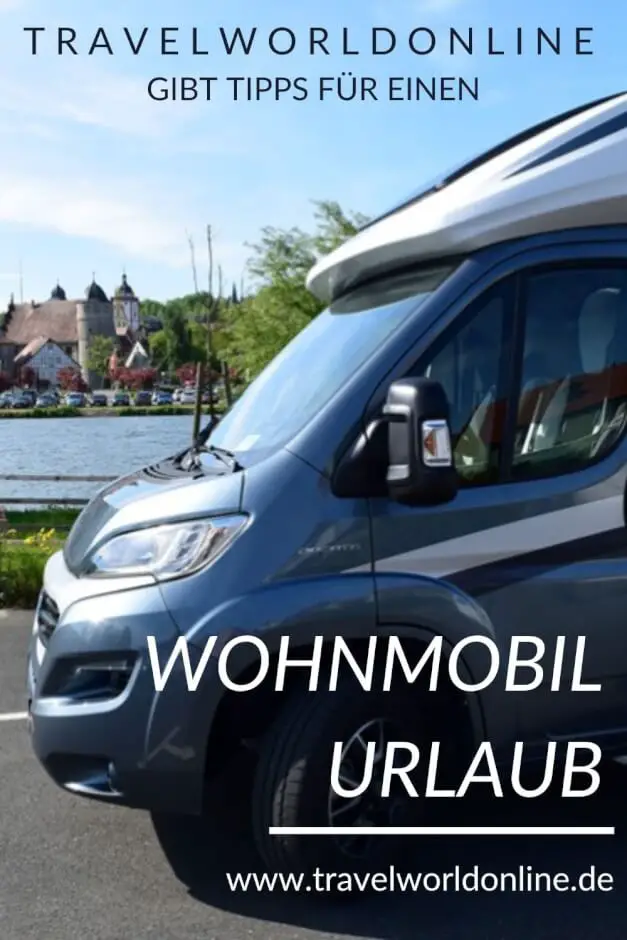 By the way:
Besides, do you know?
Source Tips for the first mobile home holiday: research as a mobile home newcomer We would like to thank the Knaus company, who kindly made the mobile home available to us. As always, our opinion remains our own.
Text tips for the first mobile home vacation: © Copyright Monika Fuchs, TravelWorldOnline
Photos: © Copyright Monika Fuchs, TravelWorldOnline
Motorhome holidays - How to avoid rookie mistakes
Last update on 29.11.2023/XNUMX/XNUMX / Affiliate links / Images from the Amazon Product Advertising API