For us, an American breakfast is always a special experience that goes far beyond a simple morning meal. It's lush, warm, and so diverse that it often keeps us full throughout the day. In fact, we enjoy this hearty meal so much that we usually skip lunch. From scrambled eggs and bacon to potatoes, fruit and cereals – the selection is simply fantastic.
But where can you find this authentic breakfast experience? Special breakfast restaurants are the first port of call here. Depending on the region, they serve different dishes, ranging from southern classics like biscuits and gravy to western variations on avocado toast.
Hotels often offer what is known as a "continental breakfast," but this cannot be compared to the typical American breakfast. The good thing about it is that it is usually included in the accommodation price, so you can save money with it. But let's be honest, it's missing that certain something that makes breakfast served at the table.
Fast food restaurants also offer breakfast options, but the same applies here: it's not what we think of as a typical American breakfast. Donuts and egg and bacon burgers are delicious, but they can't compete with a lovingly prepared breakfast served at the table. Therefore, we prefer to sit down in a cozy restaurant and enjoy breakfast to the fullest.
So we start the day, well fed and ready for new adventures. And you, what does your perfect American breakfast look like?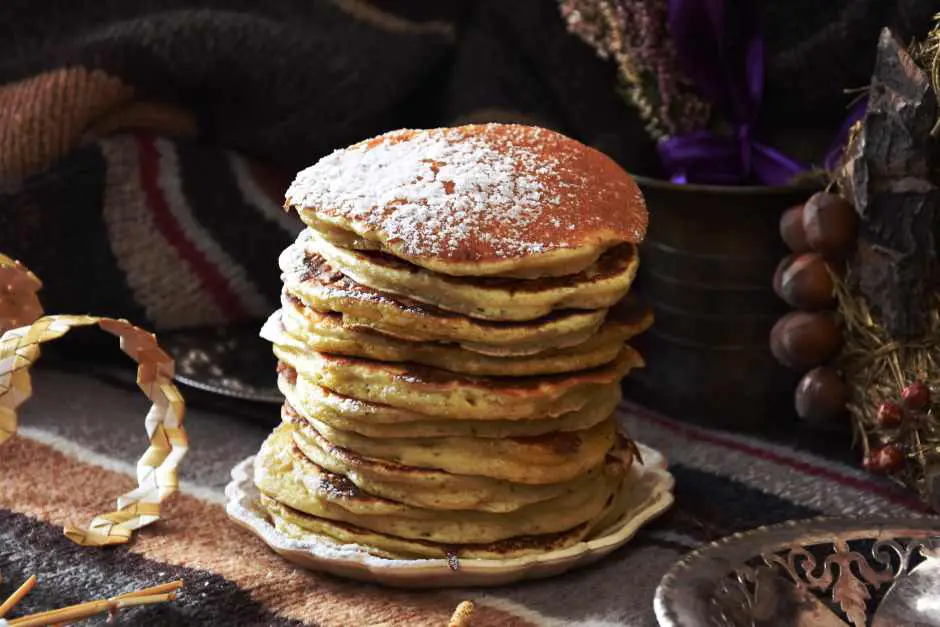 Enjoy a typical American breakfast
If you are traveling in the USA or Canada and are looking for a delicious breakfast, I have a few tips for you. A typical American breakfast is the best choice. You can opt for pancakes, eggs and bacon, or you can resort to fast food chains that offer breakfast sandwiches and coffee to go. My favorite for an American breakfast is definitely Eggs Benedict. A breakfast omelette in different variations, for example with vegetables or seafood, is also a popular option. Of course, pancakes, these fluffy, round pasta, should not be missing. Doused with maple syrup and garnished with fresh fruit such as strawberries or blueberries, they taste particularly delicious. Waffles are a similar alternative and are also eaten with pleasure.
If you want to avoid waste, take your own reusable coffee mug with you. Fu can have it filled in the cafés along the route and thus contribute to reducing the environmental impact. In Canada you should definitely visit Tim Hortons. The restaurants are known for their coffee and breakfast options.
The typical American breakfast consists of a variety of dishes. In addition to bacon, eggs, pancakes or French toast with maple syrup, this also includes baked beans, fried potatoes and muesli or grains. This is often accompanied by coffee and fresh orange juice. Despite being high in calories, it tastes absolutely delicious.
After a hearty American breakfast, we are well prepared for a day of travel. Many Americans often skip lunch, opting for a light snack like fruit or a sandwich instead. Only at dinner do you treat yourself to a more extensive meal in the hotel or restaurant.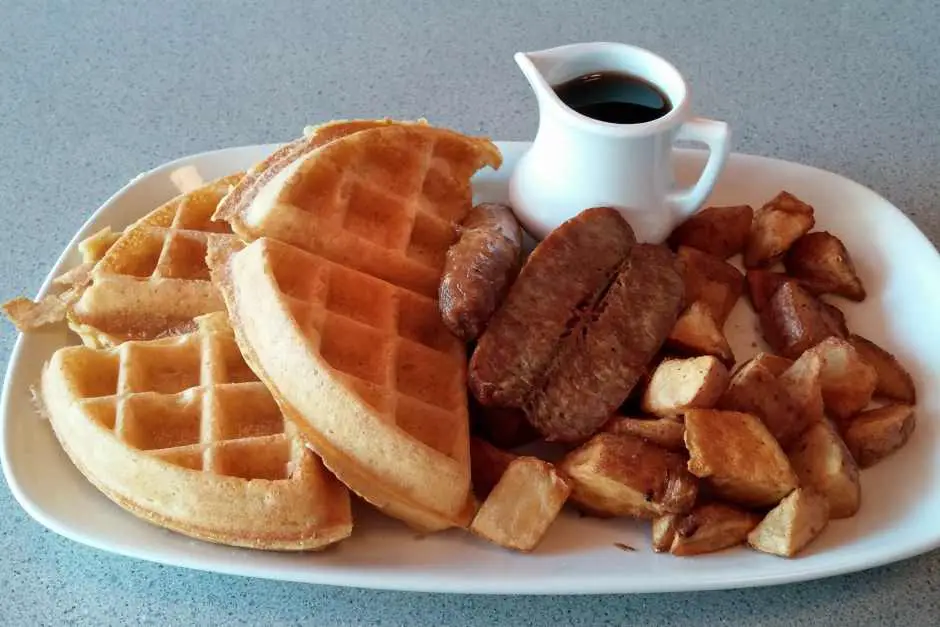 A typical American breakfast? What is it made of?
A typical American breakfast consists of a variety of foods that are rich in flavor and nutrients. Usually you start with a cup of coffee or tea, as these drinks start the day full of energy. In addition, scrambled eggs are very popular, often enriched with ingredients such as bacon, ham, cheese or mushrooms.
Another highlight are the so-called "Biscuits and Gravy". These are buttermilk buns served with a creamy sauce made from sausage and flour. This dish is particularly common in the southern United States. In addition, there is often breakfast meat, such as bacon or ham, and sometimes sausages. All this is accompanied by toast or bagels spread with butter, jam or cream cheese. Finally, the muesli or granola should be mentioned, which are particularly popular with health-conscious Americans. Together with yoghurt or milk and fresh fruit, it offers a high-fiber option to start the day.
It's no surprise that American breakfasts are usually larger than European or Asian breakfasts.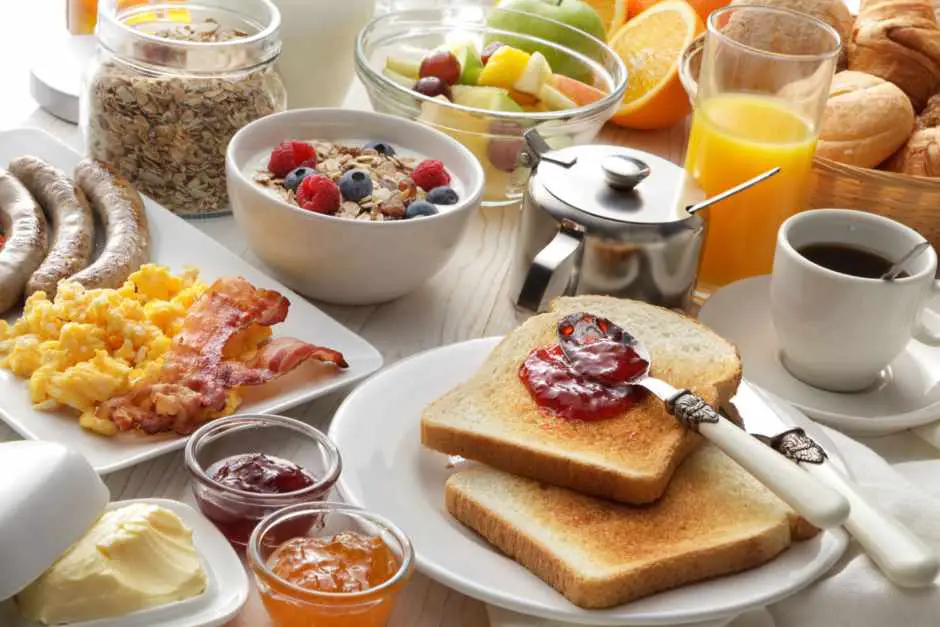 An American style breakfast is varied
You should know what makes an American breakfast different. In North America, breakfast is the main meal of the day alongside dinner. At lunchtime you only eat a little something like a sandwich or salad. The breakfast has to be more sumptuous in order to provide you with energy throughout the day. There is also what is commonly referred to as a "continental breakfast". This consists of foods such as toast, jam, butter, fruit, muesli or cake. However, a typical American breakfast is prepared in a pan. These include a breakfast omelette, eggs with bacon, ham or pork sausage and fried potatoes, pancakes and toast with butter and jam. Eggs Benedict or waffles are also very tasty. You can also drink coffee, juice and, rarely, tea.
What does an American breakfast look like? A typical American breakfast is generous. We have experienced that on our Trips to Savor determined by America. That Americans eat differently than we Europeans should be clear to anyone planning to visit the United States. This starts with breakfast.
What you need for a typical breakfast in America
You should know these terms if you want to have an American breakfast
A typical American breakfast includes foods made from eggs. When it comes to egg dishes, you should know a few terms. If you want fried eggs, order your eggs "sunny side up". If the cook is to fry the eggs on both sides, ask them to be "overeasy". If you like the yolk a little firmer in the fried egg, you can order the eggs "over medium". Scrambled eggs are "scrambled eggs". A typical American breakfast also includes potatoes. These are available as fried potatoes or "hash browns". These are grated potatoes that roughly correspond to our hash browns.
What do you eat for the average American breakfast?
You are well equipped with these ingredients if you want to prepare a typical American breakfast at home.
eggs
Bacon or ham
milk
Flour
Sugar and vanilla sugar
smoked salmon
potatoes
Toast
hollandaise sauce
tomatoes
Cheese (grated)
Portobello mushrooms,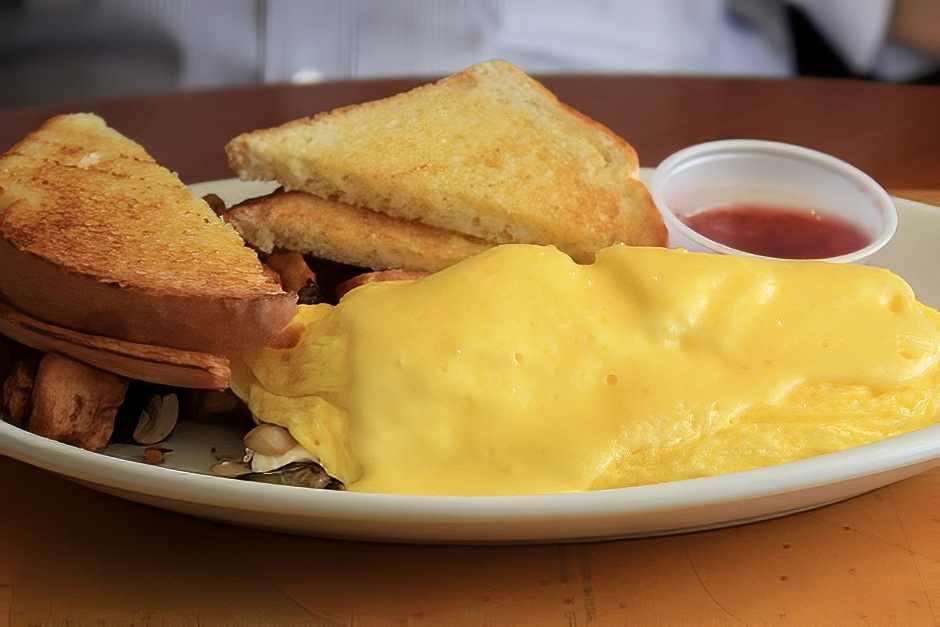 Typical breakfast in USA
The American breakfast does not necessarily have to be served traditionally as in the first picture example. At the Sun Towers Hotel in Fort Lauderdale, the same ingredients were served as a "Breakfast Bowl". It can also happen that sweet is served next to savory. There are even dishes that combine both. Pigs in a blanket are sausages that are wrapped in pancakes.
Breakfast in the USA offers a variety of dishes and varies by region and personal taste. It gets exciting when you come on a journey through different regions. Then you will learn how different breakfasts can be in the USA. Many Americans also drink coffee or juice. However, there are also people who do not eat breakfast at all or opt for lighter options.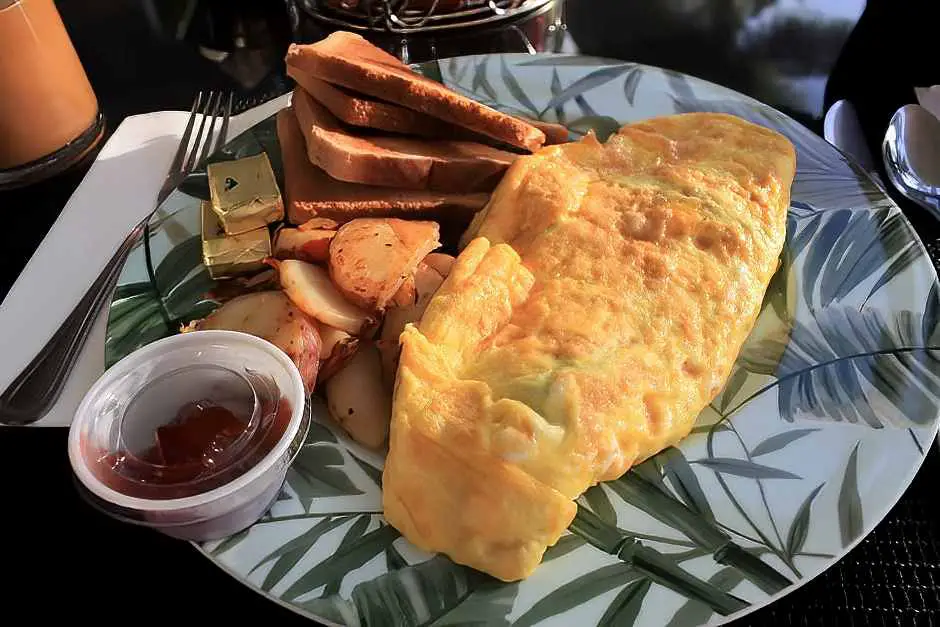 American breakfast recipes:
American breakfast omelet
There are many ways to prepare eggs. So it is common to serve this as a breakfast omelet with all kinds of ingredients. In this case it's bacon, spinach and cheese. There are also fried potatoes and toast with jam.
Make omelets yourself
For an American breakfast omelet you need:
two eggs,
a tomato,
grated cheese (e.g. Gouda or Emmentaler),
two tablespoons of flour,
two tablespoons of milk,
Paprika,
Salt and pepper,
Parsley or chives and
some olive oil.
Preparation
You mix the eggs with flour and milk. Then you cut the tomato into small pieces and stir it together with the cheese under the dough. Season the whole thing with paprika, salt and pepper and fry the omelette in the pan on both sides until golden brown.
You can also add crispy fried bacon strips, fried potatoes or mushrooms to your breakfast omelet. Then your American breakfast is complete. If you want it to be particularly rich, add Hollandaise sauce over the omelet.
What is there to eat for breakfast in USA?
Guests often find Eggs Benedict on the menus of a breakfast restaurant. Poached eggs are placed on ham and a biscuit. The whole thing is served with a hollandaise sauce. There are also fried potatoes. The Eggs Benedict are offered in many variations. So you can find them with salmon or other ingredients in the offer of breakfast restaurants.
Americans also often eat pancakes with syrup and butter for breakfast, with bacon or sausage and eggs. The "biscuit sandwich" with eggs, cheese and bacon or sausages is also popular. A sweet start to the day is French toast made from bread, egg and syrup. But there are also omelettes, bagels or muesli. Americans usually drink coffee, orange juice or milk.
American breakfast with a British twist
Recipes for typical American breakfasts
If you are interested in American breakfast recipes, there are many to choose from. Eggs Benedict, Pancakes, Waffles, French Toast, Biscuits and Gravy are just a few of the most popular dishes. If you want something savory, you can opt for an egg, bacon, and cheese breakfast sandwich.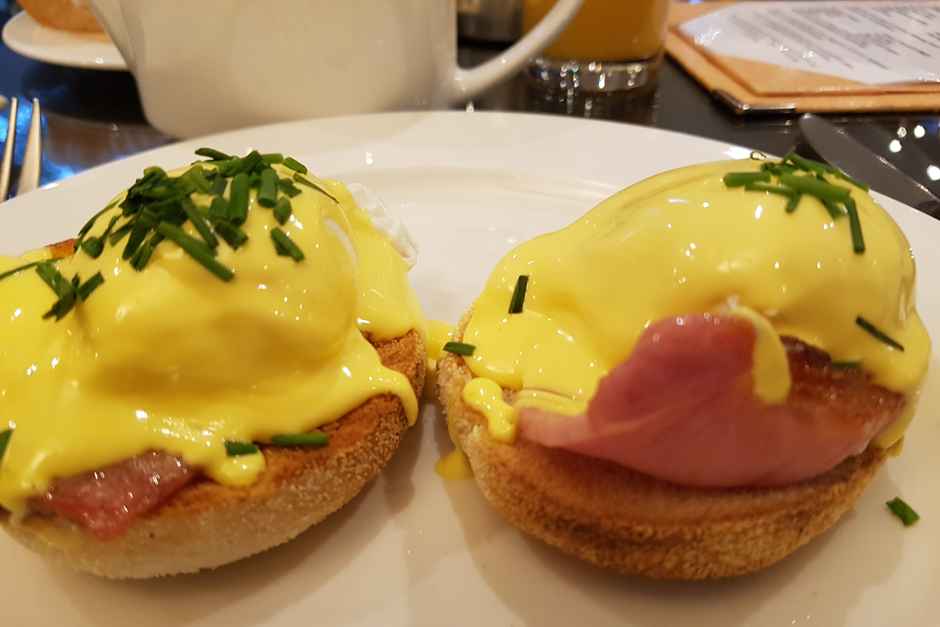 Eggs Benedict recipe for American breakfast at home
An American breakfast with Eggs Benedict is definitely part of a pleasure trip for us. For me, Eggs Benedict are among the best American breakfasts have to offer. You can also easily make Eggs Benedict yourself. You have to poach eggs for that. It works like this:
To do this, boil salt water and add vinegar. As soon as the water boils, swirl it around with a wooden spoon. Now you crack an egg in a ladle and sink it into the eye of the vortex. At the beginning, protein threads are still formed. But if you continue to whirl with the wooden spoon, they wrap themselves around the egg and a poached egg forms, just like you need for Eggs Benedict. If you want the egg to be hard, cook it for three to four minutes. If you want it softer, you take it out of the water faster.
Then you cut your rolls. Spread a tablespoon of Hollandaise sauce on top. These are ready to buy. Place ham or smoked salmon on top. On top comes the poached egg, and finally another spoonful of Hollandaise sauce. You can garnish the whole thing with fresh herbs.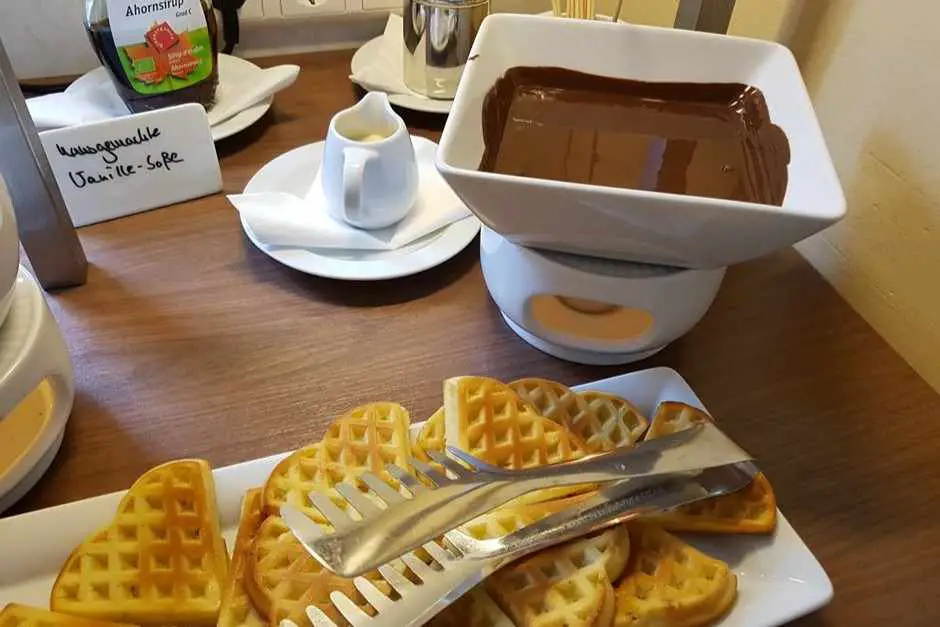 The typical American breakfast is also known for its sweet dishes. Maple syrup is a must for pancakes and waffles, while bagels and donuts often come with a variety of toppings and glazes. Waffles are also served with fruit or sausages. Alternatively, French Toast - something like "poor knights" - or Pfannkuchen with syrup or fruit available.
French Toast – Recipe for a typical American breakfast
We prepare this, for example, when we have stale white bread left over. With this recipe you can turn it into a breakfast that tastes delicious. You need this for four servings:
three eggs
200 milliliters of milk
a pinch of salt
eight slices of stale white bread or toast
Butter for frying
Mix milk, salt and eggs in a flat (preferably rectangular) jar. Leave the slices of toast in there until they are soaked with the liquid.
In the meantime, heat the butter in a pan. Be sure to fry the toast slices on both sides until golden brown.
French toast is traditionally served dusted with powdered sugar or drizzled with maple syrup. You can also sprinkle nuts on top.
But you can also be more inventive. This goes well with compote made from blueberries, strawberries or raspberries. Later in the year you can vary the fruit. Then you can serve the toast with apples, pears or figs.
You can also refine the egg milk with sugar, vanilla sugar or cinnamon.
Waffle recipe for American breakfast
If you want to make your American breakfast with waffles at home, you need these ingredients.
Three eggs,
125 grams of sugar,
a packet of vanilla sugar,
125 grams of margarine,
a teaspoon of baking soda,
a quarter pound more,
a quarter liter of milk and
a pinch of salt.
Mix the eggs, sugar and vanilla sugar together. Then stir in the margarine underneath. Finally, add flour, baking powder, milk and salt and mix everything together. You bake this dough into waffles in waffle irons.
Chocolate sauce, cherries, maple syrup, Nutella, cinnamon sugar or powdered sugar also go well with this.
Find more American breakfast recipes you can find here.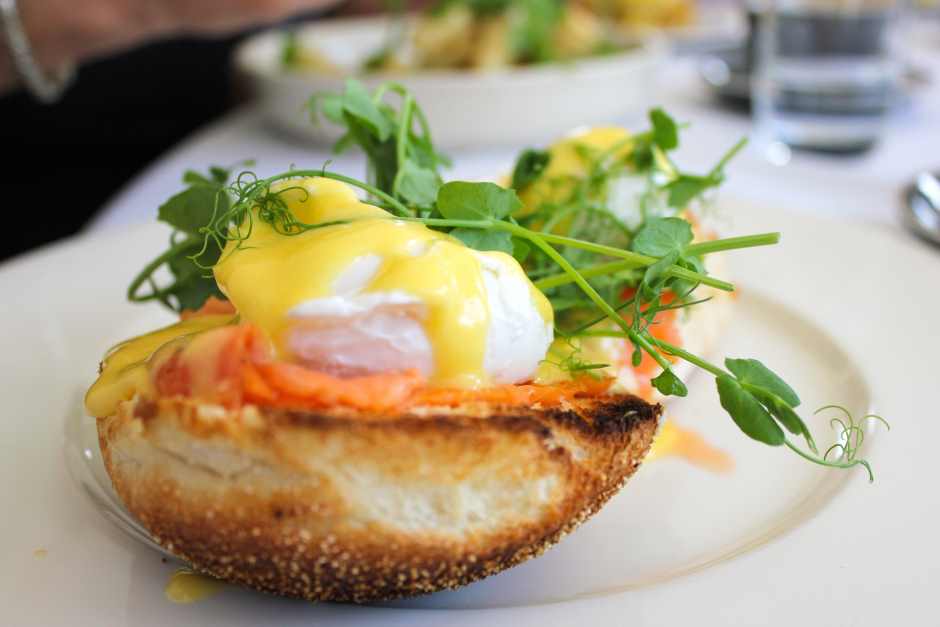 Where can I find an American breakfast restaurant?
If you want to enjoy breakfast in the US, you can either find it in a hotel restaurant or in a restaurant like Denny's or IHOP. In the USA there are many breakfast restaurants that serve the typical American breakfast. These restaurants often offer breakfast dishes throughout the day. Many Americans also enjoy brunch, where they enjoy a combination of breakfast and lunch.
Bed and breakfast hotels rarely offer these dishes to their guests. Their breakfast often consists of toast, muffins and coffee in plastic cups. Therefore, when choosing our accommodations when we travel, we ensure that a full "American Breakfast" is included in the price. We usually avoid accommodations that only offer a "continental breakfast". Instead, in such cases, we prefer to go to a breakfast restaurant. An American breakfast is not only delicious, but also practical and convenient. It offers a variety of proteins, fiber, vitamins and minerals. It can be a combination of baked beans, bacon or sausage, pancakes or waffles, and eggs, often served with toast or a roll.
With these tips you can enjoy a typical American breakfast on your trips to Canada and the USA. However, we do not only do this on our travels. Instead, we always prepare an American breakfast at home. Of course, not all of these dishes are always available. But they always come around, and variety is fun and appetizing. We hope that the recipes and tips will also help you with your travel planning. And maybe they will also bring fond memories of your trips to America into your own kitchen.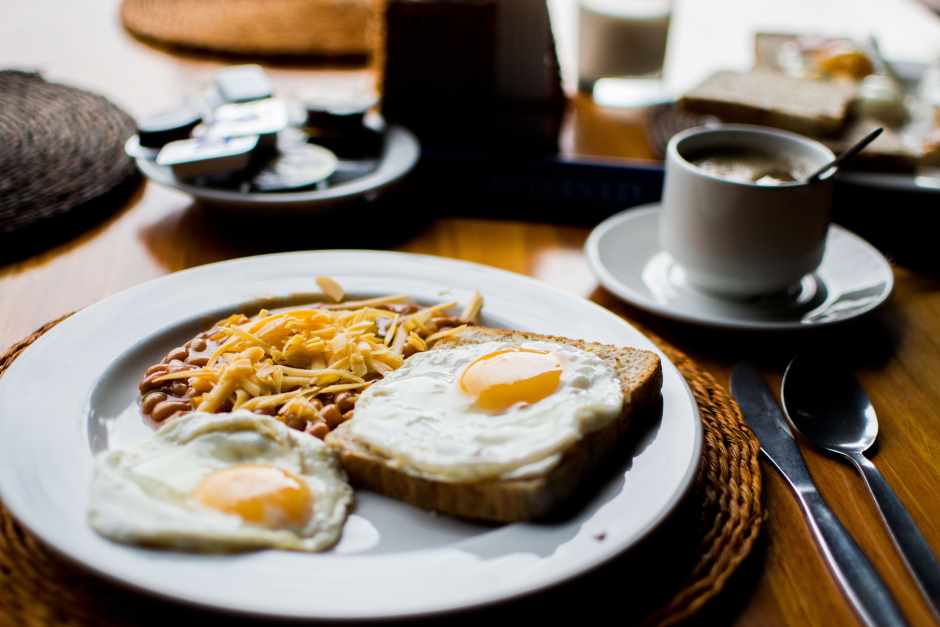 Try the American breakfast
If you are a fan of America, you should definitely try the American breakfast! It's rich and full of flavor. Overall, the American breakfast is a unique experience to try when visiting the United States. It is rich, tasty and offers many options for different tastes. For example, try a classic egg dish with bacon and toast. Or do you prefer waffles? And don't forget to order the coffee big and strong!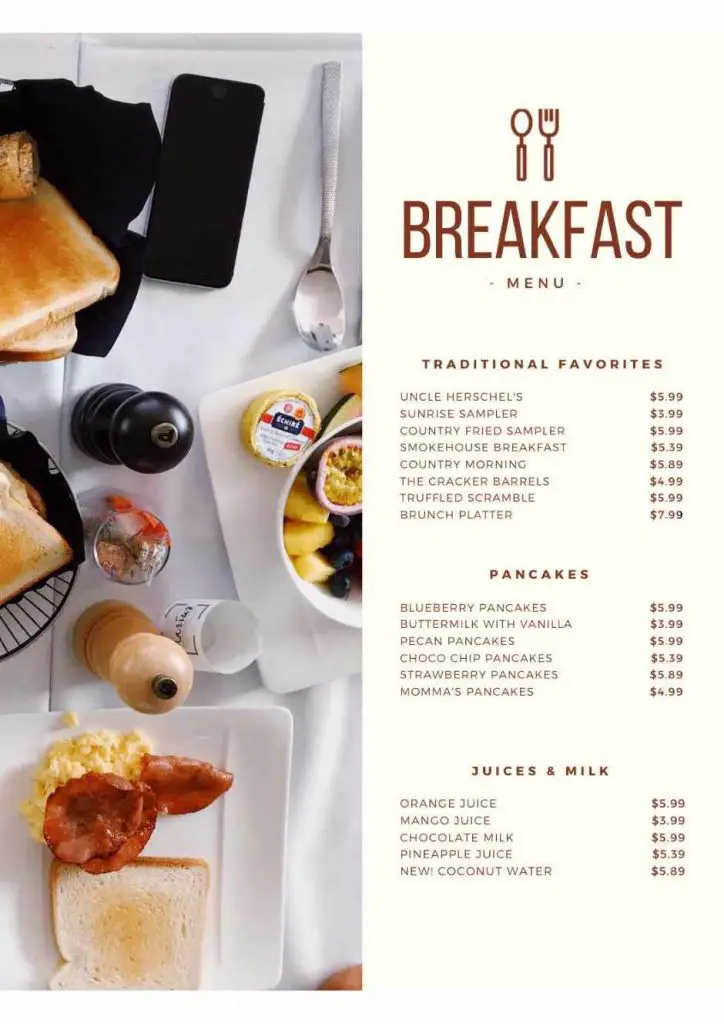 The American breakfast menu has a wide variety to choose from
The American breakfast menu is usually very extensive. The American breakfast is varied and may differ depending on the region and personal taste. One of the most popular dishes is the "pancake breakfast", where you can enjoy thick, fluffy pancakes with syrup and butter. In addition, there is often bacon or sausages and eggs in different variations.
If you prefer something savory for breakfast, the biscuit sandwich is a good choice. This is a sandwich made with a buttermilk biscuit, eggs, cheese, and bacon or sausage. Delicious!
Another popular breakfast dish is French toast. Slices of bread are dipped in egg and fried in a pan. Served with syrup, fruit or cream, they are a sweet way to start the day.
Of course there are many other delicious breakfast dishes in the USA, such as breakfast omelettes, bagels, waffles or muesli. This is often accompanied by coffee, orange juice or milk.
So next time you're in the US, be sure to try the American breakfast!
In any case, enjoy it and enjoy the authentic American breakfast experience.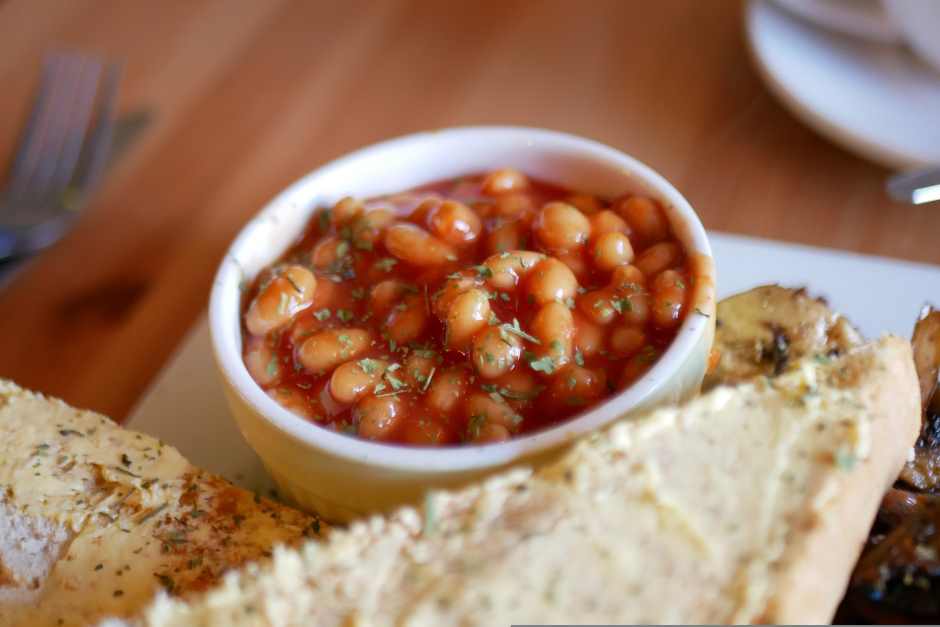 American breakfast and its history
In 19th century America, breakfast was rather simple. Usually there was porridge and maybe a piece of bread. This changed with industrialization. People needed more energy to work in the factories. So breakfast became more substantial. Eggs, bacon and sausage came to the table.
In the 1930s, a new trend emerged: cereals. They were easy to make and quick to eat. Perfect for the American lifestyle. Later, in the 1950s, pancakes became popular. They were often served with maple syrup and butter. A real treat!
Today, American breakfast is a colorful mix of all these influences. You'll find everything from bagels to French toast to muffins. And of course, coffee and freshly squeezed orange juice are a must. In the southern states there is even grits, a porridge made from corn semolina that is often refined with cheese.
But the American breakfast also has its critics. Many say it is too greasy and unhealthy. But in recent years there has been a trend towards healthier options. Fruit, yogurt and smoothies are becoming increasingly popular.
The American breakfast has evolved over time and is constantly adapting to new trends. One thing is certain: it will never be boring!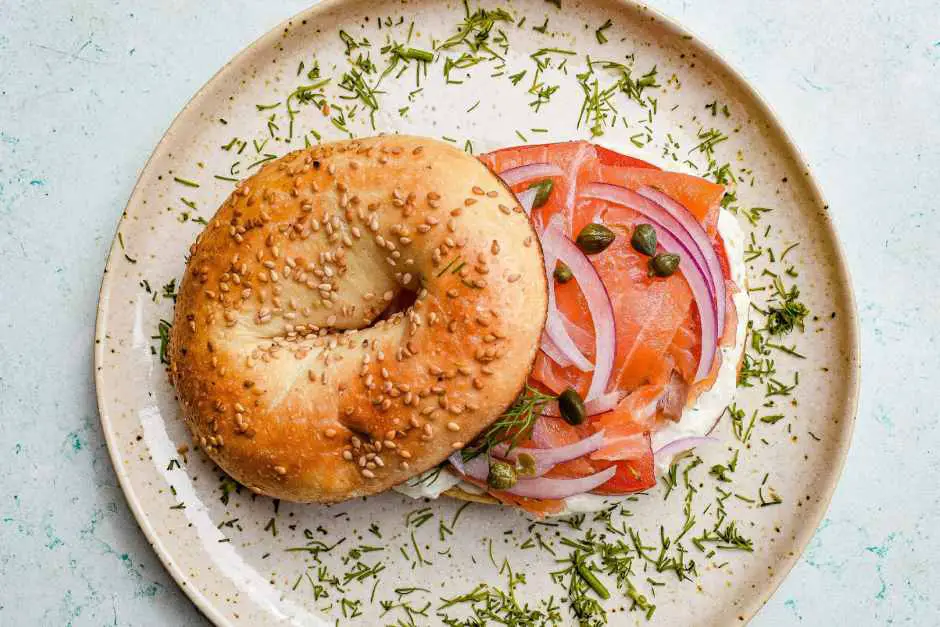 American breakfast and its regional variants
The American breakfast is not only a feast for the palate, but also a reflection of the country's regional diversity. There are differences from coast to coast.
On the east coast, especially in New York, bagels are the star. They often come with cream cheese, salmon or even eggs and bacon. In the southern states, however, corn is the focus. There you'll find grits, a corn porridge that's often served with shrimp or cheese.
In the Midwest, people are crazy about breakfast casseroles. These often contain potatoes, eggs and sausage. In California The trend is more towards healthy. You'll find lots of options like avocado toast, smoothie bowls, and even sushi.
But also Alaska has its own breakfast tradition. Smoked salmon on a bagel or a slice of bread is very popular there. And in Hawaii? There you can often enjoy a breakfast of rice, eggs and the local type of meat, Spam.
Of course there are also regional drinks. In the south, sweet iced tea is a must, while in northeast freshly squeezed apple juice is popular. And in states like Washington and Oregon, coffee takes center stage. There you will find a variety of coffee houses offering everything from espresso to cold brew.
American breakfast reflects the culinary influences and preferences of the different regions.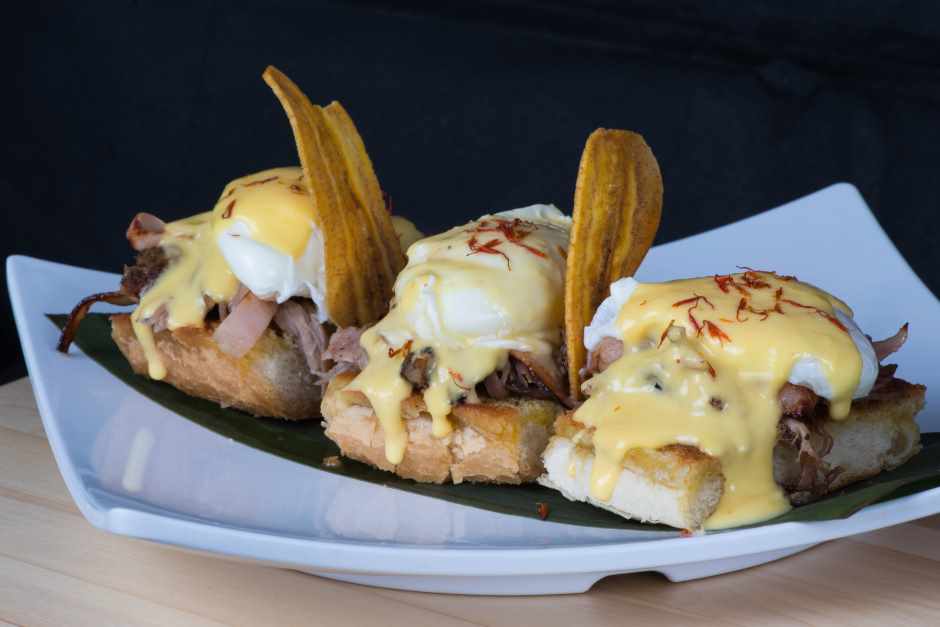 Questions and answers about the American breakfast
Are there healthy breakfast options in the US?
Yes, there are also healthy breakfast options in the USA such as oatmeal, yogurt, fruit or whole grain bread. Some restaurants also offer vegan or gluten-free options.
What options are included in a healthy American breakfast?
A healthy American breakfast can consist of oatmeal, yogurt with fruit, whole wheat bread with avocado, or a protein omelette with vegetables.
Can you have a healthy breakfast in American fast food chains?
Yes, many fast food chains in the US now also offer healthy breakfast options such as fruit cups, egg and vegetable sandwiches or yogurt.
Are smoothie bowls a popular breakfast option in the US?
Yes, smoothie bowls are an increasingly popular breakfast option in the United States. They consist of a smoothie garnished with toppings such as fruit, nuts or muesli.
What drinks are included in a healthy American breakfast?
A healthy American breakfast often includes coffee or tea, smoothies, or fresh juices with no added sugar.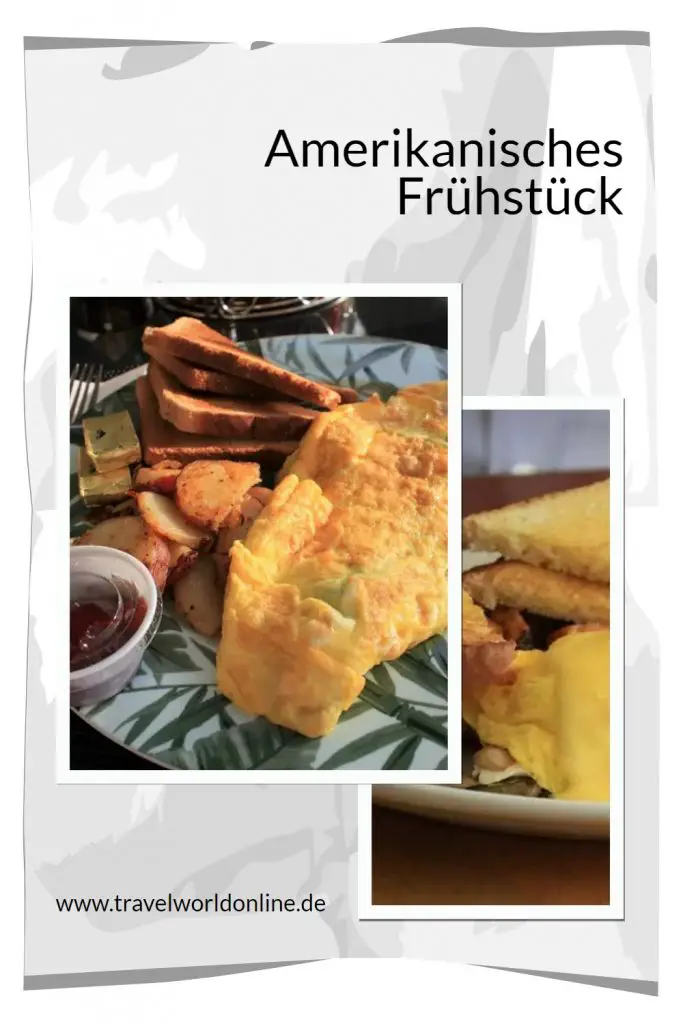 Do you also know:
Source for Typical American breakfast with eggs Benedict, waffles and breakfast omelet: own research on site. Our opinions definitely remain our own.
Text American breakfast with eggs Benedict, waffles and breakfast omelet: © Copyright Monika Fuchs and TravelWorldOnline
Photos American breakfast with eggs Benedict, waffles and breakfast omelette: © Copyright Monika Fuchs as well as TravelWorldOnline, Pixabay and Canva
What does a typical American Breakfast look like ?
Last update on 29.11.2023/XNUMX/XNUMX / Affiliate links / Images from the Amazon Product Advertising API