Where to eat in New York
The answer to the question of where New Yorkers eat is not that simple. Which restaurant in New York City is worth visiting? There are numerous possibilities. New Yorkers eat street food as well as sandwiches or salads at delis. You can eat well in steakhouses or in fine-dining restaurants. Or are you more after a great meal with a view? Roof-top bars are also places where you can try typical New York food. Or would you like to taste the latest pastry creations in a café in New York.
New York restaurants to choose from
Take a look at our New York insider tips for foodies. We asked around among travel bloggers who've been to New York and offer our own tips. Here you are guaranteed to find one or the other culinary tip for your own New York trip. We give restaurant recommendations as well as tips on where to find New York specialties. There are also tips for Breweries in New York.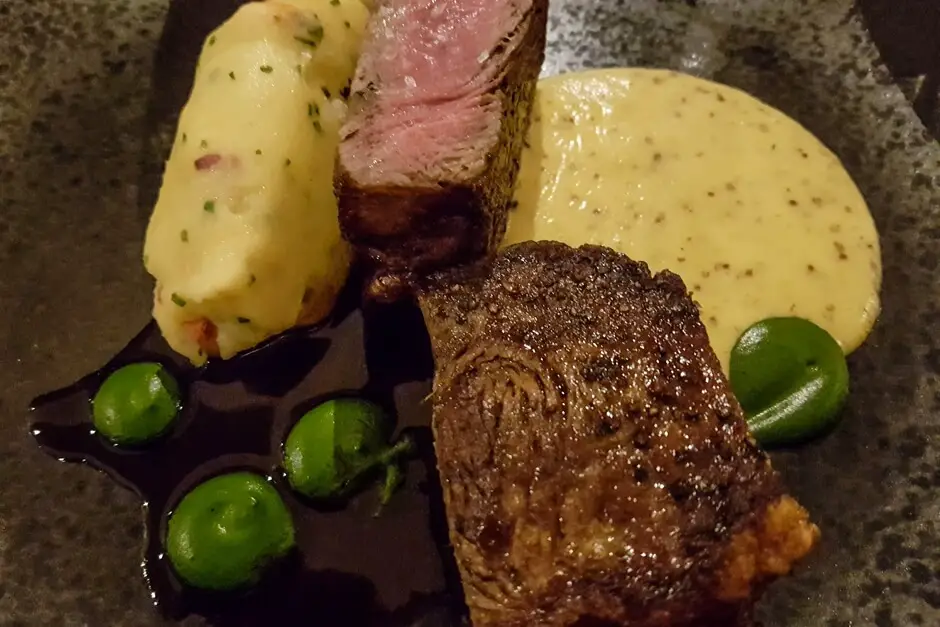 Restaurant recommendation for steakhouses
Gallagher's Steakhouse
New Yorkers love to eat steak. You can find them in all areas of Manhattan. The first steakhouse on Broadway was Gallagher's (228 W 52nd St). It was founded by Helen Gallagher, a former Ziegfeld Girl, and Jack Solomon in 1927. That was the Prohibition era. Gallagher's is said to have the first New York strip steak on the menu. Gallagher's is also known for its freezer with the glass windows. Behind it, the restaurant guests can see the steaks that "mature" there for consumption.
The porterhouse steak was traditional. Many think that this was also first served in New York. When new management removed it from the menu in 2008, Gallagher's regular clientele erupted with outrage. In 2013, the steakhouse changed hands again. He had the restaurant renovated... and put the porterhouse steak back on the menu when it reopened in 2014. Gallagher's is a good New York City restaurant for "pre-theater dinners" on Broadway.
Smith & Wollensky Steakhouse
Another well-known steakhouse in Manhattan is Smith & Wollensky (corner of 49th Street & 3rd Avenue). It is already noticeable by the building in which it is located. Its founders Alan Stillman and Ben Benson chose this house for its beautiful facade. There are now Smith & Wollensky Steakhouses in numerous cities across the United States. Many of them have the familiar white and green facade of the original New York steakhouse. When Stillman sold the Smith & Wollensky Restaurant Group, he kept the New York headquarters.
Find more good New York steakhouses introduced by Grub Street (in English).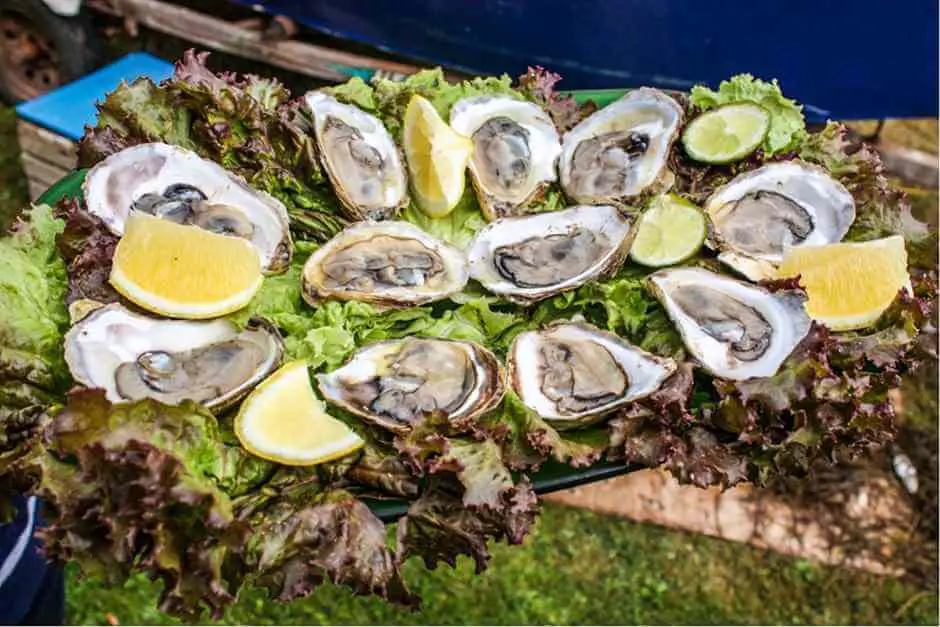 Which famous New York City restaurant is worth visiting?
There are some restaurants in New York City that are world famous. If you want to treat yourself to something special, then these are certainly a good choice. However, the food in these restaurants also has its price.
The Rainbow Room
On the 65th floor in one of the most famous skyscrapers in New York (30 Rockefeller Center) you can have cocktails in the Rainbow Room in the Sixtyfive bar and enjoy a wonderful view of New York. You can also order dishes from the bistro menu, which are quite affordable. A very special experience is the Spring Brunch, which is served at Easter, Mother's Day and Father's Day. For the steep price of US$ 162, you have a great selection at the Raw Bar, breakfast dishes, the Carving Station, Dim Sum and a fantastic selection of cakes, pies and other pastry specialties.
Grand Central Oyster Bar & Restaurant
The price of the day menu is upscale in the Grand Central Oyster Bar & Restaurant (89 E 42nd St) on the lower floor of New York's main train station, Grand Central Station. It features fresh lobster, seafood and oyster delicacies that are served there. You can also order seafood, oyster and lobster sandwiches at lower prices at the counter. A meal in the Grand Central Oyster Bar is definitely an experience.
Delmonico's in the Financial District
Located in its original building at the intersection of Beaver and William Streets in the Financial District since 1837, Delmonico's has welcomed a variety of culinary enthusiasts. For nearly two centuries, Delmonico's has served royalty, society, luminaries and visionaries. With experience in some of New York's most notable Michelin-starred kitchens, Delmonico's Executive Chef Edward Hong brings innovative new dishes to the restaurant's menu, including Myung Ran Cesar Salad (Little Gem, Parmesan, white anchovies, chives, creamy Myung dressing); and sea urchin and abalone risotto (koshihikari rice, abalone liver sauce, nori, crispy shitake, shaved frozen oysters). However, the dinner budget must be large enough, because a starter costs as much as a main course.
Trendy restaurants in Manhattan
Nobu New York Downtown
What do Hollywood actor Robert De Niro, sushi chef Nobu Matsuhisa, producer Meir Teper and restaurateur Drew Nieporent have in common? Very easy. They like (or create) Japanese cuisine in a class of their own. Nobu made a classic education to become a sushi chef. Through his travels and stays abroad, he expanded his skills. He created a new trend in Japanese cuisine, which he celebrates today in his many restaurants around the world. Nobu New York Downtown (195 Broadway) is the first restaurant to create a global chain of restaurants and hotels with De Niro, Meir Teper and Drew Nieporent. To eat there is not necessarily a cheap treat, but certainly a special experience.
Momofuku Noodle Bar
Do you like noodles and noodle soup? Then you are at the right place at Momofuku. There are two Momofuku noodle bars in New York: one in The Shops at Columbus Circle (10's Columbus Circle), the other - the original - in the East Village (planned: at the Pier 17 Building on South Street Seaport). The specialty in both are Ramen soups with Momofuku noodles made from barley flour. The menu changes daily.
If you want to learn more about the ethnic cuisines in New York, I recommend you this article (in English).
In New York eat with a view
It is a special pleasure in New York if you can enjoy a great view during the meal. There are a number of restaurants where this is possible. One we present here:
The River Café
Probably one of the best known restaurants with a great view of New York is the River Café (Brooklyn, Brooklyn) in Brooklyn. The restaurant is located below the Brooklyn Bridge. Its guests look out over the bridge and skyline of New York all the way to the Statue of Liberty while they eat. The fact that The River Café is the proud owner of a Michelin star makes dining at this restaurant a special treat. Reservation is recommended: Tel. 718-522-5200
Lunch in Manhattan - it has to be quick
Since steakhouses and fine-dining restaurants aren't among the cheapest ways to eat out in New York, New Yorkers offers other options instead. Fast food, street food and bakery specialties, which can also be eaten while walking, proved to be particularly suitable for everyday use. A true New Yorker is in a hurry. As a visitor you will surely notice how hectic life in the Big Apple is.
When you first come to New York, it's hard to keep up with New Yorkers. You can almost always recognize tourists by the fact that they move slower through the Big Apple's maze of streets than the locals. This fast-paced lifestyle is affecting the eating habits of residents – and ultimately visitors. The range of food has adapted to this lifestyle.
Lunch is often "on the go" for a New Yorker. It has to be quick. The best way to do this is to grab a hot dog, sandwich, wrap, bagel, muffin, Cookie or buy a cupcake to go. For eating, there are parks or other public places where you can eat your picnic lunch during a short break. Once you get used to the rhythm of life in New York, your picnic will taste better in the High Line Park, on the Hudson River boardwalk, or on a park bench in Battery Park or Central Park than in one of the shops where you buy it. Our tip: buy a packed lunch on your tour of Manhattan and take it with you for a break on the way.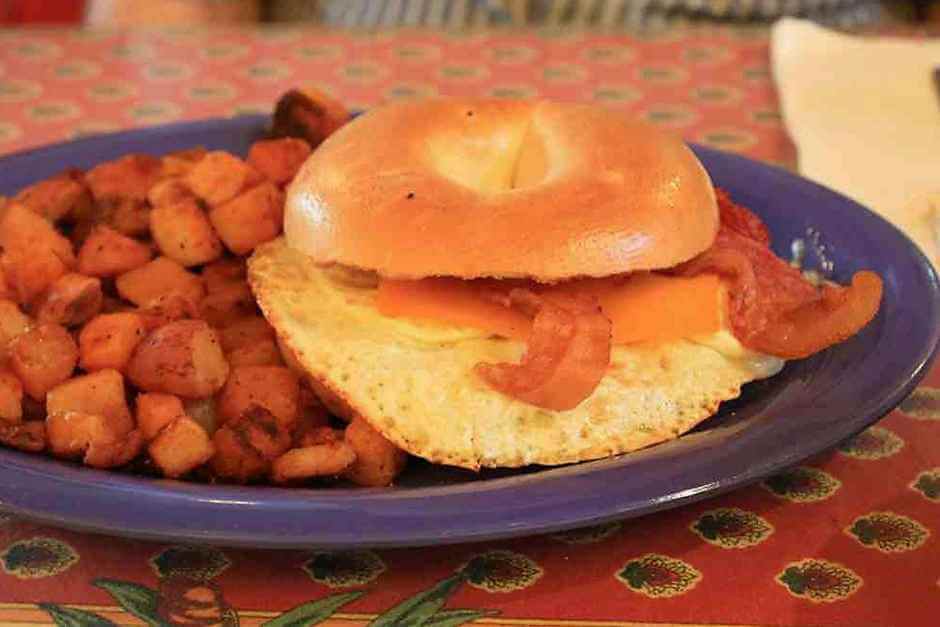 What New Yorkers Eat
Have you ever wondered what New York food is typical for? Surely you are not alone. New York is a melting pot of cultures. Everyone who comes here brings their own cultural habits. And food is one of them. Therefore, you will find many of the New York specialties, which you already know from other countries of the world. You should definitely try these New York specialties once:
Pizza
Pizza - Italian immigrants introduced them early in the 20th century. It is typically thin-bottomed and topped with tomato sauce and cheese.
Bagels
Bagels originally come from Jewish (kosher) cuisine. They taste particularly good with cream cheese and salmon or prepared as a sandwich.
Hot Dogs
Hot dogs are as much a part of New York as the Empire State Building. Every street vendor offers hot dogs with "the Works" where you can choose what you want on your bun besides sausage and ketchup. They're also one of the cheapest food choices you'll find in New York.
Donuts, muffins and cupcakes
Donuts, muffins, cupcakes and other pastry delights may not be typical of New York. But every New Yorker loves them. You should definitely try them once.
New York Cheesecake
This also applies to New York Cheesecake. It was allegedly invented in New York. It has become so popular that you can find it on almost every menu in the Big Apple, and not only there. And you can be sure it always tastes good.
You can also find good desserts in the best Icecream Shops of New York.
Pastrami sandwiches
Our favorite food in New York is undoubtedly the pastrami sandwich. It is a sandwich that is thickly topped with sliced ​​beef. The meat is processed according to kosher methods and marinated in herbs and spices, smoked and cooked.
Where to eat cheap in New York
Good New York Delis
Katz's Delicatessen
Pastrami at its best
New Yorker's favorite sandwich is the pastrami sandwich. Pastrami, is a meat made by smoking, curing and preserving in a delicious spicy breading. Mostly beef breast. Sounds not so tempting? OK. That's what happened to me when I got the invitation from a New Yorker. Located in New York's Lower East Side Katz's Delicatessen is certainly the place to get to know the best, juiciest and tenderest pastrami sandwich. More than five warm and still dripping slices and a dollop of yellow, coarse Mostrich lie between the slices of white bread. These are served with crisp cucumbers.
The ambience seems a bit cold. It's noisy. You feel transported to another time. The staff is more businesslike than overly friendly. That's just New York. I see framed photos on the walls. Tons. Well-known faces and celebrities from culture and politics. Oh yes. And then I know the shop from somewhere! Didn't Harry & Sally eat the pastrami sandwich here in the movie scene that is remembered by the whole world? Yes. It was here.
You can not miss the Deli, still run since 1888, on E Houston St at the corner of Clinton St. The dominating red neon sign already screams from the distance and vies for attention.
If you are traveling without a car, the closest metro station, 2 Avenue Station, is about 300 meters walk from the destination.
Sylwia of Born4Travel contributed this tip. There's nothing better to eat in New York.
New York food prices
How expensive the food in New York is depends on many things. Especially of course the quality of the restaurant that you choose. At the top, the prices are open. However, you can eat very cheaply if you restrict yourself to simple restaurants, bakeries, cafés and cafeterias. There you can already have breakfast for 6 $, if you have a bagel with coffee. A hot breakfast with cereal, fruit, egg, croissant and coffee is available from 10 $.
The same goes for lunch. If you eat in a simple restaurant and choose a burger, sushi or steak, you usually come away with 15 $. In the evening, the prices are usually around 20 $. An inexpensive alternative is the food trucks that exist in many places in New York. Are you looking for one near you, then look it up on this website. If it should be particularly cheap and the hunger is not too big, then you get a piece of pizza from about 3 $. You can get half a liter of water from a street vendor starting at 1 $.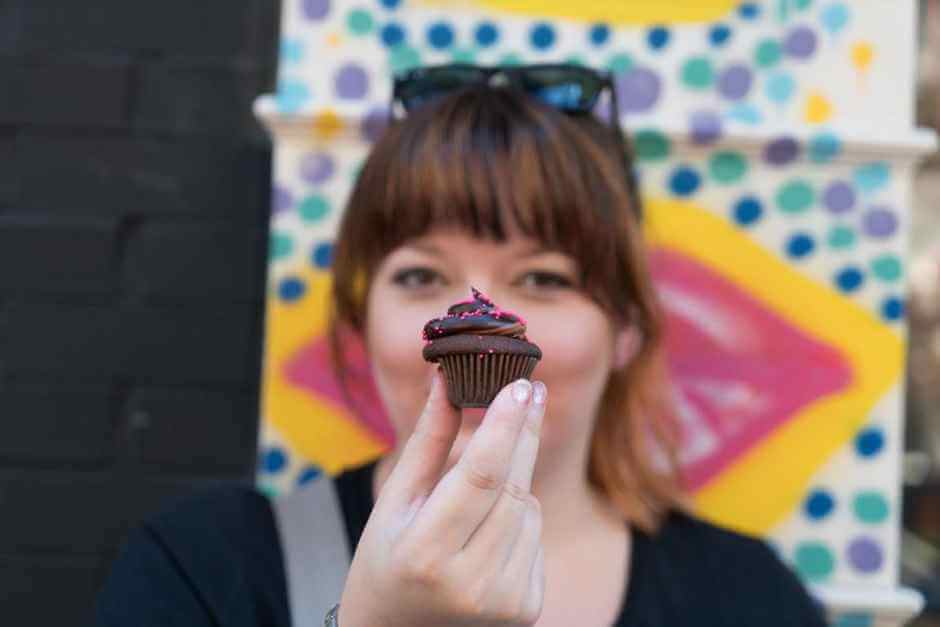 Discover good food on a New York Food Tour
Nolita Food Tour
An absolute must as a food crazed traveler in New York is to visit Little Italy. There is a problem there however - the restaurants and delicatessen are mostly designed for tourist requirements. But if you go only a few hundred meters outside of this epicenter, you will get to know a completely new food scene.
I went on a food tour through North of Little Italy (short Nolita) and got to know the true and authentic New York. The clocks tick differently here - more relaxed and less touristy. That doesn't detract from the delicacies, because they are almost always better than in their big sister Little Italy. Most of the legendary movie "The Godfather" was shot here. Incidentally, based on a true story! At that time Nolita was the center of the Italian Mafia and part of Little Italy. It wasn't until the 90s that the neighborhood was re-christened but not changed significantly.
Where to eat in Nolita
A must in Nolita is the pizza in Emporio Ristorante, preferably the white pizza without tomato sauce. Next up, treat yourself to a Brooklyn Blackout Cupcake (named because of the major power outage), which is so famous that it is dubbed the best in the USA by various food critics. If you are still hungry you have to make a detour to the tartinery. They have fresh sourdough bread with different toppings (I tried chicken with pistachio). The crowning glory is the homemade salted caramel gelato from Il Buco Alimentari & Vineria!
Jessica writes about culinary surprises, cooking classes and food tours around the world on her blog Yummy Travel. Always with a touch of culture and the focus on slow travel and individual travel.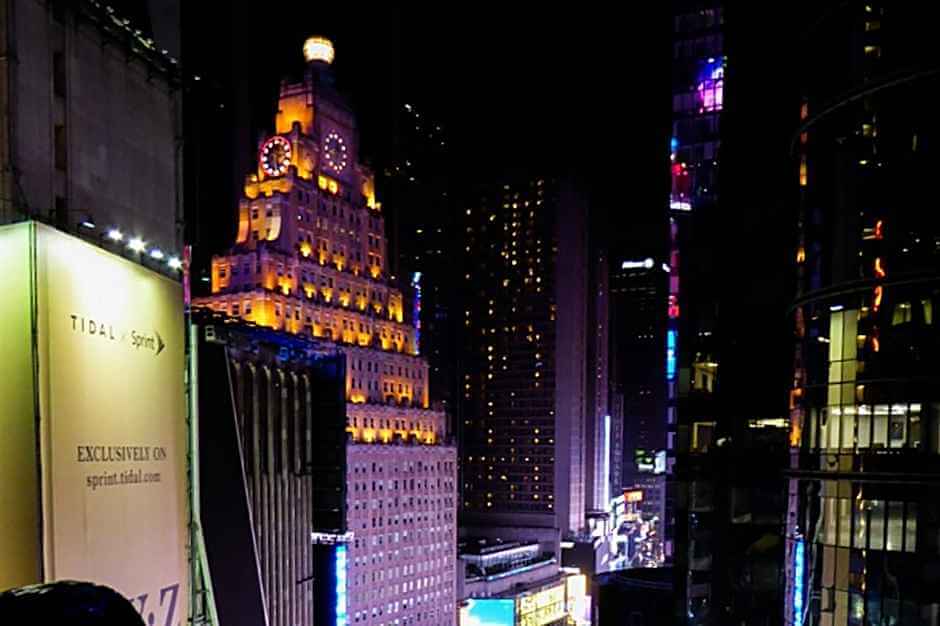 Enjoy the views from Roof Top Bars
Of course, a nice drink is the perfect way to end an exciting day in a city. And especially in Manhattan, it is worthwhile to visit one of the countless Roof Top Bars. Only which ones? And how to decide?
A Roof Top Bar Tour visits three different rooftops with an international group. Ideal for exchanging tips with other travelers in addition to the great views of Manhattan at night. We meet near the Times Square in a coffee and will be welcomed there by the friendly "tour guides". It is a bit strange at first that a bus travels the few blocks, but on the one hand the group stays together and on the other hand the girls in the sometimes adventurously high heels are in a good mood.
We visited three rooftop bars in the area between Times Square and Empire State Building. Each bar includes a drink and you spend about an hour listening to local lounge music and enjoying the view before heading to the next stop. In the last bar, the guides say goodbye and you can still comfortably end the evening with the other participants or continue to party. The style of the bars went from modern-glazed to "hipster-ig" bronzed, so something for everyone. Good restaurants in Times Square we also present here.
Isabella and Stefan introduce exciting destinations weekly on flyawaywithme.de and give practical tips on how to travel to a country or a city. With experiences from currently 54 countries they write about topics from city trips to elephant safaris. Find their report, how to discover New York on foot here.
One of the rooftop bars introduces Ulli Jeute: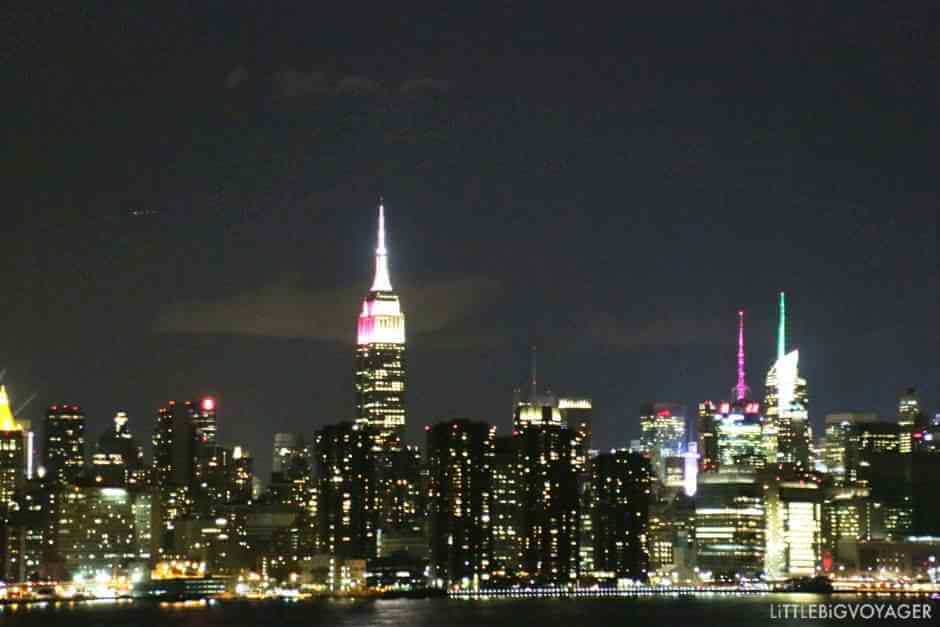 Manhattan skyline at night
The view of the Manhattan skyline is something very special by day. Anyone who walked over the Brooklyn Bridge once and turned around 90 degrees knows what I'm talking about.
In 2017 I was alone in NYC and Brooklyn for a few days and wanted to enjoy this view. In the middle of the party mile, almost directly on the banks of the East River, the wonderfully stylish ambience of the Whyte Hotel and its rooftop "The Ides Bar" is hidden behind red brick tiles.
The outdoor area is spacious. Small seats and bar tables offer plenty of opportunities to make yourself comfortable. For me the perfect place to have a drink on a mild summer night and enjoy a magnificent view of the Manhattan skyline. From time to time you can hear the horn of an evening cruise ringing, which gives the whole thing a pinch of adventure and a sense of freedom. I was willing to dig a little deeper into my pocket for that.
Ulrike Jeute aka Little Bigvoyager stands for the travel blog for the whole family. In addition to many small and large trips with the family, also times for two or just alone. As in real life - the mix makes it.
Questions and answers about New York food
Where can I find good street food in New York?
Popular street food stalls can be found in areas such as Times Square, Central Park, SoHo, Union Square and along 5th Avenue. Food truck events like Smorgasburg in Brooklyn are also recommended.
Which international cuisines are particularly well represented in New York?
New York is known for its culinary diversity. Italian, Chinese, Japanese, Mexican, Indian, Korean and Jewish cuisines are particularly well represented.
How do I find good, inexpensive restaurants in New York?
To find cheap restaurants, it pays to venture out of the tourist areas and look for local recommendations in neighborhoods like the East Village, Chinatown, Astoria, or Jackson Heights.
Where is the best place to have breakfast or brunch in New York?
New York offers numerous breakfast and brunch options. Cafes and bakeries in neighborhoods like SoHo, West Village, Williamsburg, and Park Slope are often known for their excellent deals.
Are there any recommended vegetarian or vegan restaurants in New York?
Yes, New York has a wide range of vegetarian and vegan restaurants. Popular neighborhoods for such venues include Greenwich Village, East Village, Chelsea and Williamsburg.
Where can I eat authentic New York style pizza in New York?
New York pizza can be found in many pizzerias around the city. Famous pizzerias like Di Fara Pizza in Brooklyn, Joe's Pizza in Greenwich Village and Prince Street Pizza in SoHo are good places to go.
What food festivals and events are held in New York?
There are numerous culinary festivals in New York, such as the New York City Wine & Food Festival, NYC Restaurant Week, Taste of Tribeca and the Smorgasburg Food Market at the World Trade Center, in Williamsburg or in Brooklyn.
Where can I find rooftop bars in New York with good food and a view?
Rooftop bars with good food and a view can be found, for example, in the 230 Fifth Rooftop Bar, The Press Lounge or the Ophelia Lounge. These offer a combination of food, drinks and panoramic views.
How can I find authentic ethnic cuisine in New York?
To enjoy authentic ethnic cuisine, visit neighborhoods with a high concentration of certain cultures, such as Chinatown for Chinese cuisine, Little Italy for Italian cuisine, or Jackson Heights for Indian and South American dishes.
What you need to visit New York
---
Travel Arrangements:
Parking at the airport
Here you can reserve your parking space at the airport.
Arrival:
Arrival by plane, bus or train*. NNew York City can be reached on the one hand with airlines such as United, Lufthansa, Singapore Airlines but also with others.
The best tours and activities in New York
You can book your New York tours with our partner Get Your Guide*. This will also save you a long wait on location. Very handy is also the City Pass New York *.
Hotels:
Hotels in Manhattan* you can book here.
Travel Guide:
---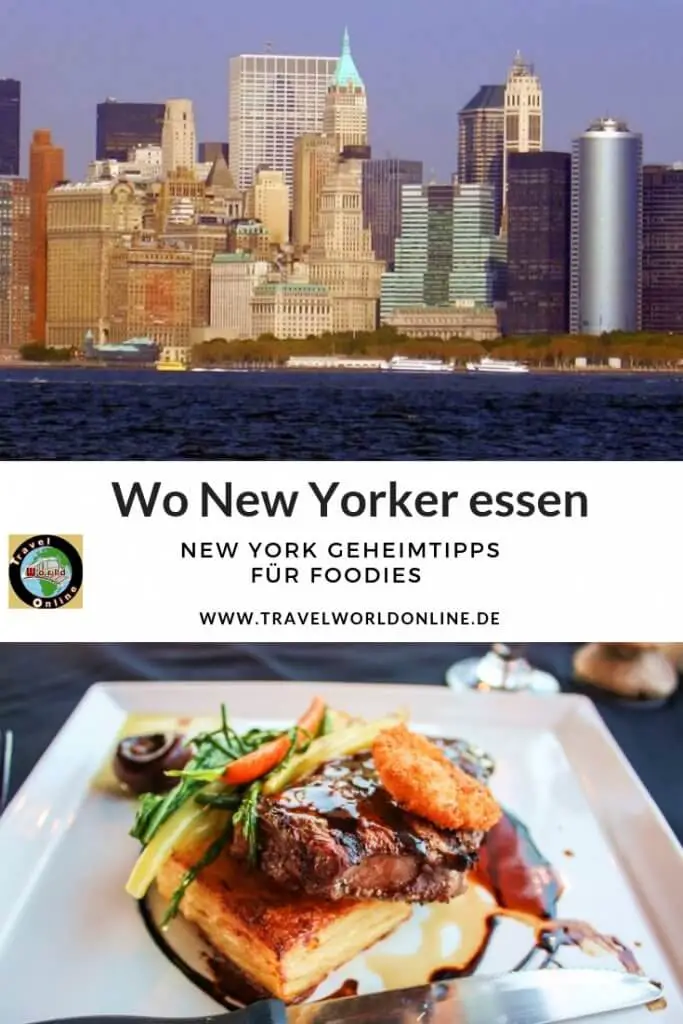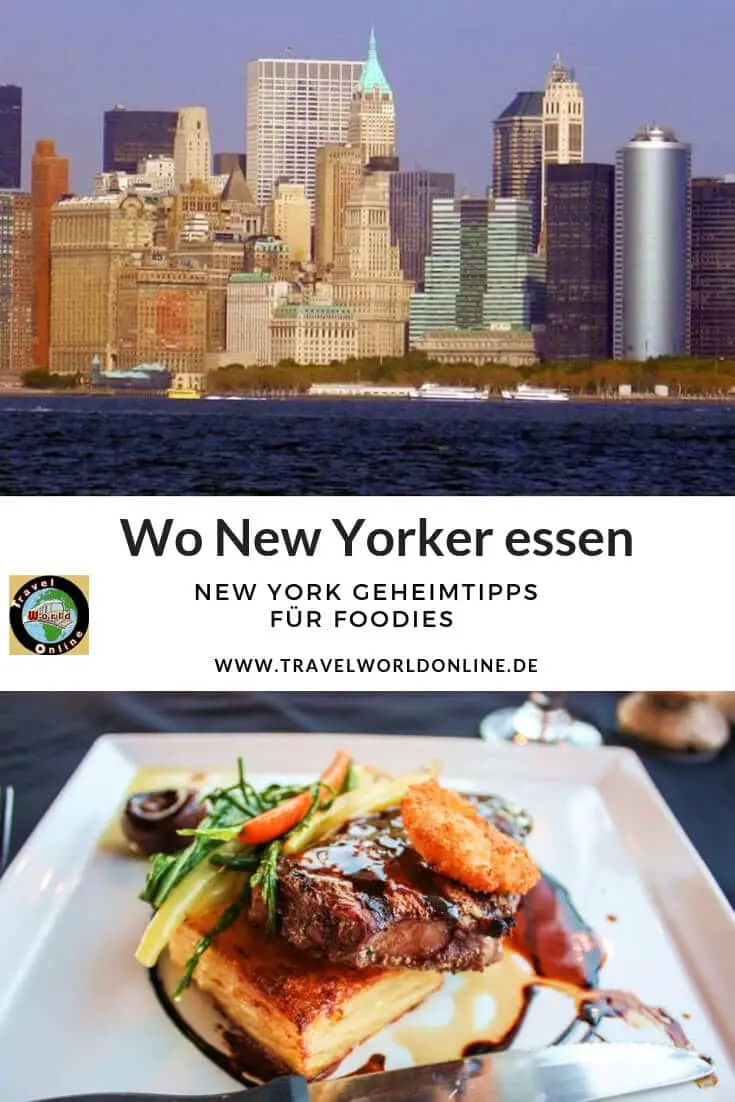 Do you also know:
Source Restaurant in New York City: On-site research as a tour guide in New York and the travel tips of the contributing travel bloggers. Our opinion is definitely our own.
Text Restaurant in New York City: © Copyright Monika Fuchs, TravelWorldOnline and the travel blogger colleagues mentioned in the article
Photos © Copyright Monika Fuchs, TravelWorldOnline and the travel blogger colleagues mentioned in the article
Culinary Exploration: The New York Food Scene
Last update on 4.12.2023/XNUMX/XNUMX / Affiliate links / Images from the Amazon Product Advertising API