Times Square NY is a world famous place and a major transportation hub. It is in the heart of Manhattan and connects 42nd Street to 47th Street. Originally called Longacre Square, it was renamed Times Square in 1904 when the New York Times opened its headquarters there. Since then, Times Square has grown into a major entertainment center and a huge tourist attraction. The colourful, huge LED billboards are characteristic of this square and attract millions of visitors every year. They are also a symbol of the advertising industry and technological development.
In the vicinity of Times Square NY you will find numerous theaters that make up Broadway. Here you can enjoy world-class musicals and plays. The artistic importance of Broadway makes Times Square an important cultural center. In addition, Times Square is the scene of major events such as the famous New Year's Eve Ball Drop. Every year, thousands of people gather to celebrate the countdown to the new year together.
For me, Times Square is also a symbol of New York. On many of my New York trips I have stayed in one of the hotels in and around Times Square. This square proved to be the ideal starting point for exploring the city. Many transport connections come together here. At the same time, the square is in the heart of Manhattan, so that numerous sights can be reached quickly and easily from there.
In short, Times Square NY is a symbol of the vibrant life, culture and energy of New York City.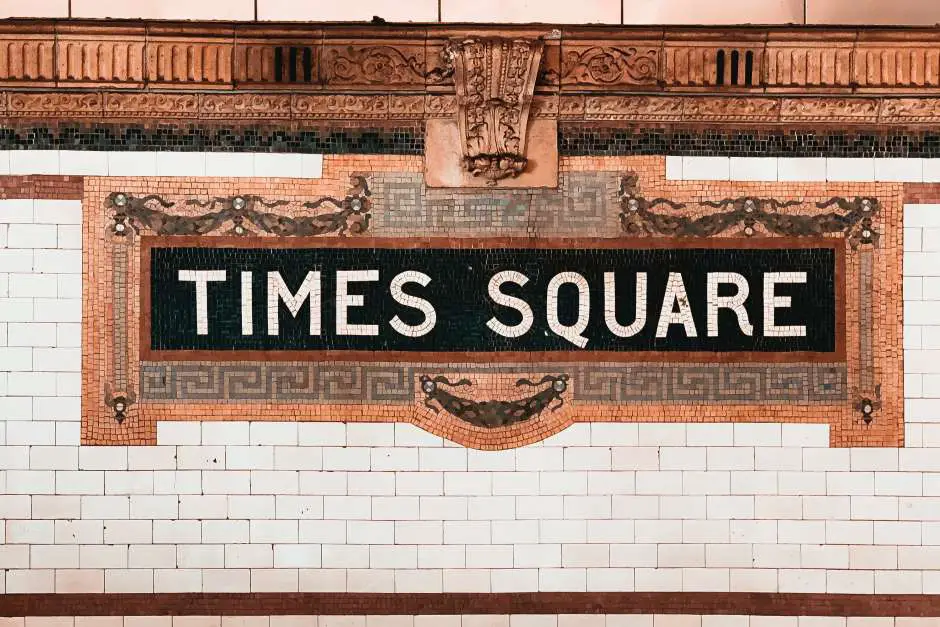 Times Square NY Facts
Located in the heart of Manhattan, New York City, Times Square stretches from 42nd Street to 47th Street. The intersection of Seventh Avenue and Broadway is the center of the square. The total area is about 39.000 square meters, which shows the size and importance of this iconic place.
The historical development of Times Square NY began in the late 19th century when the area was still called Longacre Square and used as a horse market. In 1904, the plaza was renamed Times Square when the New York Times opened its headquarters there. In the years that followed, Times Square grew in importance, particularly with the construction of numerous theaters and the introduction of the first electric billboards.
The importance of Times Square to New York City is enormous. It is considered a symbol of the city's cultural and economic wealth. The neon signs and the huge LED billboards are now characteristic of the square and give it its unmistakable look. Times Square NY is also a major transportation hub where many streets and subway lines converge.
In terms of tourism, Times Square NY attracts millions of visitors from all over the world every year. An estimated 50 million people visit the square annually, making it one of the most visited tourist attractions in the world. Here, for example, visitors can enjoy the many attractions, such as the theaters of Broadway, Madame Tussaud's wax museum and the Hard Rock Café.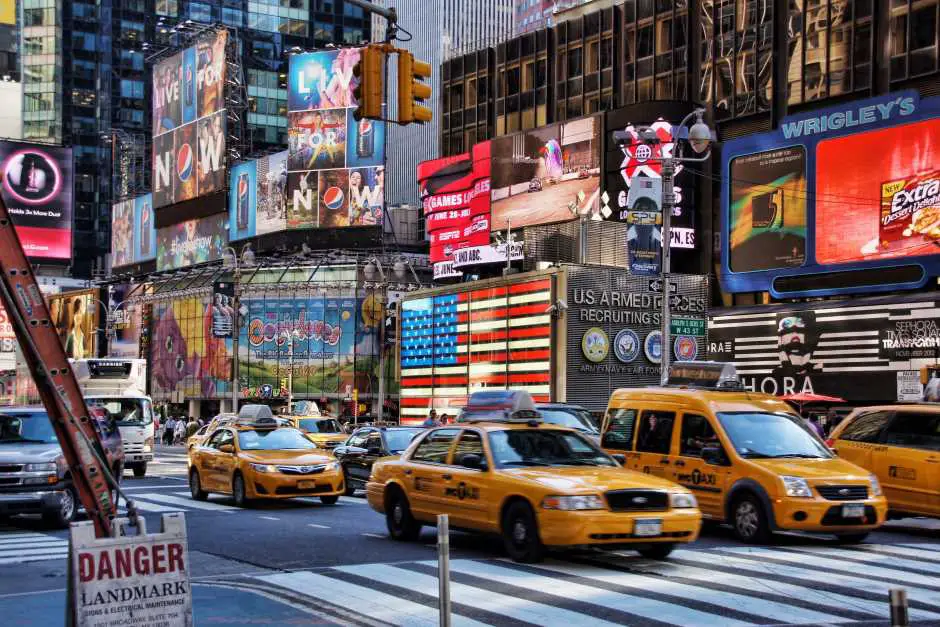 Times Square New York Landmarks
Times Square is a place full of attractions that you shouldn't miss when visiting New York City. Here are some of the most famous attractions:
Broadway and theaters near Times Square NY
Broadway and its numerous theaters are inextricably linked to Times Square. Here you have the opportunity to enjoy world-class musicals and plays. Numerous famous productions such as "The Lion King", "Hamilton" or "Wicked" have their stage here.
The billboards are Times Square NY landmarks
On the one hand, the famous LED billboards that characterize Times Square are a real highlight. They shine day and night and attract millions of visitors. On the other hand, the huge screens show advertising, news and entertainment content in an impressive audiovisual staging.
Madame Tussauds Wax Museum
Likewise, Madame Tussaud's Wax Museum is one of the most popular attractions in Times Square. Here you can admire lifelike wax figures of celebrities, politicians and athletes and have your picture taken with them. In addition, the museum offers constantly changing exhibitions and themed areas, so it never gets boring.
Book tickets to Times Square attractions here
Ripley's Believe It or Not!
Furthermore, the Ripley's Believe It or Not! Museum an interesting destination in Times Square. It presents a collection of curious and unusual objects collected by Robert Ripley during his world travels. The exhibition includes exhibits from the fields of art, nature, history and science and is fascinating for both adults and children.
New Year's Eve Ball Drop
Finally, the Times Square New Year's Eve Ball Drop is a world-renowned event that takes place on December 31st every year. Thousands of people gather in Times Square to celebrate the countdown to midnight and watch the amazing ball drop. The event is accompanied by spectacular fireworks and live music.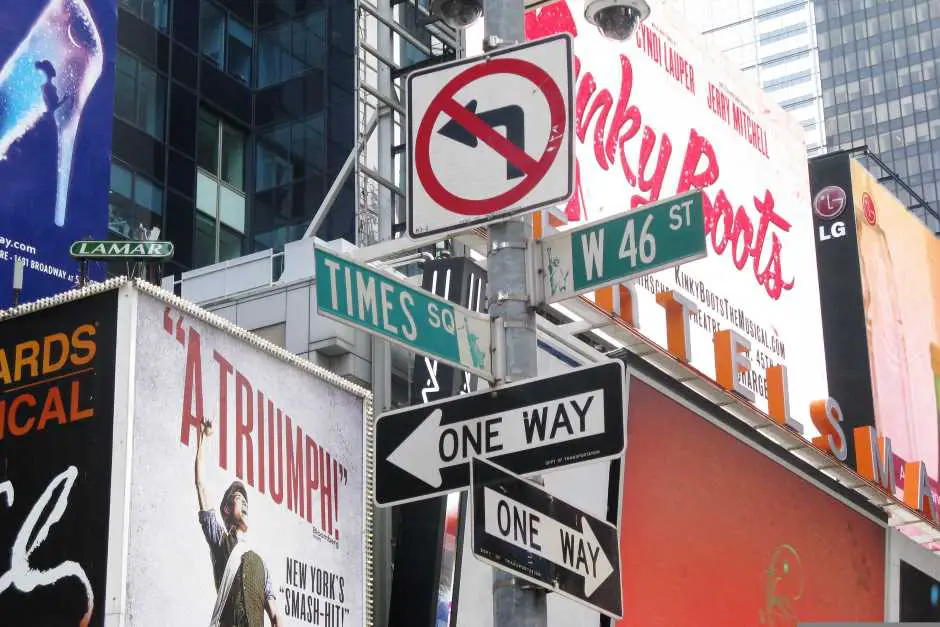 Times Square Hotels New York City
If you are planning a stay in New York City and want to stay near Times Square NY, there are different selection criteria and price ranges that you should consider. Here are some tips and recommendations:
Selection criteria and price ranges
When choosing a hotel in Times Square, consider your budget, comfort level, and location. The prices vary depending on the season, location and equipment. Prices usually range from 100 to 500 euros per night, although there are cheaper and more expensive options.
Popular hotels near Times Square
boutique hotels
If you prefer more individual accommodation, there are also some boutique hotels near Times Square: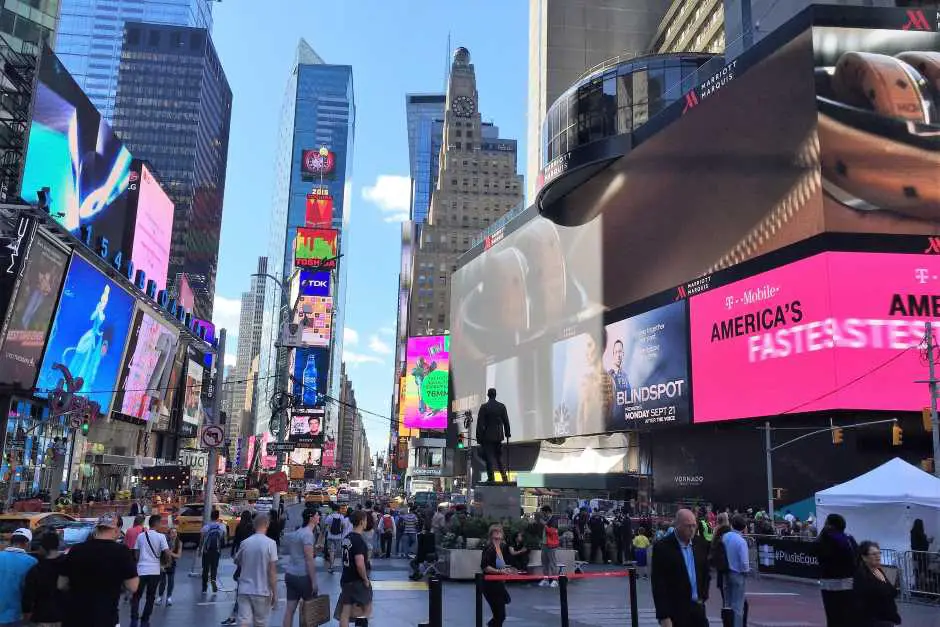 Hotel overlooking Times Square
A hotel overlooking Times Square is a special experience to consider when visiting New York City. Here are some recommendations for the best hotels with Times Square views:
The best hotels with Times Square views
In addition to the New York Marriott Marquis and the DoubleTree Suites by Hilton New York City, there is one other hotel that offers a view of Times Square:
Prices and availability
Prices for a hotel room with a view of Times Square NY vary depending on the season, location and amenities. In general, the prices are between 250 and 600 euros per night. However, prices can be significantly higher in high season or on special occasions such as New Year's Eve. In order to find the best deals, it is advisable to book early and also compare different booking portals.
Featured Amenities and Services
In addition to the spectacular view, the hotels overlooking Times Square NY also offer various amenities and services that will make your stay even more pleasant:
On the one hand, many of the hotels have their own restaurants and bars where you can enjoy local and international specialties. On the other hand, some hotels offer special services such as a concierge to help you plan your activities in the city or XNUMX-hour room service. In addition, most hotels have fitness centers and spas where you can relax and unwind after a long day in the city.
Finally, a hotel overlooking Times Square is undoubtedly an unforgettable experience that will make your stay in New York City unique.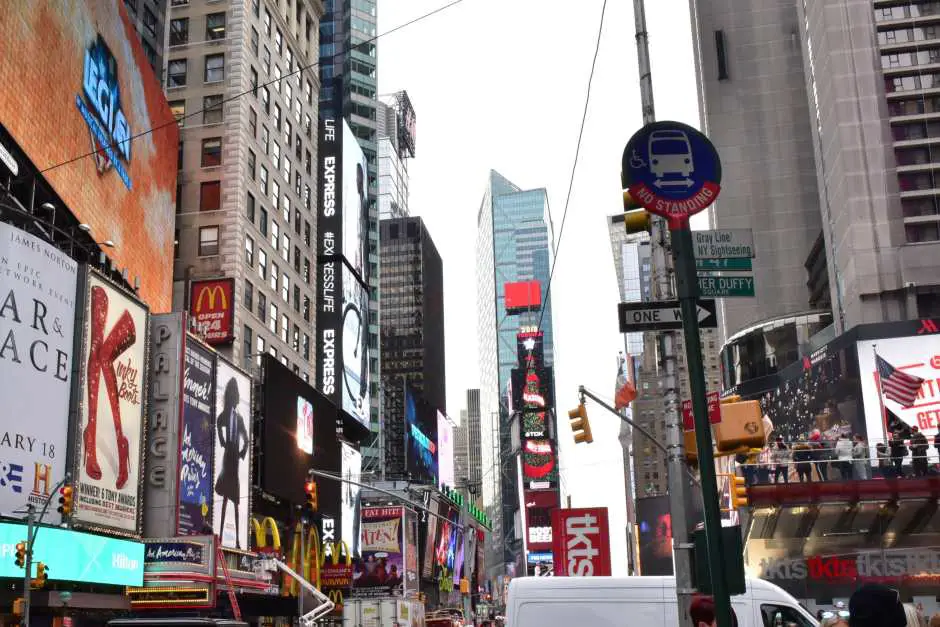 Times Square tkts
The TKTS program in Times Square is a great way to snag discount theater tickets to Broadway and Off-Broadway shows.
Background and purpose of TKTS
TKTS was created in 1973 by the non-profit organization Theater Development Fund (TDF). The main idea was to make live theater performances accessible to a wider audience. By offering leftover tickets for Broadway and Off-Broadway shows on the day at a discount of up to 50%, both visitors looking for cheap tickets and theaters looking to fill their remaining seats benefit.
Locations and opening times
The most famous TKTS location is in Times Square NY, more precisely on Father Duffy Square between 47th Street and Broadway. This location is open daily. Hours of operation vary, Monday to Saturday they are 15pm to 20pm and Sunday 15pm to 19pm for evening performances. There are separate opening times for matinee performances.
Tips on buying discounted theater tickets
If you're looking to buy cheap theater tickets from TKTS, it's a good idea to get to the location early to get a good selection of shows and seats. It's best to go there as soon as the counter opens to avoid long waiting times.
Be flexible in choosing shows as not all performances may be available on the same day. Find out in advance about the pieces on offer and don't just settle on one favourite.
Finally, you should note that TKTS only accepts cash and credit cards. The discounts offered are also different and can vary from performance to performance.
Or book your Broadway show here
Visit a Times Square rooftop bar
A visit to a rooftop bar near Times Square is one of the unforgettable experiences New York City has to offer.
The best rooftop bars near Times Square
Surrounded by the city's impressive skyscrapers, rooftop bars such as the Bar St. Cloud in the Knickerbocker Hotel or The Skylark are excellent addresses for a breathtaking view of Times Square and the surrounding buildings.
Features and atmosphere
The St. Cloud Rooftop Bar impresses as well Knickerbocker Hotel* with luxurious amenities and great views of bustling Times Square. It's the perfect place to relax with a cocktail or a glass of wine and watch the world go by.
In addition, The Skylark offers a casual and stylish atmosphere. Located on the 30th floor, it offers breathtaking views of the Empire State Building and the Hudson River. There you will find a selection of creative cocktails and delicious snacks that you can enjoy in this unique environment.
Prices and dress code
In rooftop bars near Times Square, the prices for drinks and food are usually a bit higher than in conventional bars, but you are offered an incomparable view. For example, a cocktail costs between $15 and $25.
Regarding the dress code, you should note that many of these bars expect a certain dress code. So smart casual wear or smart evening wear is often appropriate. It's a good idea to check the bar's website for dress code information beforehand to make sure you're dressed appropriately.
A visit to a rooftop bar in Times Square not only allows you to experience the vibrant life of the city from a bird's eye view, but also to spend an unforgettable evening in New York City.
Or take a guided bar or food tour of Times Square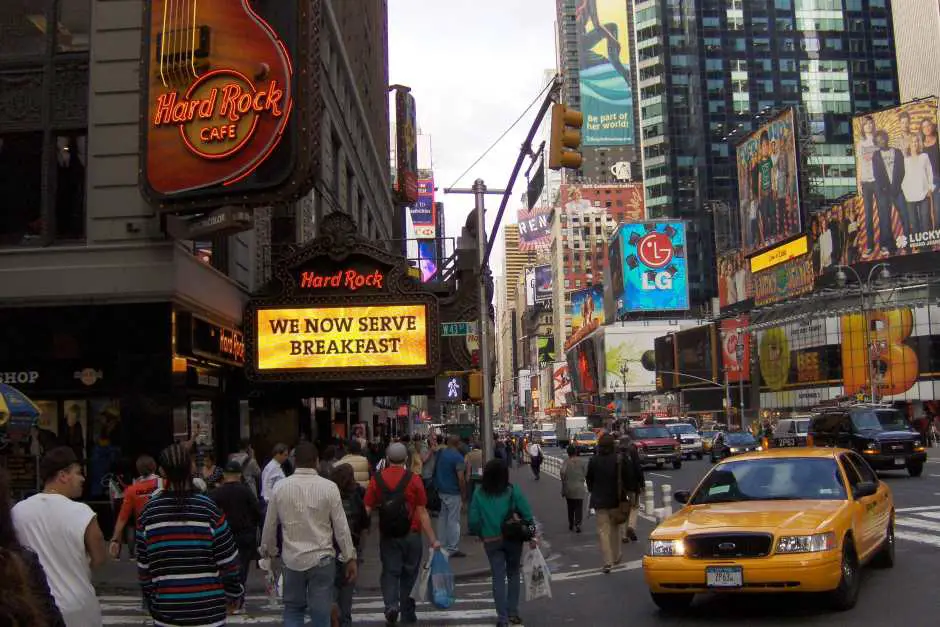 Times Square Hard Rock Cafe
The Times Square Hard Rock Cafe is a meeting place for music and food lovers, offering a unique experience in the beating heart of New York City.
History and importance of the Hard Rock Cafe
Since opening in 2005, the Hard Rock Cafe in Times Square has solidified its reputation as one of the most well-known and popular Hard Rock Cafes in the world. It's a place where rock 'n' roll history meets culture and visitors can soak up the atmosphere.
menu and prices
The Hard Rock Cafe offers a varied menu ranging from classic American dishes like burgers and steaks to vegetarian options and special creations. Prices are moderate, with main courses costing between 15 and 35 euros. For a snack or as a starter, there is also a selection of appetizers and salads.
Live Events and Events
Aside from the tasty food, the Hard Rock Cafe is also known for its live events and events. Concerts, DJ sets and themed evenings take place regularly, creating a relaxed atmosphere. On the official website or the social media channels you can find out about upcoming events and buy tickets if necessary.
Souvenir shop
Last but not least, the Hard Rock Café in Times Square NY also has its own souvenir shop where you can purchase exclusive merchandise such as T-shirts, caps, glasses and other collectibles. These make a great souvenir of your visit or a gift for friends and family.
Reserve your meal at the Hard Rock Cafe
A visit to the Hard Rock Cafe in Times Square NY is definitely an experience not to be missed when staying in New York City. Here you can immerse yourself in the world of rock 'n' roll, enjoy delicious food and experience unforgettable moments.
Good restaurants in Times Square can also be found in this article.
And finally ...
Times Square in New York City is undoubtedly one of the most fascinating places in the world, captivating every visitor. In the midst of the pulsating city life, there are countless opportunities to experience unforgettable moments.
The allure of Times Square
The impressive backdrop of gigantic LED billboards, the hustle and bustle on the streets and the proximity to world-famous sights such as Broadway make Times Square a unique experience. Both during the day and at night, this place radiates a special energy that captivates everyone.
Tips for an unforgettable visit
To get the most out of your visit to Times Square, it's important to allow enough time to explore. So you can discover the many sights in peace and let the atmosphere work on you. It is helpful to obtain information about the various attractions in advance in order to be able to plan accordingly.
It is also worth considering the various discount theater ticket offers to enjoy a Broadway play at a lower price. A visit to one of the rooftop bars near Times Square is also an absolute highlight, which gives you a breathtaking view of the city.
Finally, it's a good idea to start looking early for suitable accommodation near Times Square to make your stay in New York City even more memorable. Both luxury hotels and boutique hotels and hostels are available, depending on personal taste and budget.
If you follow these tips, your visit to Times Square will be an unforgettable experience that you will remember for a long time.
Times Square NY Questions and Answers
Which subway lines stop in Times Square?
The 1, 2, 3, 7, N, Q, R, W, and S subway lines stop directly at Times Square-42nd Street/Port Authority Bus Terminal.
When is the best time to visit Times Square?
Times Square is lively around the clock, but the evening hours, when the LED billboards shine impressively, are particularly recommended.
Why is Times Square called what it is called?
Times Square got its name in 1904 when The New York Times newspaper established its headquarters here.
Are there movie theaters in Times Square?
Yes, Times Square has several movie theaters, including the famous AMC Empire 25, which has 25 screens.
How many LED billboards are there in Times Square?
The exact number of LED billboards varies, but there are over 50 screens that light up Times Square and give it its unique atmosphere.
What does the Red Stairs sculpture in Times Square represent?
The "Red Stairs" or "TKTS Steps" are a popular meeting place and seating area for visitors and locals and offer a great view of the lively square.
What you need to visit Times Square NY
---
Travel Arrangements:
Parking at the airport
Here you can reserve your parking space at the airport.
Arrival:
Arrival by plane, bus or train*. NNew York City can be reached on the one hand with airlines such as United, Lufthansa, Singapore Airlines but also with others.
The best tours and activities in New York
You can do this Book with our partner Get Your Guide*. This will also save you a long wait on the spot. Very handy is also the City Pass New York *.
Hotels:
Hotels in Manhattan* you can book here.
Travel Guide:
---
Do you also know:
Source Times Square NY: Research as a tour guide in New York. The recommendations are definitely my own.
Text: © Copyright Monika Fuchs and TravelWorldOnline
Photos © Copyright Pixabay
Experience the Sea of ​​Lights: A Guide to Times Square NY
Last update on 2.12.2023/XNUMX/XNUMX / Affiliate links / Images from the Amazon Product Advertising API