Cooking by renting a motorhome or houseboat

Cooking in a mobile home or houseboat is based on recipes from all over the world. However, it needs to be carefully considered. Because there is only little space in the galley as well as in the kitchenette of a motorhome. We have been to the houseboat and the Motorhome when traveling. We have gained experience of what to look for in a small kitchen.
Cooking in a motorhome or houseboat - on the gas stove
When cooking in a mobile home or on a houseboat, you usually only have one gas stove at your disposal. It took some getting used to for us, as we are used to an electric stove at home. We had two hotplates in the mobile home. In the two houseboats we were traveling with, we had a stove with four burners and an oven. However, the oven was also operated with gas. It's not that easy to come to terms with.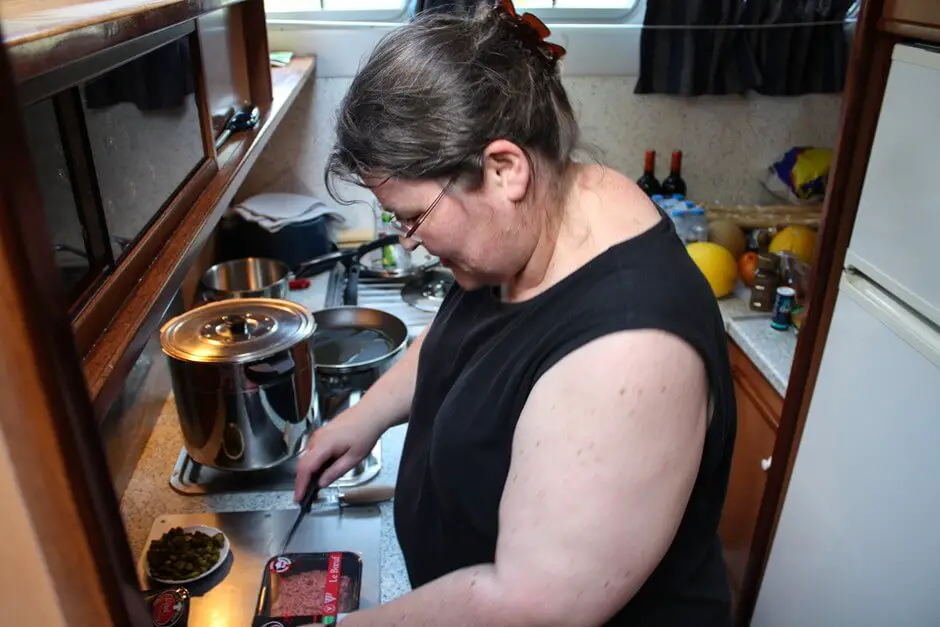 Shops are few and far between
For this reason, when we went shopping, we thought carefully about what is easiest to cook on the way. After all, we were on our way to look at the landscape and the small towns and not to stand in the kitchen for hours. We also wanted to avoid long cooking times. The gas for the gas stoves should be sufficient for the entire trip if possible. On the way there is not always and everywhere supplies. Cooking in the motorhome needs to be well planned. Likewise cooking on the houseboat.
The same applies to shopping itself. With the houseboat you are tied to the river. Only in the rarest of cases are there shopping opportunities along the rivers. And when they do, the goods are usually expensive. So if you don't want to walk long distances and lug bags of supplies, it's best to stock up on groceries before you travel. The same applies to cooking in the mobile home. The parking spaces at supermarkets are rarely spacious enough for motorhomes to maneuver easily in them. It is better to buy the ingredients for cooking beforehand. One is also useful cooling box, in which you can keep drinks and food cool.
Which foods to take with you?
Since space is limited, you should plan carefully which groceries you will take with you on your motorhome or houseboat tour. Usually there is a refrigerator. For two people or even for a whole family, however, its capacity will soon reach its limits. We only put drinks in the fridge shortly before use. Until then we stored them in the motorhome in the hold. We had reserved a cupboard for drinks in the houseboat. There were also places under the bench where we could store drinks. So we always had chilled drinks available.
A cookbook for the motorhome tour through Europe
With this cookbook you are perfectly equipped for a camper trip. The author Victoria Lommatzsch traveled all over Europe herself for a year. Cooking in the camper is therefore the order of the day for them. She went to weekly markets. She discovered specialties from the region in manufactories. She went deep sea fishing in Norway and tasted cocoa in Belgium. Along the way, she took cooking classes and visited producers of cheese, olive oil, beer and other products that she tasted.
In her cookbook she takes you on a culinary motorhome tour through Europe. She has collected more than eighty recipes that can be prepared in a mobile home kitchen. The perfect reference work for everyone who wants to cook well on their trip with the motorhome (or houseboat) and also wants to discover the specialties of their destination.
Order The Van Taste * here.
Perishable foods
For food, it is better to take long-life foods with you. It is worthwhile to make sure that these can be used for different dishes. Then the menu becomes more varied. In the mobile home or houseboat, we mainly store dry food such as pasta, rice, potatoes, cereals and mueslis for breakfast. Spices are very important so that we can cook in a varied way. The more diverse, the better. So you can cook new dishes every day from pasta, rice and potatoes. To do this, we pack cans of vegetables. Canned tomatoes are the basis for a variety of sauces that go well with pasta, rice and potatoes. The same goes for corn, beans, chickpeas, and other vegetables that are canned.
We also pack eggs, coffee and tea for breakfast and cooking. We have one in our packing list for motorhomes List of foods put together that are particularly suitable for cooking in a motorhome or houseboat. You can buy fresh groceries during your trip at markets or farm shops. At the same time, these are stops where you come into contact with the people on site. There you can also often get specialties from the region.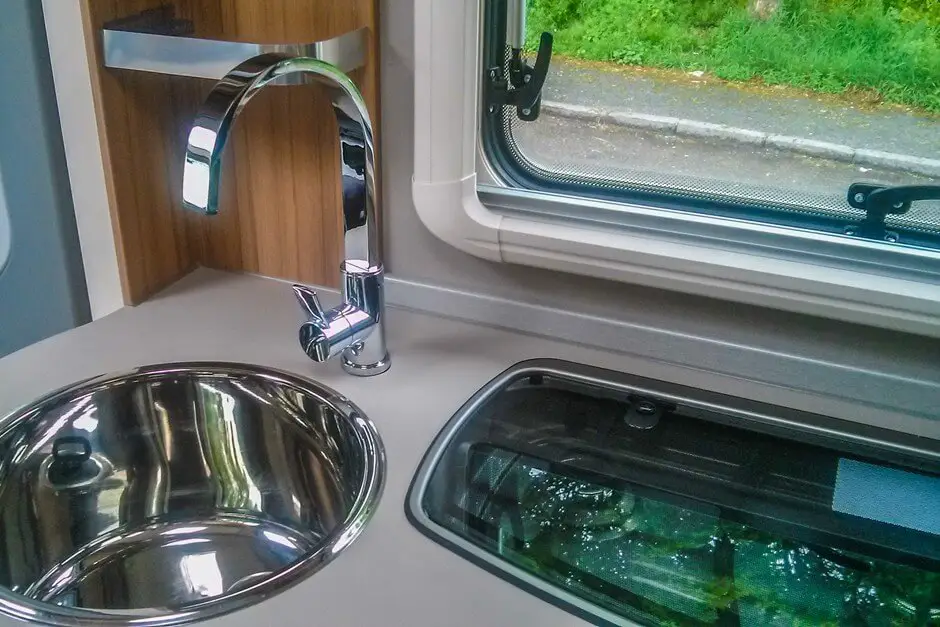 Shopping for cooking in a camper or houseboat
We bought numerous foods that we didn't need to cook. Or we chose ingredients for dishes that are quick to prepare and do not require a lot of work. In the mobile home, we also made sure that we didn't need more than two hotplates for a meal. After all, the food should be warm on the table and not be difficult to cook. Rice pans, steaks, pasta dishes, stews and the like are ideal for cooking in a small kitchen.
Kitchen equipment for cooking in the motorhome
Especially when cooking in a mobile home, you should make sure that the kitchen equipment meets some requirements. After all, the dishes must not break even on bumpy roads. While there is usually a little more space in the galley in houseboats, this is usually very limited in motorhomes or campers.
Pans
What you absolutely need is a pan. Pan-fried dishes are particularly suitable for cooking in a motorhome, as they usually only require one hotplate. Risottos, pasta dishes and fried potatoes are perfect dishes for the motorhome stove. Practical is one Pan with removable handle *that takes up little space when stored in the kitchen cupboard.
Pots
Also with the pots it is worth making sure that they take up as little space as possible in the motorhome cabinet. They are best suited for this Pots that can be stacked *: We recommend one for salads foldable sieve with bowl *. These also save space in the kitchen cupboard.
On the go with a pot - vegetarian
Extensive recipes are difficult to prepare in a houseboat or mobile home kitchen. Usually there is a lack of any equipment. In addition, the stove in the houseboat or mobile home usually does not have the number of burners that are needed for it. Are practical for such kitchens One Pot Recipes, for which you only need one pot. This not only makes cooking more fun. Even when cleaning up afterwards, you only have to wash one pot.
One pot cookbook
In this one pot cookbook you will find over 100 vegan and vegetarian recipes that you can prepare well in the camping, houseboat and outdoor kitchen. You can even find tips for cooking over a fire in it. Or do you want to know more about the use of wild herbs? There are also recommendations for this.
Order On the go with a pot * here.
In our packing list for the mobile home, we recommend a list for the kitchen equipment in the mobile home. There you will find everything you need for cooking in the motorhome. Here is a list of kitchen utensils that are suitable for motorhomes and houseboats:
Kitchen equipment mobile home
Our favorite recipe for cooking in a motor home or houseboat: pasta
Ingredients
Pasta (spaghetti or if no high pot is available Spiral pasta)
sauces
Here you can vary very well and prepare a different sauce every day. A Bolognese sauce, for example, is good to cook. However, my favorite sauce in such small kitchens is a cheese sauce with herbs. For this I need
3 varieties of cheese (eg Parmesan, Gruyère and Emmentaler)
2 cups of cream
1 toe garlic
herbs of Provence
salt and pepper
Preparation
Cook the noodles in salted water according to the instructions on the package.
In the meantime, put the chopped garlic in the butter sear Pour in the cream and bring to a boil. Cut the cheeses into small pieces. Then melt in the cream. Season to taste with herbs, salt and pepper.
It only takes a few minutes to prepare the dish, it requires little dishes and it tastes delicious after a day in the open air. If you want, you can also prepare a salad.
Tips for houseboat and motorhome trips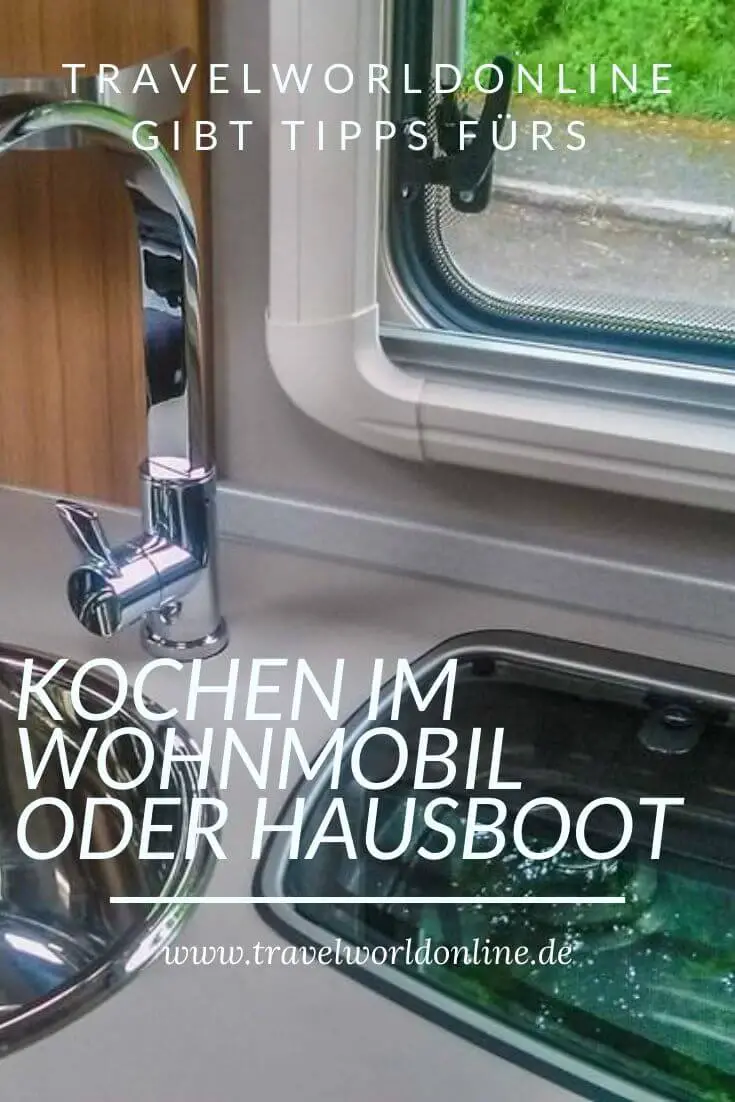 With this article about cooking in a mobile home or houseboat, we are participating in the Blogparade: Recipes for all cases from the moment: New York.
Do you already know:
Source for cooking in a mobile home or houseboat: own research on site.
Text Cooking in a mobile home or houseboat: © Copyright Monika Fuchs, TravelWorldOnline
Photos: © Copyright see photo
Cooking in a motorhome or houseboat