Find tips for grilling here
Here are tips for grilling. You can grill at home in the garden or on the balcony. But you can also Motorhome vacation or take a barbecue with you when camping. Then your picnic will be a pleasurable experience. A barbecue belongs to Trips to Savor to. There are also opportunities in cities and in nature where you can set up your grill to grill a steak or vegetables. You can enjoy this after swimming in the lake. Or is a view of a beautiful landscape more important to you? What do you think of Grilling over the campfire? There are grills that you can easily transport. You can even plan a picnic with grilled food during a hike. It won't be a long hike. It is always pure pleasure in nature. Here we collect ideas, recipes, Destinations for grill lovers and tips on how to enjoy grilling even better.
Use our grill tips
Design your picnic with these barbecue ideas
Beautiful not only in spring! crickets and Picnic are currently in trend. Many pack a picnic basket and look for a nice spot in nature. In cities there are parks where you can spread out your picnic blanket. Take a few hours and enjoy the time outdoors. With these tips for barbecuing, you can turn it into an enjoyable trip. With sausages, steaks, chicken or vegetables that you have freshly grilled. You prepare the ingredients at home. Then all you have to do is grill them on site. While the food is grilling over the charcoal, you serve the ingredients. Afterwards you can enjoy a delicious meal in beautiful surroundings. Be inspired by our ideas.
Questions and answers - grilling tips
How do I properly prepare the grill?
Clean the grill grate well, preheat the grill and oil the grate to prevent food from sticking.
When should I put the food on the grill?
Put the food on when the grill is really hot. For charcoal grills, wait until the coals are white.
How do I turn the grilled food correctly?
Turn the grilled food with grill tongs, not with a fork. This keeps the juice in the meat.
What is the best way to grill vegetables?
Cut the vegetables into larger pieces so they don't fall through the grate. Use grill baskets or mats. You can find these, for example, on our page for Gas grill accessories.
How do I avoid my meat going dry?
Marinate the meat beforehand and don't turn it too often. Let it rest before you cut it open.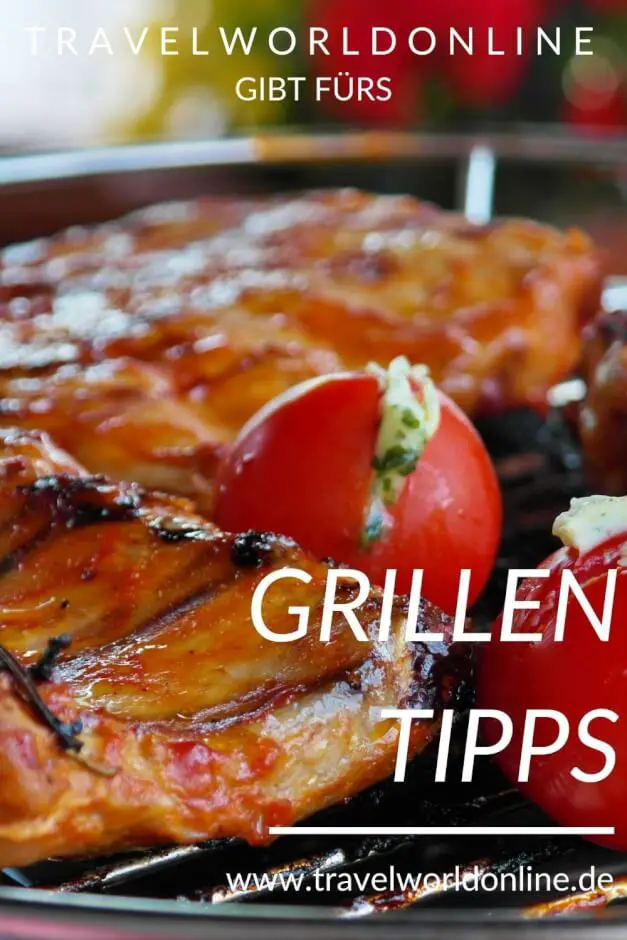 Do you also know:
Source grilling tips: do your own research
Text Grillen Tips: Copyright Monika Fuchs and TravelWorldOnline
Photos Grillen Tips: Copyright Monika Fuchs as well as TravelWorldOnline and Canva
Grilling tips for connoisseurs